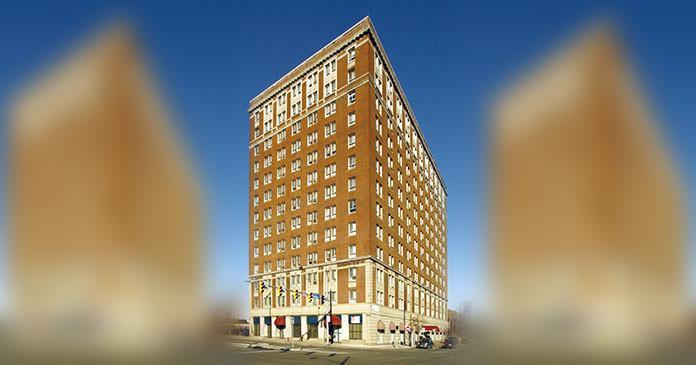 Rose Community Capital, a MAP designated FHA Lender and the residential financing division of the Jonathan Rose Companies, has secured a $16,119,100 Section 221(d)4 Substantial Rehab loan for Fenway Manor, a 143-unit affordable housing project in Cleveland, Ohio.
Originally constructed in 1923 as a residential hotel, Fenway Manor was rehabbed in 1974 forlow-income seniors by Beachwood, OH-based The Orlean Company.  At the time of the conversion, the property received a project-based Section 8 contract covering all units.
The project is located in Cleveland's University Circle district, home to the main campuses ofthe Cleveland Clinic, the Veteran's Administration and University Hospitals, Case Western Reserve University, the Cleveland Institute of Art, the Cleveland Institute of Music, the Cleveland Art Museum, Severance Hall (home of the Cleveland Orchestra), the Cleveland Natural History Museum and the Cleveland Botanical Garden.
The concentrated presence of these institutions has spurred additional employment, research facilities and start-up businesses in the area, particularly in the bio-tech and engineering fields.  In response to this growth, additional development of high-end apartments, condominiums, office space and retail has taken place in the district and could have easily displaced existinglow-income seniors from the property.
"In discussions with community and city leaders, The Orlean Company agreed it was critical to preserve this property for continued use as affordable housing for low-income seniors," said Tony Love, president of Rose Community Capital. "The Orlean Company partnered with Portland, Maine-based Renewal Housing Associates and developed a comprehensive recapitalization of Fenway Manor that will include significant capital improvements to the property."
The rehabilitation will include: a new roof, windows and elevators; a new, secured store front entrance; masonry tuck pointing and lintel repair/replacement; new MEP systems (including storm, sanitary and domestic hot- and cold-water risers); new WSHP HVAC for units' heating and cooling; new handicap accessible common area bathrooms; new flooring and paint throughout all common areas; new fire pump and fire panel; and an emergency generator.
Individual apartments will be updated with new kitchens and bathrooms (including countertops, cabinets, appliances and plumbing fixtures); new unit flooring, paint and new doors.
To finance these improvements, The Orlean Company and Renewal Housing Associatessecured a new HUD insured/GNMA-backed first mortgage, 4% Low-Income Housing and Historic Preservation Tax Credits, tax exempt bonds, and a HOME Loan from the City ofCleveland. The property also benefits from the City's 15-year tax abatement that allows theproperty to prudently service approximately $2 million more in mortgage debt than otherwise possible.
---
About Rose Community Capital
Rose Community Capital, the financing arm of Jonathan Rose Companies, are specialists in financing affordable and mixed-income housing priding a personal touch to each transaction. With the focused attention of a single lending expert throughout the process, Rose Community Capital becomes not just a financing facilitator, but a trusted partner for the life of each project – and the next. The company has a deep knowledge of and long experience in navigating the intricacies of government programs and policies. With over 20 years of origination and service experience, Rose Community Capital maintains ongoing relationships with many HUD offices.