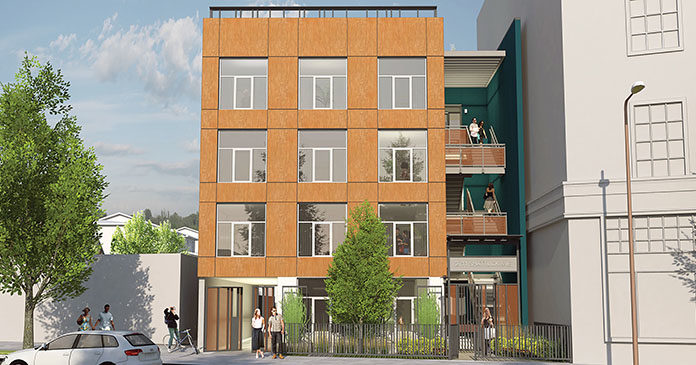 Berkeley, California, is the latest speed test on pre-fab construction. While the highest barriers to development generally occur long before the construction process, materials, time and labor have added to the pain of getting "sticks in the ground" for some time. The combination of pre-fab construction and the on-going trend of micro-units continue to surface, especially in urban areas of California where the housing crisis has reached critical mass.
The latest example of slow-then-go project development is a 22-unit student housing building that went up in 4 days in Berkeley. Located in the city's downtown on Shattuck Avenue, the property materialized at a rate of one story per day in July and will lease to U.C. Berkeley grad students at market rate for the upcoming semester.
While the building took 4 days to drop into place, the property has been 9 years in development. The lot was originally zoned for a hotel before getting revised permits to accommodate residential use.
Each of the 22 drop-in units follows a single 310-sq.-ft. studio, railcar design with a main room, kitchenette and sofa that converts to a queen-size bed and full bath. The units also come with flat-screen TVs and coffee makers already built in.
The Berkeley units include 9-ft. ceilings and large windows in order to give the illusion of space. A steel body construction is designed to provide protection from fire, flooding, and pests.
The units are a product of San Francisco-based developer Panoramic Interests. The firm has built housing, live-work spaces, and commercial property in the Bay Area since 1990. Most recently the company has shifted its attention to concepts that might offer solutions to homeless issues.
Panoramic's 160-sq.-ft., fully-furnished MicroPAD (PAD stands for Prefabricated Affordable Dwelling) would conceivably address this need.
MicroPAD is "the most efficient way to provide housing for the homeless," says Patrick Kennedy, owner of Panoramic.