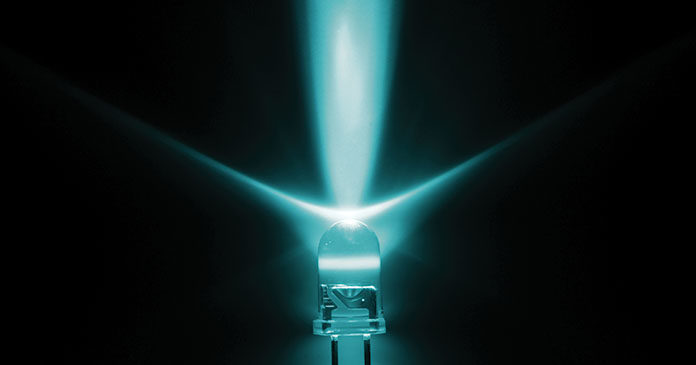 The price for LED (light emitting diode) bulbs has plummeted more than 90 percent since 2008 and today's bulbs use 70 to 90 percent less energy and last 15 times longer than the old incandescent bulbs.
Energy services companies like Utility Revenue Services (URS) and American Energy Services (AES) are making it easy for apartment communities to retrofit their common areas with the money-saving illumination option with a variety of programs, all of which result in considerable savings beyond the reduced cost of the bulbs.
URS Executive VP Tom Spangler joined the 12-year-old utility consulting company in May 2016 to head up its LED lighting installation and retrofit business. He believes URS has caught the front end of the LED wave in the multifamily sector.
"And we have a lot of great momentum looking forward," he said, explaining that between 30 percent and 50 percent of URS's current multifamily business involves LED lighting services and the company expects that number will reach 50 percent to 70 percent in the next couple of years.
URS offers a full range of energy management services for multifamily portfolios, including utility audits, development services, energy procurement and turnkey LED lighting programs.
The company's client list includes multifamily giants like RREEF, Sares-Regis, LivCor and UDR, Inc., a nationwide apartment REIT for which two of the company's founders and Spangler worked prior to the launching of URS.
The company's LED lighting upgrade clients generally realize savings of 50 percent to 80 percent in their energy costs for lighting, a number that he said is a fairly consistent figure across the board.
URS offers several flexible payment options for LED retrofit or installation projects. A client can pay for the capital project up-front or take advantage of the company's pay-through-savings plan, which is a "zero-cost" up-front option, or a hybrid of the two.
"It's really up to the client how they want to structure the payment for the project," Spangler said, adding that the most popular method involves a three- or four-year payback period.
And clients often have different strategic objectives for their multifamily assets that impact how they pursue LED lighting upgrade programs, added Brendan Addis, URS principal and co-founder.
"Some assets are short term holds, some are long term holds and some have specific market positioning objectives that impact the style of lighting that they want to proceed with. So, we really customize each solution to meet their specific needs and be most cost-effective," Addis said.
"We can do a fully turnkey solution or we can just sell the product, but most of our clients really want us to provide a fully-managed turnkey solution. They want us to do the installation, they want us to handle the rebate paperwork and they want us to handle all the warranty work," said Spangler.
The client can also set up a long-term program whereby URS handles all the maintenance and replacement of bulbs, so the apartment community employees never have to touch another light bulb, he said, adding that maintenance teams "are usually grinning from ear to ear when we leave after an installation, given the significant life of the products."
LED lighting used to be pretty harsh, with all the ambiance of a hospital operating room, but that has changed in recent years, he said.
Now, different color temperatures and features are available and LED use has much broader application, so that for every lighting situation there is an LED solution.
"It's come a long way in a short period of time, creating a sea change for lighting applications and competitive differentiation for multifamily owners," Spangler said.
LED lighting options are evolving at a rapid pace. For example, manufacturers are now focusing on the ability to change color temperature in light environments to mimic biorhythms, with brighter lights that encourage higher productivity during the work day and dimmer lights later in the day and in the evening to promote a calmer, more relaxing environment, said Addis.
"These technologies are really just in their nascent phase. We see a tremendous application for student housing and senior living, as these technologies evolve. The long-term impact where things are going is really exciting," he said.
While most energy savings type projects aren't very visible in the multifamily space, when a community undergoes an LED lighting retrofit, it has a dramatic impact, said Spangler.
"It looks like you just repainted the property and put in new carpet. It really brightens up the property and makes it feel more safe and secure," he said, adding that an LED retrofit is much less expensive than a lot of apartment community upgrades like an exterior paint job or a landscape overhaul.
"Very few upgrades actually pay for themselves. Through the energy savings created, this one does," said Addis.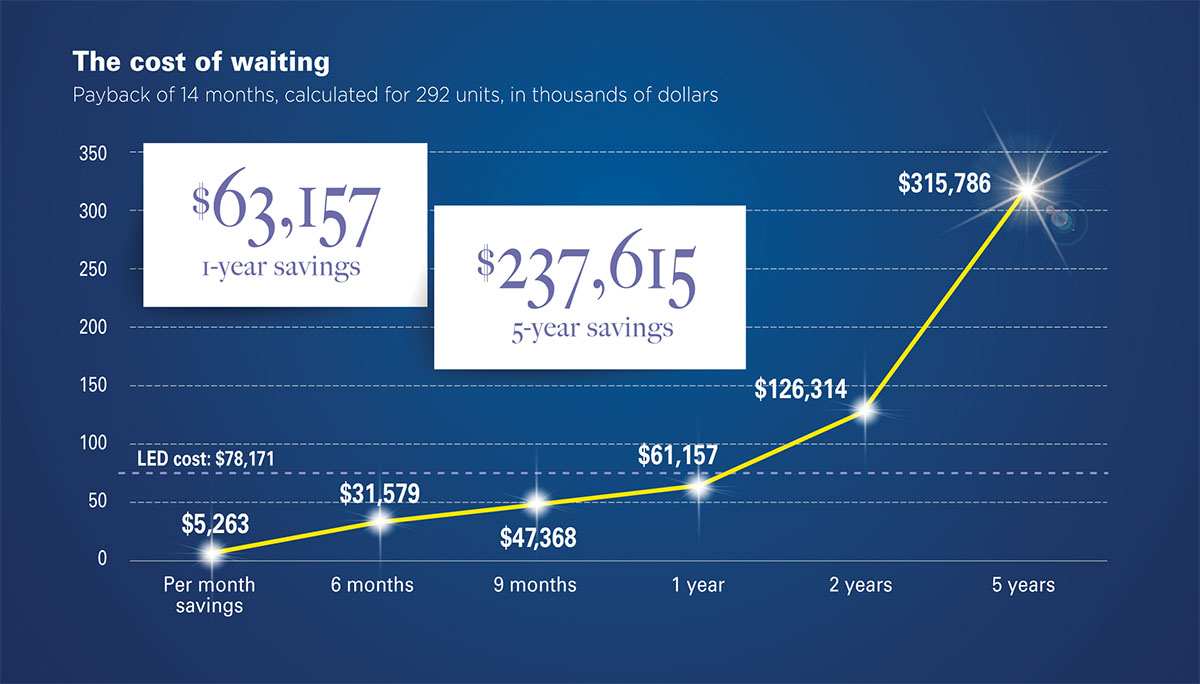 American Energy Services
Multifamily companies make up more than 25 percent of American Energy Services' (AES) LED lighting installation and retrofit projects.
"As property owners start to go beyond simple retrofits and explore the advantages LED and intelligent controls offer, they learn to create aesthetics and unique spaces that appeal to new demographics," AES President and CEO Jim Caprara said recently.
He said he expects multifamily will become fast adopters of the technological advances in LED lighting, which he believes is a promising growth area.
Caprara, who joined the company as its top executive about a year ago, cautions apartment companies against a DIY approach to an LED lighting retrofit, recommending partnership with an energy expert when considering such a changeover.
The first step in an LED retrofit project overseen by an energy services company like AES generally is an investment-grade audit to establish the unique needs of a client's buildings, collect utility data and be able to provide a solution leveraging rebates, grants, financing and other guidance, he explained.
The company that provides audits and energy solutions for Fortune 500 companies, government agencies, healthcare and educational facilities and property management companies then proceeds with a turnkey installation, taking on all the logistical and operational elements of the project.
AES targets savings of 50 percent to 70 percent per month on clients' energy costs through customer rebates and in-electric rate and property-linked funding.
The rebates are available for LED lighting products from almost all electric utility providers and through state programs, with even more rebate money coming available this year, Caprara said.
In-electric rate funding is an innovative new offering through major utility companies that provides funding for energy efficiency projects with no out-of-pocket costs, with the financing of the project paid over the long term as part of the client's energy bill.
One property-linked funding option is designed to help property owners finance their energy efficiency projects at very affordable fixed rates. The projects are financed with no money down and are repaid as part of the property tax bill over the long term. An Energy-as-a-Service leasing program also is available that can create immediate cash-flow with no up-front costs.
Savings like those at Bozzuto-managed The Fenestra in Rockville, Md., and Ausburg Village in Baltimore, Md., are typical of the financial benefits that an AES LED lighting retrofit provides to the multifamily industry, said Caprara.
The lighting upgrade project at the Rockville community, coupled with an energy-efficiency community awareness campaign conducted by Bozzuto Management Company, is credited with contributing to a 3.5 percent reduction in whole building energy use at the 492-unit CIM Group-owned, mixed-use apartment community that helped Bozzuto earn a Category Winner designation in multifamily energy reduction in the EPA's National Building Competition about a year ago.
An interior and exterior LED lighting retrofit by AES at Ausburg Village, a retirement community in Baltimore, Md., resulted in a 46 percent reduction in energy costs for lighting, or $50,692 annually.
Because Ausburg Village's lighting upgrade significantly reduced its monthly energy usage, the cost of the project was covered by the community's savings. After the project was paid off in just over two years, Ausburg Village's energy bill dropped by thousands of dollars, Caprara said, explaining how AES facilitated the retrofit with no up-front capital from the owner and zero out-of-pocket expense.
"We provide multi-tier proposals addressing our customers' requirements and stay with our customers, not simply change out lights," Caprara said, explaining the benefits of the company's recently launched Service Excellence Program.
The program, which is available in conjunction with any AES proposal, offers an all-inclusive approach for greater savings and efficiency beyond the initial sale. Available for up to 10 years, the program covers materials and labor for any needed repairs as well as an annual health check audit.
The company's Intelligent Controls enhance LED lighting efficiency, as well, he said.
"Nearly 30 percent of lighting cost is wasted on empty rooms or fixtures running at excessive light levels. Today, this is easily addressed with occupancy and dimming controls," said Caprara, explaining that the intelligent lighting controls AES offers allow users to take advantage of color and temperature modifications creating enhanced and controlled environments that save money and improve security.
Contrary to what one might expect, he said, retrofitting an apartment community with LED lighting can be less expensive than an install during an apartment community's development.
"When you put LED into a new building, you don't get any of the rebates and you can't prove savings. So, a lot of times, the retrofit is actually less expensive," he said.
Traditional rebate options vary greatly by geography and utility company and may cover system components ranging from lights, fixtures and control systems to sensors and lighting integration. "There's probably a sunset to it, at some point in time, when all the rebates are going to start going away," he said, but right now, they are an important source of savings.
As LED technologies become more widely adopted, the utility and rebate companies are looking for the next development in technology leading to potential savings, he explained.
"This next wave is coming in the form of adaptive and intelligent lighting controls that allow a customer to optimize the performance of their lighting systems. That's what's coming next," Caprara predicted.