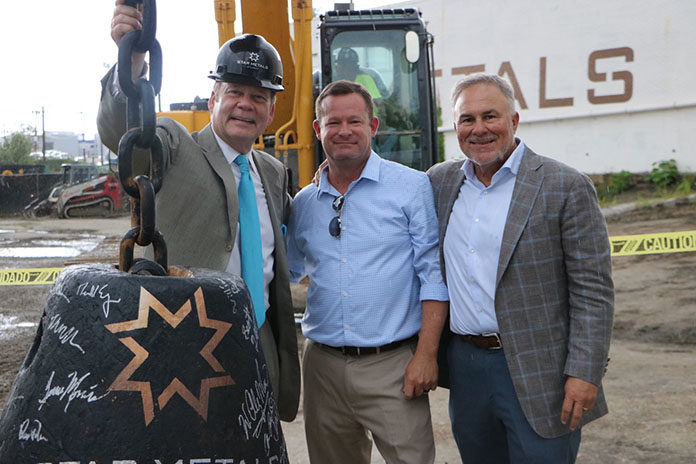 On Thursday, Aug. 9, the customary ceremonial shovels were replaced with a 3,000-pound wrecking ball as The Allen Morris Company and Juneau Construction Company took part in a unique "ground-breaking" in West Midtown for the $130 Million residential project that promises to be anything but traditional.
"As a company that has its roots in Atlanta, we are proud to reach this milestone and celebrate the official kickoff of Star Metals Atlanta with our team, partners and community," said W. Allen Morris, Chairman and CEO of The Allen Morris Company. "We are passionate about creating a unique, inspiring, eco-friendly and creative development that enhances the beauty and will cherish the history of West Midtown Atlanta for people to enjoy a true 'live-work-lean-play lifestyle' and we are grateful to the residents and City officials who have been so encouraging throughout this process."
Guests joined to celebrate the start of construction of Star Metals Atlanta including Patrick Crandall, Managing Director of Capital Source Bank and senior lender on Star Metals Residences; Jeffrey Fastov, Senior Managing Director of Square Mile; Eric Cohen, Vice President of Square Mile; Allen Morris, Chairman and CEO of The Allen Morris Company; Kevin Heidorn, Principal, Oppenheim Architecture; and Lex Rickenbaker, Executive Director of USAA.
During the unconventional event, walls came down, literally, on an existing building that was demolished by a wrecking ball, marking the symbolic beginning of construction for Star Metals Residences, the residential component of the comprehensive and highly-anticipated mixed-use community, Star Metals Atlanta, in West Midtown Atlanta. Star Metals Residences is a 409-unit luxury rental apartment building that will also include 16,300SF of retail.
"Juneau Construction Company is thrilled to be part of this monumental project that will continue the transformation of West Midtown," Les Juneau, Juneau President, said. "All of us at Juneau are proud to know that the work we are doing at Star Metals Atlanta, along with the work we have done at The Battery and throughout the city, is raising the profile and changing the face of Atlanta. We are making a lasting impact."
Star Metals Residences—located at 1050 Howell Mill Road and designed by Oppenheim Architecture and Dwell Design Studio, with interior design by Square Feet Studio—will offer its residents modern living spaces and impressive double height, curtainwall glass lobby activated with a high-end F&B concept. Residents will also enjoy an unparalleled array of ground floor amenities including a private outdoor dog run, interior dog wash area, Uber drop-off room for residents, package delivery to the resident's door, and resident library with fireplace. Additional amenities on the Level 9 Rooftop include lounge/meeting rooms, indoor/outdoor activated rooftop bar & lounge, game room area with pool table, gaming systems and arcade games, outdoor ping-pong and bocce ball, a glass-box fitness center opening onto the pool terrace, outdoor grilling area, outdoor movie projection area, outdoor fire pits and seating groups.
The visionary Star Metals Residences is part of the transformative 4.75-acre Star Metals Atlanta development that also includes Star Metals Offices, the 14-story, Class-A office tower totaling 262,000 square feet that includes 35,000 square feet of retail and restaurants, as well as a 5,000 square foot rooftop restaurant with a dining terrace and urban forest.
Star Metals Residences is slated for delivery in Spring 2020.
---
About The Allen Morris Company
The Allen Morris Company is one of the largest real estate firms in the Southeast U.S. specializing in commercial, multifamily residential and mixed-use developments, leasing and brokerage as well as property management. With offices in Miami, Coral Gables, Fort Lauderdale, Orlando, Jacksonville and Atlanta, The Allen Morris Company has served its business and investment clients for 60 years.
About Juneau Construction Company
Juneau Construction Company remains one of the fastest-growing construction firms in the Southeast. Headquartered in Atlanta with an office in Miami, the industry-leading company performs as Construction Managers, Design-Builders and General Contractors on high-profile projects in both the public and private sectors. Started by Nancy Juneau, CEO, and Les Juneau, President, in 1996, Juneau has gone on to become one of the elite contractors in the Southeast. According to the Atlanta Business Chronicle, Juneau currently ranks as the No. 13 Commercial Contractor in Atlanta and is the No. 1 Woman-Owned Construction Firm in Georgia. Juneau continues to excel in its core markets—Commercial, Hospitality, Higher Education, Mixed-Use, Multifamily and Preservation—and is positioned well to execute any product within these markets.