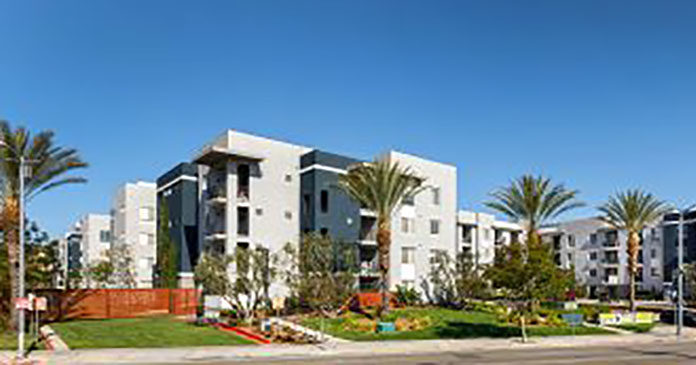 Institutional Property Advisors (IPA), a division of Marcus & Millichap, announces the sale of Carillon Apartment Homes, a 264-unit, 235,214-square-foot multifamily property in the Warner Center/Woodland Hills area of Los Angeles. The sales price is $93 million or $352,272 per unit.
"Warner Center/Woodland Hills is one of Southern California's premier multifamily investment markets," says Greg Harris, IPA executive director. "Single-family home values have risen more than 60 percent over the last five years to $850,000, creating a significant affordability gap between owning and renting."
Greg Harris, Ron Harris, IPA executive director, and IPA senior directors Kevin Green and Joseph Grabiec represented the seller, Fairfield Warner LLC, which was represented by Fairfield Residential, and procured the buyer, MG Properties Group.
"The area's proximity to a variety of technology, industrial and healthcare industries along the 101 Corridor, and the new Warner Center 2035 plan for growth over the next two decades, put Warner Center/Woodland Hills in a great position for economic expansion and prosperity in the coming years," adds Ron Harris.
Carillon Apartment Homes was constructed in 2008 on over five acres. Warner Center/Woodland Hills is one of the largest communities in the western part of the San Fernando Valley, occupying an area of about 15-square-miles that borders Calabasas and the Santa Monica Mountains. The area provides easy access to employment centers in Ventura County, San Fernando Valley, West Los Angeles, and Downtown Los Angeles. Warner Center, a 1.7-square-mile master-planned area within Woodland Hills, is known as 'the downtown of the San Fernando Valley."
---
About Institutional Property Advisors
With a network of senior-level investment advisors located throughout the United States, Institutional Property Advisors (IPA) is qualified to meet the needs of institutional and major private investors. IPA's combination of real estate investment and capital markets expertise, industry-leading technology, superior support services and acclaimed research offer customized solutions for the acquisition and disposition of institutional properties and portfolios.