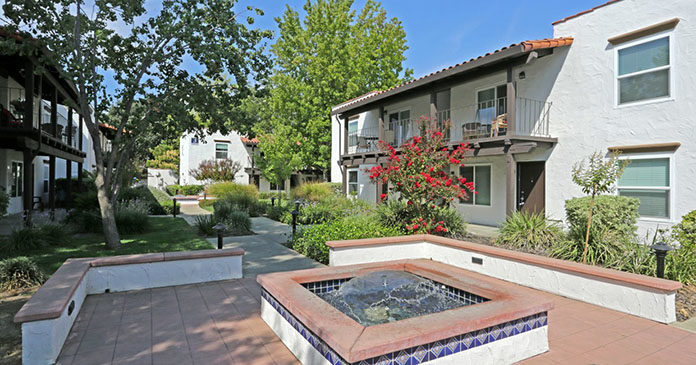 George Smith Partners, one of the nation's leading commercial real estate capital markets advisors, has successfully arranged $17 million in non-recourse refinancing with a $10 million cash-out component for a 14-building, 120-unit multifamily asset located in the Arden-Arcade neighborhood of Sacramento. The financing was arranged by George Smith Partners' Principal Antonio Hachem, along with Wendy Wang and Bart Zucker.
"As the state's capital with a growing and diverse economy, Sacramento increasingly offers an enticing alternative to the Bay Area and Central Valley, both for multifamily investors and lenders," says Hachem. "The city has seen an influx of 14,900 jobs in the past year, reducing unemployment rates to historical lows and increasing housing demand in the region."
The new loan replaces an existing agency loan on the property, while also allowing for a substantial cash-out that gives the Sponsor flexibility to further update the property, increase returns, and take advantage of alternative investment opportunities in the region, according to Hachem.
"Based on the market's stable long-term growth fundamentals, we were able to identify a lender with a strong appetite for multifamily, and successfully secured a better solution for the Sponsor's current financing needs," says Hachem. "As lender interest in this product type increases, borrowers are presented with a unique opportunity to redeploy capital. We continue to identify many opportunities for borrowers to realize substantial cash-out proceeds while still locking in a very attractive fixed rate."
George Smith Partners secured the non-recourse cash-out refinance loan at a fixed interest rate of 4.24 percent for 10 years with a 30-year amortization and was able to lock the rate at application. The loan, which reflects a 65 percent loan-to-value ratio, is also structured to offer assumption rights in the event of a sale, and provides for potential future loan advances.
---
About George Smith Partners
Celebrating 25 years in business, George Smith Partners is a leading national provider of capital market advisory services to the commercial real estate industry. The firm specializes in arranging financing for commercial and multifamily properties, including acquisition, construction, bridge and permanent loans, as well as mezzanine loans, highly leveraged participating loans and joint venture equity.  The company has arranged more than $52 billion in financing since its inception.