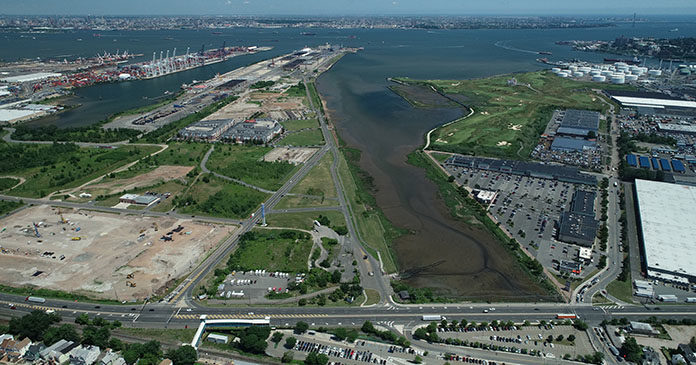 JMF Properties, RD Management LLC, and Accurate Builders and Developers announced today that the joint venture partnership has closed on a 14-acre site on the former Military Ocean Terminal at Bayonne (MOTBY).  The closing paves the way for the development of 651 luxury rental residences.
A fall groundbreaking is planned for the property, which is located on the southwest portion of the terminal peninsula, along Goldsborough Drive, with views of the Bayonne Golf Club across an inlet of New York Harbor. The rental residences will be housed in two five-story buildings which include an 820-space enclosed parking garage. The community will also feature 25,000 square feet of lifestyle amenities, including a rooftop resort-style swimming pool that overlooks the golf course.
The notable acquisition allows JMF Properties and RD Management to expand their significant role in the overall redevelopment of the 103-acre peninsula that juts out into New York Harbor. A former base for both the Army and the Navy, MOTBY is now being transformed into a mixed-use waterfront destination comprising residential, retail, restaurants, commercial and recreation. JMF Properties and RD Management are also developing 240,000 square feet of retail space, with Costco Wholesale as the anchor and a number of prominent retail operators already under lease.
"Bayonne is a quickly-emerging NJ Gold Coast destination, and we are thrilled to partner with the City in its vision for this incredible, untapped waterfront asset," said Joseph Forgione, the founder and principal of JMF Properties. "We've delivered on our promise to bring meaningful retail to the property, with Costco slated to open ahead of schedule in early 2019 followed by a complement of exciting retail providers, and are now delighted to get started on a high-end residential offering that will bring an energy-infused, dynamic living experience to Bayonne."
The new residential development will rise just steps from a planned ferry terminal at MOTBY with service to Manhattan, and will offer easy access to the NJ Transit Hudson Bergen Light Rail 34th Street station, which connects to the PATH system in Jersey City and Hoboken. A new walking path will link the residential community, retail center and ferry terminal, and will also connect to the Light Rail station via a pedestrian bridge over Route 440 being built by the City.
"This is yet another sign that MOTBY development is a reality and that our commitment to creating a brighter future for Bayonne is well underway," said Mayor James M. Davis. "JMF Properties, Accurate Builders and Developers and RD Management all have a proven track record of delivering new ratables to municipalities and injecting new energy into important, underutilized properties, and we're more confident than ever that they are the right partners for the City."
The JMF/RD Management partnership announced the lease signing of Costco Wholesale in May. Costco will occupy a 150,000 square foot facility at Harbor View Marketplace, and operate a Costco Gasoline gas station with 18 gas pumps.
The remainder of the retail property comprises 100,000 square feet. It will include well-known stores and restaurants, as well as outdoor seating. Visitors will be able to spend the day shopping, dining al fresco, and strolling waterfront walkways that offer tranquil views of New York Harbor and the lush rolling hills of the Bayonne Golf Club's Scottish links-style golf course.
"With Costco Wholesale as the anchor, and now 651 residential units coming online within walking distance of the retail center, Harbor View Marketplace is one step closer to becoming the living and shopping destination JMF Properties and RD Management have been working hard to create," said Richard Birdoff, principal and president of RD Management. "Residents and visitors of Bayonne alike will soon be able to experience the start of this vibrant retail and residential development with the highly-anticipated opening of Costco. We'll also continue to attract additional national and local retailers to the property who will benefit from the steady foot traffic future residents will bring to the neighboring businesses."