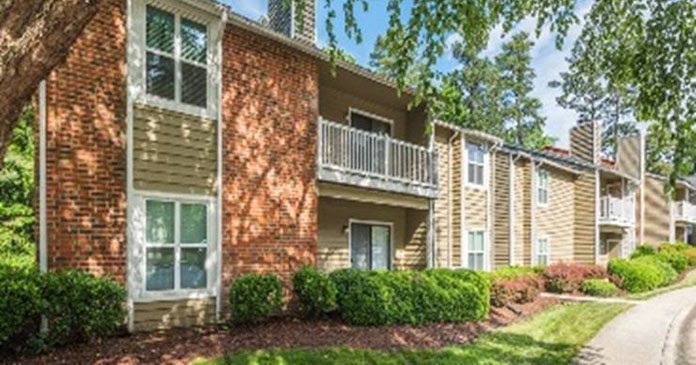 StoneBridge Investments of Washington, DC has acquired Southpoint Glen, a 346-unit suburban garden apartment community in Durham, NC, for $42.7 million. The seller, TH Real Estate, an affiliate of Nuveen (the investment manager of TIAA), was represented by Justin Good, Jeff Glenn, Allan Lynch, and Caylor Mark of HFF.
StoneBridge's first acquisition in North Carolina is located within minutes of world-renowned Research Triangle Park (RTP), home to nearly 300 of the world's most innovative technology, health, and engineering firms. RTP employs more than 50,000 people whose combined annual salaries exceed $2.7 billion.
"After looking at properties in the Raleigh-Durham area for some time, we are excited to close our first acquisition in this area," said Kees Bruggen, Managing Director, StoneBridge Investments. "Given its strong employment growth, excellent quality of life, proximity to world-class universities, and relatively low cost of living, we are bullish on the dynamic Durham market going forward."
"Southpoint Glen has historically enjoyed strong performance, and we believe there is a compelling growth opportunity remaining through strategic renovations and modernization of the property," said Will Bateman, Director, StoneBridge Investments.  "By performing light in-unit renovations along with more comprehensive exterior improvements to enhance curb appeal, we aim to close the gap between Southpoint Glen and its newer competitors while still maintaining its relatively affordable position in the submarket."
Stonebridge's planned improvements include adding upgraded cabinets, faux granite countertops, tile backsplashes, two-inch blinds, and plank flooring with special soundproofing to individual apartments. The company also plans to upgrade the community's amenities by expanding the pool and fitness center, adding an outdoor fitness area, and repurposing the existing sand volleyball court.
HFF's debt placement team, led by Managing Director Elliott Throne and Senior Director Roger Edwards, worked on StoneBridge's behalf to secure a seven-year fixed-rate loan through Freddie Mac's CME (Capital Markets Execution) Program.  The securitized loan will be serviced by HFF, a Freddie Mac multifamily approved seller/servicer for conventional loans.
Durham has been ranked among the fastest-growing small cities in America, and one of the best places for millennials to live. With an educated workforce and living costs much lower than those of Silicon Valley, the area continues to attract entrepreneurs and investment. Since 2008, Durham has experienced more than $2.28 billion in economic development, creating more than 6,000 new jobs.
In addition to its proximity to major employment centers, Southpoint Glen offers easy access to The Streets at Southpoint, a 1.3 million square foot regional shopping mall with more than 150 shops, restaurants, and entertainment venues including Apple, H&M, Macy's, Nordstrom, Belk, and AMC Theatres.
---
About StoneBridge Investments
Active since 1980, StoneBridge and its affiliates have acquired and developed more than $1.7 billion in real estate, primarily in the multifamily sector, for foreign and domestic investors. The company's strong track record and extensive network of relationships allows it to quickly and efficiently identify and pursue new opportunities, many of which are off-market transactions. The company's target markets include the Washington-Baltimore area, the Carolinas, Georgia, Florida, and Texas. It has offices in Washington, DC and Amsterdam.
About HFF
HFF and its affiliates operate out of 26 offices and are a leading provider of commercial real estate and capital markets services to the global commercial real estate industry.  HFF, together with its affiliates, offers clients a fully integrated capital markets platform, including debt placement, investment advisory, equity placement, funds marketing, M&A and corporate advisory, loan sales and loan servicing.  HFF, HFF Real Estate Limited, HFF Securities L.P. and HFF Securities Limited are owned by HFF, Inc.