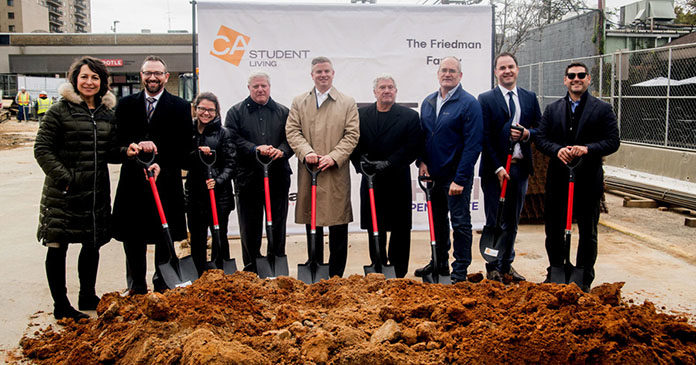 CA Student Living, the student housing investment and development division of Chicago-based CA Ventures, has commenced construction on HERE at State College, a 510,112-square-foot residential and retail complex located at 131 Hiester St. in State College, Pa., one block from the Penn State University campus. Developed in partnership with Friedman Real Estate Group and Penn State Hillel, the 12-story development is scheduled to deliver in summer 2020, with pre-leasing set to begin next fall.
Principals from CA Student Living were joined at an Oct. 26 groundbreaking ceremony by representatives from Penn State Hillel, whose new 18,000-square-foot facility will be housed on two floors of the development; Friedman Real Estate Group; and Brinkmann Constructors, the project's general contractor. Penn State University President Dr. Eric Barron and local officials were also in attendance.
"HERE at State College will infuse enormous energy into this prominent downtown site, transforming a former parking lot into modern apartments, a vibrant community center and expanded retail offerings," said JJ Smith, president of CA Student Living. "When our new development opens its doors in fall 2020, Google Maps will need to relocate its pinpoint to mark the center of State College to HERE — a new epicenter that will catalyze additional investment and benefit those who live, study and work here."
When completed, the development at the intersection of Garner Street and Beaver Avenue will include 227 apartments with a total of 734 beds, located on floors three through 12, and 30,000 square feet of retail on the two lower levels. The retail, inspired by a European arcade, will surround a new public courtyard with seating and a grand staircase.
The new Penn State Hillel center, whose entrance will be located at the corner of Beaver Avenue and Garner Street, will serve the estimated 5,000 Jewish students who attend Penn State, providing lounge and study spaces, shared staff and student leadership workspace, flexible event spaces and a private terrace.
"We're thrilled to partner with Penn State Hillel – previously one of only two Hillel organizations in the Big Ten without a dedicated facility – to create a modern environment that will enrich Jewish life in State College," said Smith. "The Hillel facility's thoughtful design will provide the perfect setting for leadership meetings, engagement events and student gatherings."
Apartments at HERE at State College will range from 500-square-foot one-bedroom/one-bath plans to 2,000-square-foot duplexes with five bedrooms and five baths. In addition to being outfitted with designer furniture, each residence will feature wood-grain flooring, modern kitchens with stainless steel appliances and quartz countertops, a 48-inch smart TV in the living room and in-unit laundry.
Students will have several spots for socializing throughout the community, including the central retail courtyard and a rooftop deck and lounge. The development will also include a health and fitness center, club room, study lounge with Mac and PC computers, and several private study areas.
HERE at State College marks CA Student Living's second mixed-use development near the Penn State campus. The firm opened RISE at State College, a 12-story, 575-bed development at 532 E. College Ave., in August 2018.
"Apartments at RISE at State College were fully leased for the 2018-19 school year and are already 85 percent preleased for the 2019-20 school year, underscoring the strong demand for luxury student housing in this market," said Smith. "While students will love the modern features and condo-quality finishes in the apartments, the streetscape outside will also be activated. We've tailored amenities at HERE at State College to maximize the college experience."
While numerous boutique and name-brand retailers will be located on-site, residents will also have immediate access to popular shopping, dining and entertainment venues along College Avenue, as well as the Bryce Jordan Center and Beaver Stadium. HERE at State College will also expand parking options in the downtown area, with 130 of the 302 below-grade spaces available for public use.
Boston-based Shepley Bulfinch has been retained as architect of record, while Fifth Third Bank and KeyBank provided construction financing for the project.
---
About CA Ventures/CA Student Living, LLC
CA Ventures LLC is a Chicago-based real estate investment holding company whose international portfolio includes $7.8 billion in assets throughout the U.S., Europe and Latin America. While initially focused on student housing, CA Ventures has since diversified into other sectors, including office, senior lifestyle, multifamily, hospitality and industrial. In addition to development and renovation, the firm specializes in institutional joint ventures; value-add investing; equity and debt sourcing; and asset management services. CA Ventures serves as the holding company for the CA family of companies, including CA Student Living, CA Office / Vanderbilt Partners, CA Senior Living, CA Residential, CA Industrial, CAV International and CA Hospitality.
About Penn State Hillel
Penn State Hillel's mission is to enrich the lives of the estimated 5,000 Jewish students at Penn State so that they may enrich the Jewish people and the world. Penn State Hillel's student leaders, staff, and lay leaders are dedicated to creating a pluralistic, welcoming, and inclusive environment for Jewish college students, where they are encouraged to grow intellectually, spiritually, and socially. Penn State Hillel helps students find a balance between being distinctly Jewish and universally human by encouraging them to pursue tzedek (social justice), tikkun olam (repairing the world), and Jewish learning, and to support Israel and global Jewish peoplehood. Penn State Hillel is committed to excellence, innovation, accountability and results.