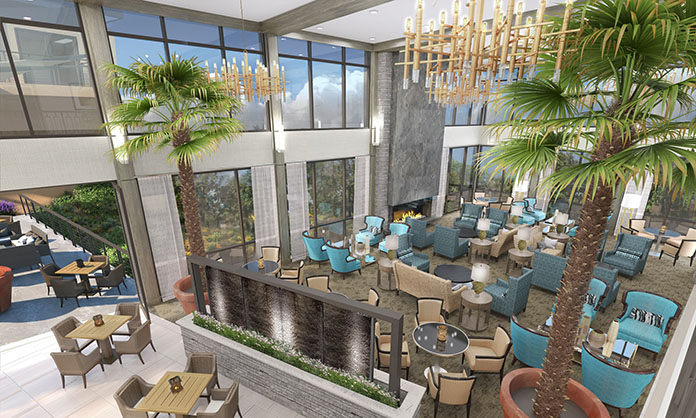 R.D. Olson Construction, an award-winning general contracting firm in California, began construction on Newport Terrace Senior Living for Atria Senior Living in Newport Beach. The 120,000-square-foot assisted living community will be comprised of two parts – a new south wing and a fully renovated north building – featuring accommodation and community spaces for assisted living and memory care residents. Atria Newport Terrace Senior Living is the firm's fifth senior housing project in Southern California and is slated for completion in summer 2020.
"As baby boomers continue to enter retirement and require senior care, there's a high demand for assisted living communities, especially in the beautiful coastal area of Newport Beach," said Bill Wilhelm, president of R.D. Olson Construction. "We're honored to bring new and existing residents at Atria Newport Terrace Senior Living a reimagined community that will elevate their quality of life and enhance their daily living experience."
Located at 393 Hospital Rd., the existing south building will be demolished and reconstructed as a 75,000-square-foot assisted living space featuring 85 residential units complete with kitchenettes. Amenities for residents will include a large, two-story living room with floor-to-ceiling windows and a two-story fireplace; dining room served by a new full-service kitchen; pre-dining lounge area; bistro; library and card room; theatre; activity rooms; music room; wellness rooms and an interior courtyard. Upon completion, residents in the north building will relocate to the south facility.
The 45,000-square-foot north building, which is situated at 4000 Hilaria Way, will undergo a complete renovation to include 42 units for memory care and 42 units for assisted living. Amenities in the north building will include a country kitchen; dining rooms and gathering rooms; music room; card room; library; interior courtyard and activity rooms. The first floor will be dedicated to memory care and include a nurse station and supplemental facilities to serve residents' well-being.
R.D. Olson Construction's project partners include Douglas Pancake Architects, CT+C Design Studio, EnGeo, KFPP, P2S Engineering, Inc., Conceptual Design and Planning Company (CDPC) and The Dine Company.
The firm's other senior housing projects include California Senior Plaza in Southgate; La Costa Glen Senior Housing in Carlsbad; West Angeles City Place in Crenshaw and Glenbrook Skilled Nursing in Carlsbad.
---
About R.D. Olson Construction
Founded by Bob Olson in 1979 and led by President Bill Wilhelm, R.D. Olson Construction is one of the top 50 general contracting firms in California. R.D. Olson Construction is a premier builder of hotel properties for several national hoteliers, including Marriott, Hilton, Hyatt, Ritz Carlton, and Starwood. The firm also has a rich history as a builder of office, retail, restaurant, multifamily, education, assisted living and recreational projects.