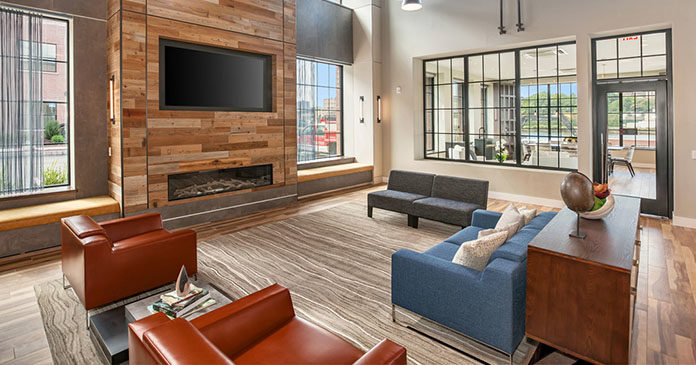 Kearny's dramatic transformation from factory town to popular urban dwelling place continues with the opening of 280 units at Vermella West, the first phase of Russo Development's 548-unit apartment community along the Passaic River. Construction began during the Summer 2017 and occupancy began in early October.
Russo has also acquired the former "Bat Factory" property, a six-acre site that has been vacant for over 30 years since a fire destroyed the former manufacturing facility in the late 1980s. The site will be redeveloped with 268 apartments that will be the second phase of Vermella West, with construction planned to commence in the Spring 2019 and finish in late 2020.
Vermella West residents will enjoy convenient access to nearby shopping, numerous services including free shuttles to the Harrison Path Station, and various onsite amenities including a club room, state of the art fitness center, resort style pool, canine country club, and river walk along the Passaic River. Many retailers and amenities are within walking distance including LA Fitness, Shop-Rite, BJ's, Chipotle, Starbucks, and other food/restaurant uses.
A long-time commercial property owner in Kearny, Russo opened the final phase of Vermella Crossing, a 230-unit apartment project at the intersection of Schuyler and Bergen Avenues in May 2018 and quickly achieved full occupancy. Russo's leasing office for Vermella West, located at 135 Passaic Ave., has also seen strong leasing activity with more than 25 percent of the community's apartment homes already leased.
"The properties on Passaic Avenue where Vermella West is being developed were vacant eyesores for many years, and Russo has been transforming them into better ratables that will bring residents, shoppers and businesses to Kearny," said Mayor Alberto (Al) Santos. "Russo has worked with Kearny to ensure responsible redevelopment and has been a great partner towards improving our Town and helping us address the infrastructure that serves it."
"The Vermella properties appeal to long-time Kearny residents looking to downsize and younger ones wanting to start their independent lives without leaving the community they love, as well as newcomers to the broader region in search of an upscale lifestyle that's near work or school."
"Kearny was poised for a residential resurgence due to its vibrant new retail and commercial developments – and the energy in nearby cities like Newark and Harrison," says Ed Russo, CEO of Russo Development. "Kearny also is an ideal location for our Vermella brand, which pioneers unexpected but compelling locations where it can provide inspired life-style driven housing with exceptional value."
Vermella developments are noted for the highest-quality materials and finishes in thoughtfully-designed unit layouts. Vermella West features unique quartz countertops that accent its stainless steel, energy-efficient appliances, in-home washer and dryer, and stylish, spacious living spaces with hardwood floors and pendant lighting.
Its amenities package is highlighted by an 8,800 square foot Club House that features a fully-equipped fitness center open 24/7 with free weights, weight machines and cardio equipment, mail and package area, and two elegantly appointed event spaces that can be reserved for private events.
---
About Vermella
The Vermella residential brand creates a new set of expectations for multifamily luxury development in New Jersey. Vermella's mission of providing high quality construction, attention to detail and passion for design – often in unexpected but compelling locations – is reflected in the 1,500 units Russo has completed since 2014, and the 3,500+ additional units it currently has under construction or planned during the next 5 years. Vermella's signature red promises its residents superb value, exceptional amenities and attentive management by Russo Property Management staff.
About Russo Development, LLC
Russo Development is one of the most active, privately held developers of industrial, data center, and multifamily properties serving the New Jersey market. Russo has earned a reputation for well-planned developments that are distinguished by their emphasis on detail and quality. Over their 45-year history, Russo has completed more than 8 million square feet of industrial projects and has become one of the largest owners of data center space in the New York metropolitan area. The firm has also completed approximately 1,500 rental apartments during the past several years and has a multifamily pipeline of over 3,500 units planned in various New Jersey communities over the next 5 years.