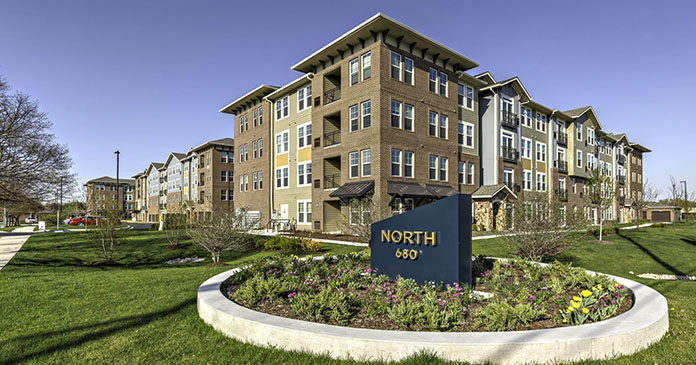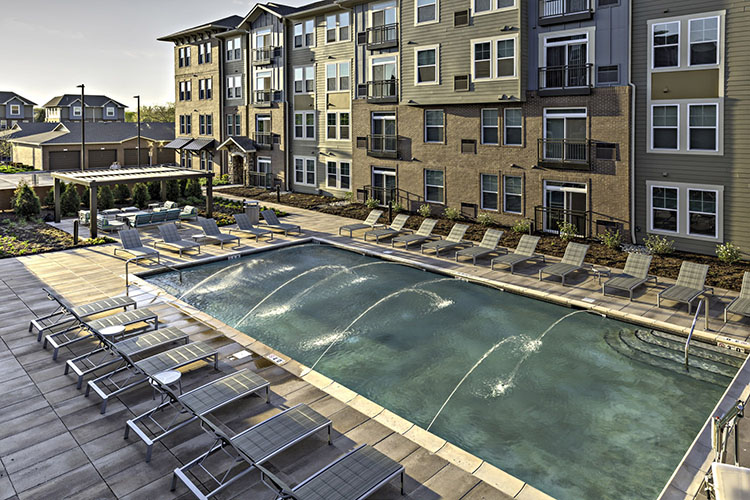 Chicago-based Draper and Kramer, Incorporated, today announced it has expanded its Chicago-area portfolio with the acquisition of North 680, a recently built 180-unit luxury rental community in Schaumburg, Ill. The property was purchased by Draper and Kramer as part of a 1031 exchange following the firm's sale of Fieldpointe of St. Louis, a 318-unit community in the St. Louis suburb of Maryland Heights, Mo. The Chicago office of CBRE brokered the sale of North 680.
Located at 680 E. Algonquin Road, North 680 includes 176 residences in four elevator buildings, as well as four tri-level rental townhomes in two buildings. The property also includes an extensive suite of amenities along with a prime location in Schaumburg, ranked the Best Place to Live in Illinois by Money Magazine in 2018 thanks in part to its proximity to employers like Zurich North America, Motorola and IBM; plentiful shopping and dining options; and main transportation arteries including interstates 90 and 290 and Route 53.
"North 680 presented a unique opportunity to acquire the first luxury residential community built in Schaumburg in the last three decades" said Blas Puzon, senior vice president of acquisitions for Draper and Kramer. "What made this deal extremely attractive from an investment standpoint is that it came at a time when demand for high-end apartments is dramatically outpacing supply in select suburban communities, as proven by the quick lease-up of the property. There is significant economic growth and development underway in Schaumburg, including the planned redevelopment of the 225-acre Motorola campus across the street from North 680, which will only add to the area's appeal as more people seek out the luxury suburban rental lifestyle that North 680 delivers."
Completed in 2017, North 680 offers residences ranging from 665 to 1,588 square feet, including one- bedroom/one-bath, one-bedroom plus den/one-bath, and two-bedroom/two-bath plans. The four rental townhomes have two bedrooms and 2½ baths. All units feature generously sized open layouts, 9-foot ceilings, oversized walk-in closets, and well-appointed kitchens with large islands and granite countertops. Select units have built-in workstations and mudroom hall trees. North 680 also includes 65 attached garages, 85 detached garages, and 196 uncovered parking spaces, for a total of almost two spaces per unit.
Amenity offerings at North 680 include a heated resort-style pool with adjacent outdoor kitchen; fenced pet park; clubhouse with kitchen, bar and lounge area; and fitness studio with state-of-the-art equipment.
Draper and Kramer has also taken over management of North 680, adding the community to its portfolio of Chicago-area properties under management. The company, one of the leading privately held, full-service real estate firms in the United States, currently has a portfolio of more than 10,000 rental units across Chicago, St. Louis, San Antonio and Minneapolis, as well as 25,000 condominium residences throughout Chicago.
"The Draper and Kramer management team has extensive experience operating high-end buildings throughout Chicagoland," said Puzon. "As a result, we're well positioned to deliver the high-service rental experience that many suburban renters – including some who may be moving to Schaumburg from the city — have come to expect from communities like North 680."
The company plans to maintain the market competitiveness of North 680 by making select renovations to the property as needed over time.
---
About Draper and Kramer, Incorporated
Founded in 1893, Draper and Kramer, Incorporated, is celebrating 125 years as a trusted financial and property services provider with a deep commitment to people, excellence, service and integrity. Family-owned and one of the leading privately held real estate services firms in the U.S., Draper and Kramer is headquartered in Chicago with a national reach and broad offering of services. The company's decades-long heritage has evolved over the years to meet the needs of its clients and today spans expertise in residential and commercial development, acquisition, property management and leasing; debt and equity financing for commercial properties; and residential mortgage services through affiliate Draper and Kramer Mortgage Corp. Draper and Kramer provides a single source of real estate-related counsel to a diverse group of real estate investors across the U.S. including corporations; private and institutional owners and users of real estate; government agencies; condominium associations; and foundations.