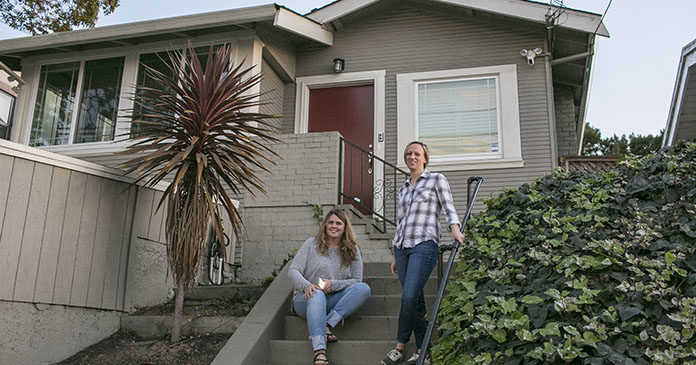 When the Air Force assigned Lyndsey and Sharon Ballinger to Washington, D.C., in 2015, the Ballingers kept their Oakland, California, house and rented it out on a month-to-month lease so they could move back. But when the Ballingers returned to Oakland this spring, a new city law forced them to pay their tech-sector tenants $6,500 to vacate the house before the Ballingers could move back into their own home.
"Both of us felt like we were punched in the stomach," Lyndsey Ballinger said. "We ended up paying and it was just awful. Especially when our lease was written and signed prior to the law being passed. That made no sense."
The law's intent is to help tenants who are displaced when property owners elect to take their homes off the rental market so they or a relative can live there. However, even the best intentions to help people can't violate constitutional protections. The Ballingers late yesterday filed a federal lawsuit against the city for violating their rights to due process as well as protection against government property takings.
"These sorts of tenant relocation schemes don't work because the real root of affordable housing shortages is government regulations, not rental property owners," PLF attorney Meriem Hubbard said. "The Ballingers' lawsuit argues that the Oakland ordinance is not only misguided but also unconstitutional. People who want to move back into their own homes should be able to do so without paying for tenants to go elsewhere."
Read more about the case at pacificlegal.org.