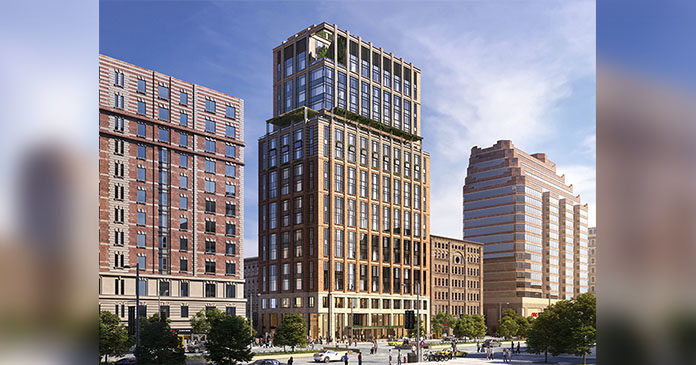 Welltower Inc., the global leader in health care infrastructure, and the New York office of Hines, the international real estate firm, announced today that they have closed on the acquisition of a development site at 2330 Broadway at 85th Street on the Upper West Side of Manhattan. Existing commercial structures on the site will be demolished to make way for construction of a state of the art 140,000-sq.ft., 17-story senior living and memory care community.
The 9,100-sq.ft. site on the northeast corner of 85th Street and Broadway is the second Manhattan senior living development site for the joint venture partnership of Hines, Welltower, and a passive institutional investor.  In 2016, Hines and Welltower announced the acquisition of a site at 139 East 56th Street as the first new purpose built Manhattan development aimed at addressing New York's aging demographics and underserved senior population. The 130,000-sq.ft. facility, named Sunrise at East 56th Street, will top out at 16 stories at the end of January and open for residents in early 2020.
"We are proud to build on our partnership with Welltower to identify and secure excellent urban sites for the creation of extraordinary senior living communities," said Tommy Craig, Senior Managing Director of Hines.  Sarah Hawkins, Senior Managing Director of Hines, added "Our partnership in the urban seniors housing sector combines the highest quality of care with beautiful and functional design focused on dignity, wellness and community, and we are excited to bring this innovative model for seniors to the Upper West Side."
"We are very pleased to expand our partnership with Hines, which is focused on developing state-of-the-art residential senior care buildings in major urban markets like New York City," said Tom DeRosa, CEO of Welltower.  "The Upper West Side of Manhattan is a uniquely distinct neighborhood with a large population of affluent seniors yet zero supply of modern, purpose built residential care communities.  This location is in the top percentile of the demand curve for our target households and The Welltower West will offer a seamless extension of this unique neighborhood for our residents."
Design and development plans are currently underway and will be announced in greater detail at a later date. But the developer, in sharing the first rendering of the community, said the development will complement and integrate with the vibrant and well-established residential neighborhood of the Upper West Side. It will be designed by SLCE Architects, LLP, which also designed Sunrise at East 56th Street.
The transaction teams were led by Sarah Hawkins and Bevin Littlehale of Hines and John Olympitis and Talal Khan of Welltower, both out of their respective New York regional offices.
---
About Hines
Hines is a privately owned global real estate investment firm founded in 1957 with a presence in 207 cities in 24 countries. Hines has approximately $116.4 billion of assets under management, including $64 billion for which Hines provides fiduciary investment management services, and $52.4 billion for which Hines provides third-party property-level services. The firm has 109 developments currently underway around the world. Historically, Hines has developed, redeveloped or acquired 1,319 properties, totaling over 431 million square feet. The firm's current property and asset management portfolio includes 527 properties, representing over 224 million square feet. With extensive experience in investments across the risk spectrum and all property types, and a pioneering commitment to sustainability, Hines is one of the largest and most-respected real estate organizations in the world.
About Welltower, Inc. 
Welltower Inc., an S&P 500 company headquartered in Toledo, Ohio, is driving the transformation of health care infrastructure. The company invests with leading seniors housing operators, post-acute providers and health systems to fund the real estate infrastructure needed to scale innovative care delivery models and improve people's wellness and overall health care experience.  Welltower™, a real estate investment trust ("REIT"), owns interests in properties concentrated in major, high-growth markets in the United States, Canada and the United Kingdom, consisting of seniors housing and post-acute communities and outpatient medical properties.