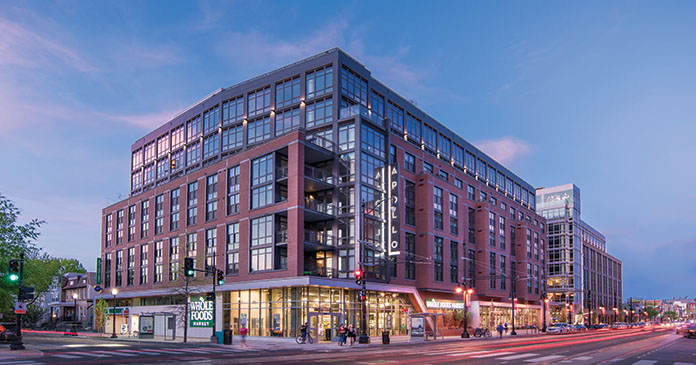 While dog parks, pool decks, community-wide WiFi, granite countertops, bike storage and repair areas and package delivery centers are becoming commonplace, apartment and condominium developers are challenged to add ever more innovative amenities to their communities.
Fine art stands out as one of the newest resident attractions in today's multifamily world and a number of Pillars finalists have embraced this emerging trend.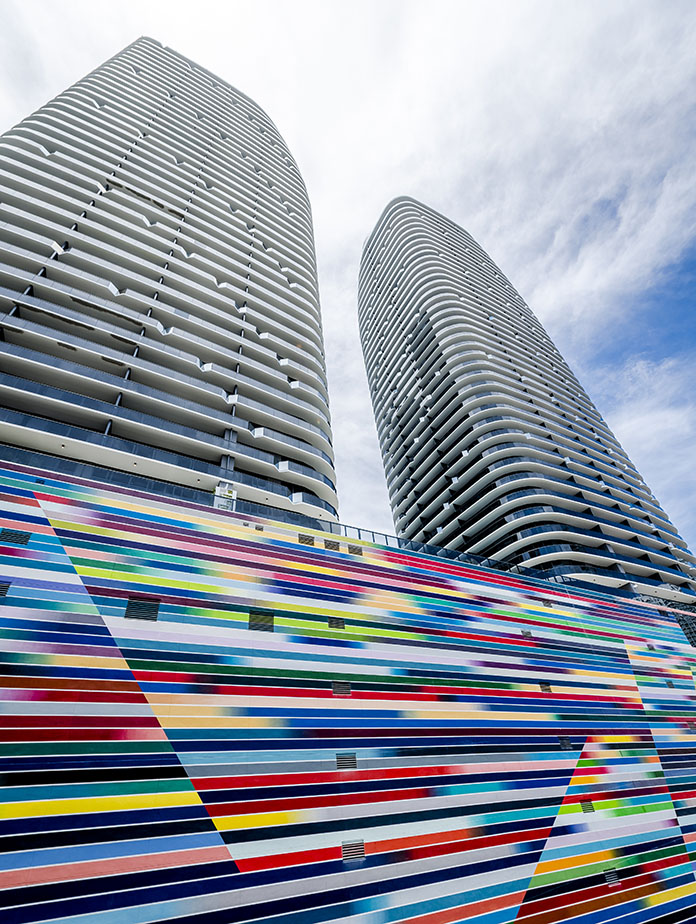 Brickell Heights
In addition to enviable amenities that include rooftop pool decks with summer kitchens, a 3,500 sq. ft. indoor cycling studio, a putting green and a three-story, 34,000 sq. ft. Equinox fitness center, Brickell Heights, a two-tower, 690-unit condominium community in Miami, Fla., also includes a curated, cutting-edge art collection that adorns the interior, featuring international contemporary artists, including original works by Eduardo Capilla and Omar Rodríguez-Graham.
In addition, a 35,000-sq. ft. mural by Argentine artist Fabián Burgos adds a vibrant pallet of color to the base of the towers' exterior.
Designed by the Miami-based architectural firm Arquitectonica and developed by The Related Group, Brickell Heights, which celebrated its grand opening June 7, 2017 and is a finalist in Pillars' best condominium community category, incorporates living plants throughout the interior and a community vegetable and herb gardens outside.
Rivaling the luxuries of a five-star hotel, Brickell Heights boasts ninth-floor pool terraces with swimming pools and lap pools, kids' clubs, 24-hour concierge and valet parking and screening rooms.
The one- and two-bedroom units and top floor penthouses range in size from 541 sq. ft. to 2,366 sq. ft. in the 332-unit, 47-story west tower and 620 sq. ft. to 2,543 sq. ft. in the 358-unit, 49-story east tower. The condominiums feature floor-to-ceiling windows, in-unit stackable washers and dryers, bathrooms with floors and wet walls clad in imported designer porcelain tile and imported stone countertops and contemporary European cabinetry in the kitchens.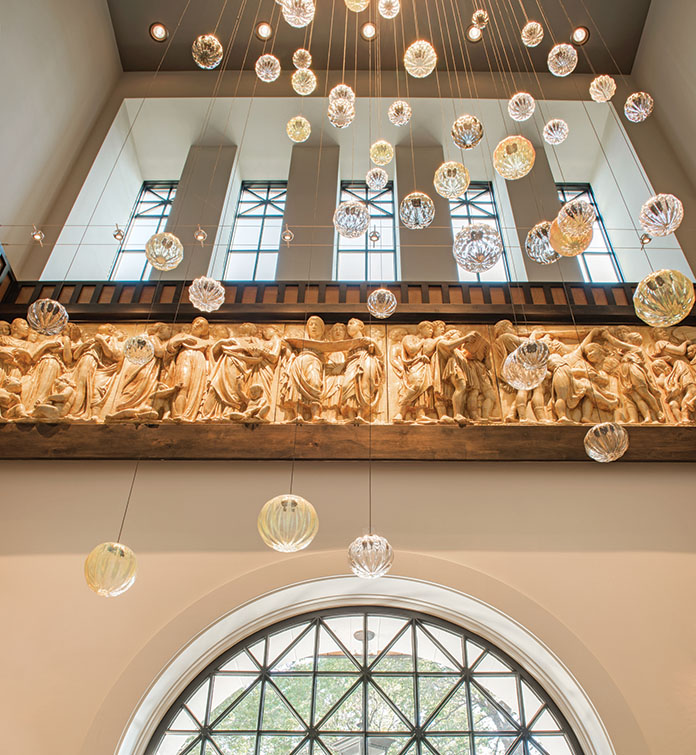 The Willson Residences
On the other side of the country in Bozeman, Mont., the 17-unit The Willson Residences, another finalist in the best condominium category, features historic friezes that were part of the 113-year-old school that Bozeman-based developer Bridger Builders rescued from the wrecking ball and a custom light fixture with hand-blown pendants that span three stories and turn the south entry to the community into a work of art.
The adaptive reuse of the community landmark stood empty for 10 years before the developer purchased the property in 2014. It includes generous greenspace and underground parking that was created by the conversion of the basement's boiler room, cafeteria and kitchen into a modern parking garage with room for mechanical systems, spacious storage lockers and parking for each unit. The climate-controlled environment is a very desirable feature in Montana's harsh winters.
The old loading ramp for the kitchen, with heating installed in the new concrete slab and surrounding sidewalks, now serves the parking garage.
Designed by Bozeman-based architect Comma-Q Architecture and Lois Syth of Bridger Builders to highlight the historic details of the refurbished community, the rebirth of the building is revitalizing an overlooked area of downtown Bozeman, while enhancing the city's historic Main Street corridor.
The one-, two- and three-bedroom condominiums that include six loft-style units range in size from 1,200 sq. ft. to 3,500 sq. ft. and feature cathedral ceilings, expansive windows, private balconies, alcohol-burning fireplaces and high-end kitchen appliances and cabinetry. The units were sold out before the construction was finished.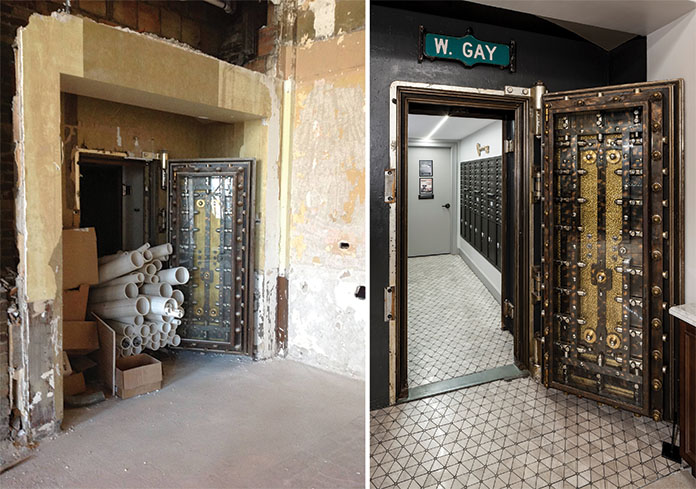 The Citizens
The transformation of the 101-year-old Citizens Trust & Savings Bank building in Columbus, Ohio, into a 63-unit apartment community by Columbus-based developer Edwards Urban, with design services by KEPHART, also made use of historic treasures discovered during the property's metamorphosis into The Citizens, a finalist in Pillars' best adaptive reuse category.
Stacks of old money orders dating back to the 1920s were found in the old bank vaults and artfully re-purposed as wallpaper around the entries to the apartment units. The former columns in the bank hall were recreated with the help of the original plasterer's grandson, who still had the molds his grandfather used, maintaining the building's historic character.
The old bank vaults in the building were preserved and integrated into the design of the bar and a community mail room and the original bank hall is now a public gathering space with a specialty cocktail bar.
The studio, one-, two- and three-bedroom apartments that are located on the eight floors above the bank hall offer stainless steel appliances, in-unit washers and dryers, intercom guest entry, island kitchens and hardwood floors.
Community amenities include package and dry cleaning services, a fitness center, a rooftop garden room and an entertainment kitchen and patio with grilling lounge.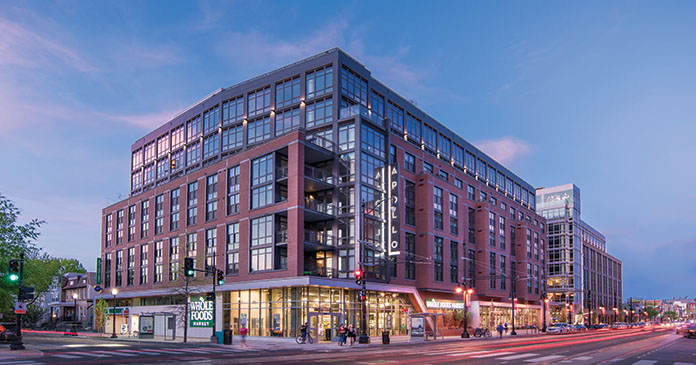 The Apollo
The walls throughout The Apollo, the 431-unit mixed-use apartment community in Washington, D. C., that is a finalist in the best mixed-use category, are lined with art from local artists.
Much of the art was curated by D.C.'s Longview Gallery and some of the paintings were provided by Art Enables, a Northeast D.C. gallery that provides developmentally disabled artists with the ability to sell their work.
In collaboration with Art Enables, The Apollo has provided permanent exhibition space for the artists and hosts a series of Meet-The-Artist events.
The mixed-use community, that was developed by Arlington, Va.-based Insight Property Group and designed by SK&I Architectural Design Group of Bethesda, Md., is anchored by a 48,000 sq. ft. Whole Foods and a 32,000 sq. ft. WeWork co-working space and features 12,000 sq. ft. of street-facing retail that includes the Daily Rider bike shop, the Fancy Radish vegan restaurant, Solid State Books bookstore, and Little Grand, a new "alley bar."
Amenities for residents of the community's studio, one-, two- and three-bedroom units include four BBQ grilling kitchens, a movie projector and expansive plantings on the community's east rooftop and an outdoor living room, BBQ grilling kitchen, two-tiered swimming pool and outdoor fireplace on the west rooftop.
Other community amenities include an indoor dog wash and outdoor dog run, a gym with private studio and boxing area, secure bicycle storage rooms and invitation-only dining experiences with local chefs in the penthouse amenity space that also features an indoor fireplace and table games.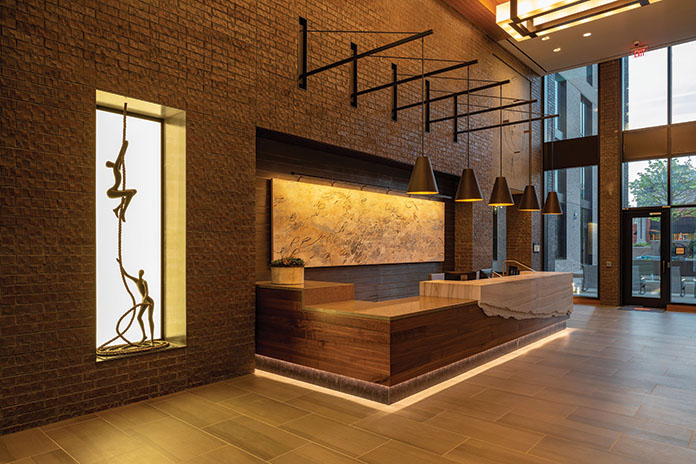 Signature at Reston Town Center
Local artists also have the opportunity to showcase their work at the ground floor gallery of Signature at Reston Town Center in Reston, Va., a finalist in Pillars' best community amenities category.
The 508-unit mixed-use apartment community that was developed by Boston-based Boston Properties and designed by Shalom Baranes Associates of Washington, D.C., will feature a year-round schedule of exhibitions through a partnership with the Greater Reston Arts Center.
Residents of the studio, one-, two- and three-bedroom rental units that are spread between two 19- and 21-story towers and two six-story buildings that house two-level homes and flats also can attend art exhibits at a nearby arts center.
The community that was built on a former 4.5-acre surface parking lot that Boston Properties acquired in 2013 includes 4,600 sq. ft. of retail space in the east tower and a 20,000 sq. ft. Balducci's Food Lovers Market in the west tower.
Lobby and street level amenities include a 24-hour front desk concierge, large package storage with electronic resident access, a private conference room and computer stations in a fully equipped library, cyber nooks, a grand room with a dual-sided fireplace, private dining room and social nooks, a demonstration kitchen and a courtyard with two water features and an indoor-outdoor fireplace.
Seventh floor amenities include a sports bar, a terrace with an outdoor kitchen and bar, fire pits and private outdoor dining and grilling, a pool deck, and a lounge/sports bar with a TV viewing wall, self-serve kitchen, billiards, shuffleboard and foosball and a two-story penthouse-level fitness center with floor-to-ceiling windows.
A bike storage and maintenance area and pet spa and run round out the amenities that the developer says are the main reason residents give for leasing at Signature.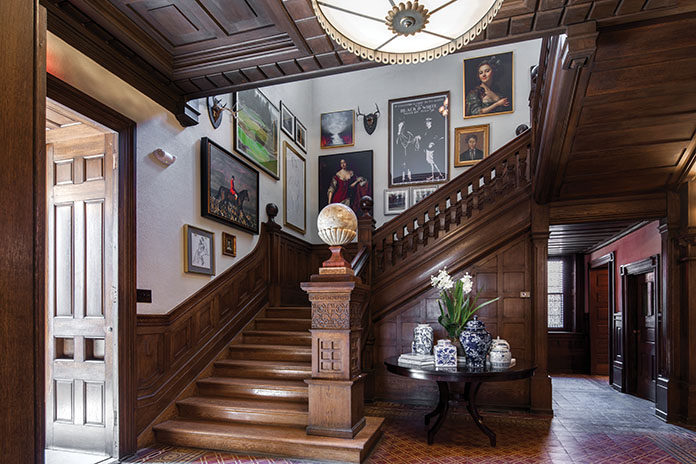 Maybrook
Maybrook, a finalist in Pillars' best low-rise community category, is likely the only apartment community in the country that can boast an art-filled historic mansion turned clubhouse as an amenity.
The 250-unit apartment community in Wynnewood, Penn., about nine miles northwest of Philadelphia, that was designed by Irvine, Calif.-based KTGY architects and developed by Jefferson Apartment Group of McLean, Va., and Haverford Properties of Narberth, Penn., includes the former Maybrook Mansion, an elegant home built in 1881, that has been converted to feature a lounge, billiard and poker room, bar, parlor, formal dining room and a ballroom for the residents' enjoyment.
A prime example of Gilded Age craftsmanship, the 35-room mansion boasts an eclectic selection of art that references the area's history and Philadelphia's connection to the nation's founders, including an abstract of George Washington in the lobby, quotes from the founding fathers in the mezzanine and a print of an early American settler taking a beer break in the bar.
In addition to the mansion, the newly constructed Maybrook community includes a double-volume club room, a living room adjacent to the leasing center, a mail room with an adjacent package room, a double-decker fitness center with a unique spiral staircase, a bar with billiard and shuffleboard, a mezzanine business center with computer stations, a community work table and power connections to support those who work from home and an indoor/outdoor kitchen.
Outdoor amenities include more than 30 acres of wooded area, a mile of walking trails, a restored Japanese garden, a paddle tennis court, a resort-style swimming pool with sun shelf, a picnic grove with Viking grills, a firepit, a dog park and a butterfly garden.
The apartments feature custom closets, under-cabinet lighting, quartz countertops, over-sized windows, pendant lights, stainless steel appliances, pantries, island and eat-in kitchens and in-unit washers and dryers.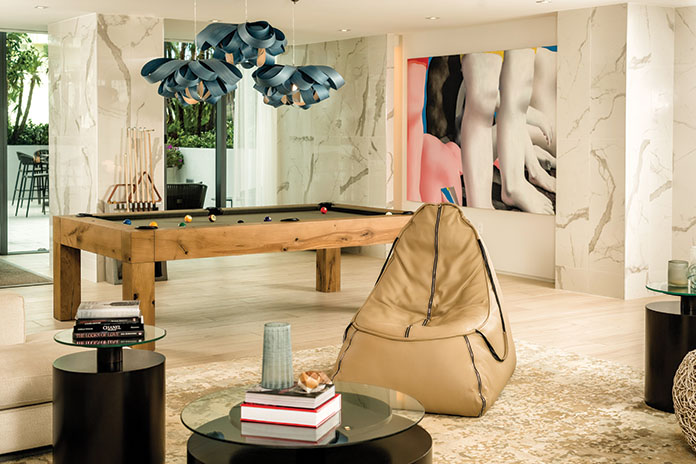 Icon Las Olas
Icon Las Olas, a 45-story apartment community in Fort Lauderdale, Fla., that is a finalist in the best high-rise category, features a curated art collection spread through both the private and public areas.
Four large paintings by local artist Lynne Gelfman, a column installation by Mangle, a Colombian collaborative, and a ceramic bead installation behind the front desk by Miami artist Jon Millán adorn the lobby of the community that was designed by Miami-based Sieger Suarez Architects and developed by The Related Group.
And works of art by world-renowned artists, including Lautaro Cuttica, Jordan Kasey and Federico Lanzi, decorate the amenity floors.
The 272-unit apartment community is the tallest building in Fort Lauderdale and the first of The Related Group's newly launched Icon rental brand.
The community that boasts 15,000 sq. ft. of retail space features three eateries, including the Japanese-style ETARU Las Olas, and Related also plans to add a waterfront restaurant with views of the New River.
Community amenities, designed to appeal to renters by choice, include a clubroom with a pool table, two pools with city and ocean views, a party room with built-in bar and catering kitchen, a spa room, a sky terrace overlooking Fort Lauderdale, electric car parking and a wine tasting salon.
The one-, two- and three-bedroom units include floor-to-ceiling windows, imported Italian cabinets with granite countertops and in-unit washers and dryers.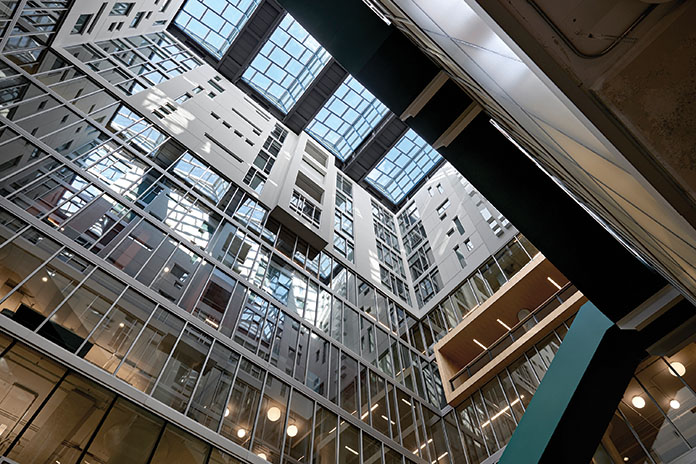 Parcels at Concourse
A public art gallery, a fully outfitted maker's lab and performance space featured in the 265-unit Parcels at Concourse apartment community on the top four floors of the 10-story former Sears, Roebuck and Company Catalog Merchandise Distribution Center and retail store in Memphis, Tenn., reflect the efforts of a local start-up arts group that provided the catalyst for the 90-year-old building's rebirth.
The art deco facility that was constructed in 1927 and was the region's largest employer by 1965, was abandoned in 1983, a victim of urban divestment and suburban expansion, and sat empty for three decades until it was reborn as the 1.5 million sq. ft. Crosstown Concourse.
Initially conceived as the headquarters for the start-up arts organization that became interested in the derelict structure, other institutions became involved through a series of community meetings that eventually resulted in the transformation of the old Sears building into a vertical village by developer Memphis-based Crosstown LLC.
Designed by Looney Ricks Kiss, Parcels at Concourse, a finalist in Pillars' best mixed-use category, features skylights of different sizes and depths of penetration that allow natural light into the heart of the historic building.
The residents of the studio, one-, two- and three-bedroom apartments that feature exposed brick walls, repurposed building materials and concrete floors, live above restaurants, retail and performance space and enjoy a community garden, a 20,000 sq. ft. YMCA fitness center, a multi-station teaching kitchen, a 450-seat black box theater, a commercial kitchen and a start-up business center.
The winners will be announced on Feb. 19 during the NAHB's International Builders' Show in Las Vegas. See the complete lists of finalists here.