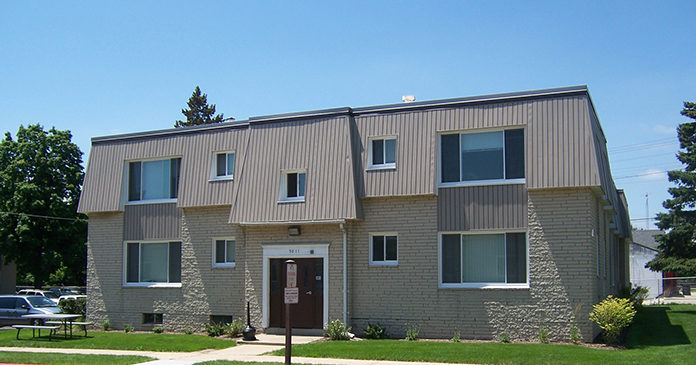 Evergreen Real Estate Group, a leader in the development, rehabilitation and management of both affordable and market-rate multifamily housing, today announced it has completed a $2 million renovation of Durand Plaza, a 72-unit affordable senior housing community in Racine, Wis. Evergreen, which acquired the property in October 2017 and has managed it since then, also secured a 20-year extension of the property's Section 8 Housing Assistance Payments contract in conjunction with the renovation.
Evergreen Construction Co., the firm's full-service construction arm, managed the project, which was implemented as a phased, "in place" renovation to avoid relocation and disruption of residents.
"This project exemplifies our philosophy as a property management and construction company, since we not only improved and retained this affordable housing community for many years to come, but did so with minimum inconvenience to residents," said Steve Rappin, president of Chicago-based Evergreen. "Our teams did a great job of coordinating the construction process while keeping tenants happy. We are pleased to report we completed the renovations to units and common areas on schedule, while retaining 100 percent of the existing residents and allowing them to remain in the community as we made updates that truly enhanced the livability of the apartments and common spaces."
Located at 3003 Durand Ave., Durand Plaza comprises four two-story buildings originally constructed in 1970. In addition to the 72 residential units, the property includes a community room with television and shared kitchen, as well as an on-site laundry room.
During the remodel, all buildings received new roofs and windows as well as mechanical improvements. Corridors, stairwells and common areas were refreshed with new carpet, paint and lighting. Exterior improvements included repaved parking lots, repaired sidewalks, masonry updates, new perimeter fencing, landscaping, a new monument sign and a new patio with seating that complies with the Americans with Disabilities Act (ADA).
Residential units received new light fixtures, smoke/carbon monoxide detectors and window blinds throughout, while baths were remodeled with new flooring, paint, refinished tubs and new fixtures. Approximately 80 percent of the apartments were retrofitted with new kitchens, including new paint, flooring, cabinetry, countertops and appliances.
The renovation was planned and executed with residents in mind from start to finish, said Andre Pintauro, president of Evergreen Construction Co. "We collaborated with the management team to arrange for residents to receive funds to get lunch, go see a movie or enjoy other activities for a few hours on days when the construction crew needed to be in individual apartments," he said. "We really tried to make this project a case study on how to give units a makeover with minimal disturbance to the daily lives of those who live in the community."
Durand Plaza is in proximity to a grocery store and other shops, restaurants and services, with an adjacent bus line providing easy access to these and other destinations. The community also is next to the County Bike Trail and near the Lake Michigan shoreline.
While this was Evergreen's first project in Racine, the firm also is developing Legacy Lofts, located on the site of the former Blommer Ice Cream Factory in the Lindsay Heights neighborhood of Milwaukee. "Evergreen looks forward to continuing our expansion into the Wisconsin market through quality apartment renovation projects as well as new-construction and adaptive-reuse projects like Legacy Lofts," said Rappin.
---
About Evergreen Real Estate Group
Founded in 1999, Chicago-based Evergreen Real Estate Group is a fully integrated multifamily company that develops, acquires and manages affordable and market-rate multifamily apartments for both seniors and families in 10 states. Evergreen specializes in thoughtful, creative residential development solutions-from adaptive reuse of historic buildings to new development in cities and towns facing a shortage of affordable housing. The firm is led by a passionate, cross-disciplinary team of developers, architects, urban planners and attorneys who have come together to create high-quality apartment communities, often in collaboration with local municipalities and financial partners who share its vision of investing not just in real estate, but also in the people who call our communities home. Evergreen currently owns and manages 8,500 units of multifamily housing across 10 states.