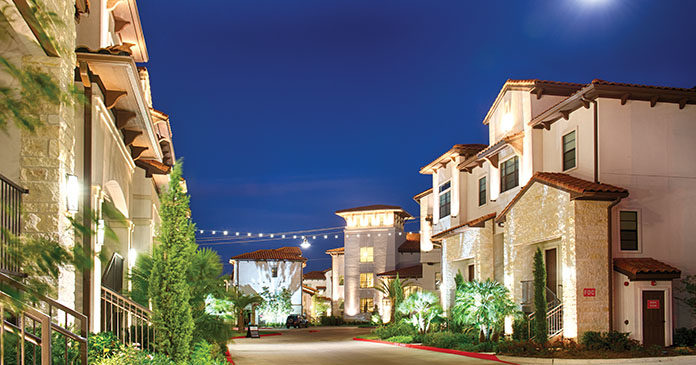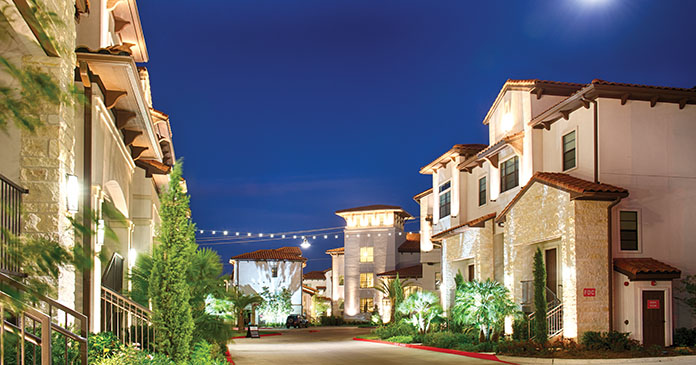 Parcels at Concourse, crowned Community of the Year by the Pillars judges, not only revitalized a long-deserted historic building in a declining area of Memphis, Tenn., but also incorporated an impressive array of uses into the reborn structure.
The rebirth of an entire neighborhood followed the transformation of the 90-year-old, 1.3-million sq. ft. former Sears-Roebuck Distribution Center into a vertical urban village that includes 265 Parcels apartments designed by Looney Ricks Kiss and developed by Memphis-based Crosstown LLC.
"This is one of the most amazing mixed-use projects I have ever seen," one of the Pillars judges said of the 10-story asset that also was the winner in the Best Mixed-Use category.
"The range of uses in one historic building is remarkable and the sense of community that has been created is truly commendable," he said.
The first newly built apartment community to open in Midtown Memphis in a decade includes 212 market rate and 53 affordable units and 45 units are leased by Memphis Teacher Residency for 65 to 85 teachers-in-training who commit to teaching for three years in Memphis' highest need urban schools after graduation and are granted free tuition and one year of free housing through the program.
Another 40 of the apartments that share infrastructure with and layer horizontally over the arts, education, health and wellness components on the lower floors, are occupied by St. Jude Children's Research Hospital. Half of those apartments are dedicated to housing international doctors, researchers, scientists and post-doctorates specializing in terminal illnesses and the other 20 units are available to families from around the globe whose children are in treatment at St. Jude.
Thirteen hotel-size micro units target a revolving contingent of artists in residence who occupy the small apartments for up to three months in fall, spring and winter. Artists working in all media, including creative writing, filmmaking, visual arts and music, may apply for the Crosstown Arts Artist Residency program.
Five apartments are dedicated to housing students enrolled in Church Health's Scholars Program, which teaches college graduates the center's holistic model by allowing them to shadow Church Health doctors for a year before moving on to nursing or medical school.
Residents of Parcels' studio, one-, two-, and three-bedroom apartments that occupy the top four floors and feature exposed brick walls, repurposed building materials and concrete floors, live above performance space, several restaurants and retail tenants, including a small grocery, coffee shop and roastery, a bakery and a pharmacy.
They also have access to individual and communal porches, a free public art gallery, a community garden, a YMCA fitness center, a multi-station teaching kitchen, a 425-seat black box theater, a commercial kitchen and a start-up business center.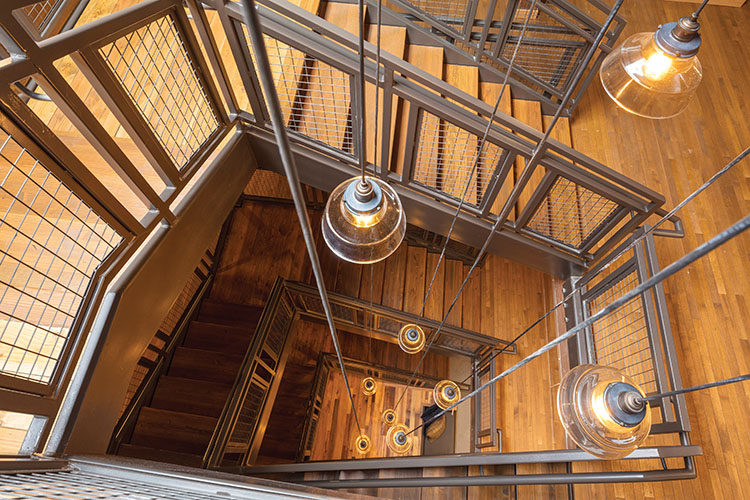 Millworks Lofts
The 78-unit Millworks Lofts, winner of Pillars' Best Adaptive Reuse award, also inspired the renovation of an entire city block in Minneapolis, Minn., dramatically improving the streetscape, sidewalk lighting and general curb appeal of the area, while bringing a new customer base to local small businesses.
The facility that was transformed by Plymouth, Minn.-based developer Dominium, with design by BKV Group of Minneapolis, started life as part of the Lake Street Sash & Door Company, a millwork operation established in 1916 in what once was a bustling district of blue-collar workers.
Partially funded by low-income housing and federal and state historic tax credits, the rejuvenation of the millworks' main building and adjacent lumber sheds required extensive site remediation, including installation of an active sub-slab vapor mitigation control system to address potential soil vapor intrusion, the removal of a 10,000-gallon above-ground fuel storage tank and abatement of asbestos and lead-based paint.
Storm water management systems and a geothermal heating and cooling system were installed during the property's redevelopment.
Today, the rehabbed three-story brick and timber main building houses the bulk of the apartments and the former lumber sheds house a couple more.
The adaptive reuse that features exposed tongue-and-groove wood ceilings, brick walls and original millwork in the apartments, showcasing the historic character of the building, includes a clubroom, rooftop deck, a package room and a yoga and fitness room.
Amenities for the one-, two- and three-bedroom lofts at the community, located just steps away from a light-rail platform, include granite countertops and stainless steel appliances in the kitchens, washers and dryers, oversized closets, vaulted ceilings, balconies, patios and decks.
Alden Park
The 760-unit Alden Park, winner of the title of Best Repositioning of a Multifamily Asset, was built in 1925 as the first co-op apartments in Philadelphia. Now operated as rental, the three towers that make up the community that is listed on both the National and Philadelphia Registers of Historic Places are surrounded by 38-acres of lawns and gardens that once were part of department store founder Justus C. Strawbridge's estate.
Built in Jacobean Revival style, the community's six 10- to 13-story brick buildings were renovated with the help of historic tax credits by developer L3C of New York, N.Y., with architectural design by Norristown, Pa.,-based BartonPartners.
The two-year repositioning of the community that includes studio, one-, two-, three- and four-bedroom units involved the historically sensitive restoration of the stone and brick exteriors, replacement of more than 7,500 old casement windows with energy efficient ones, and a new roof.
The apartments that were reconfigured with more open layouts feature hardwood and wood veneer floors, washers and dryers and up-to-date kitchens with new cabinets, quartz countertops and stainless steel appliances.
Community amenities include a new dog park, an outdoor pool, a pergola-covered courtyard with grilling area, walking trails, landscaped meadows and an indoor pool with a retractable roof that was revitalized with new tiles and a re-stabilized trellis.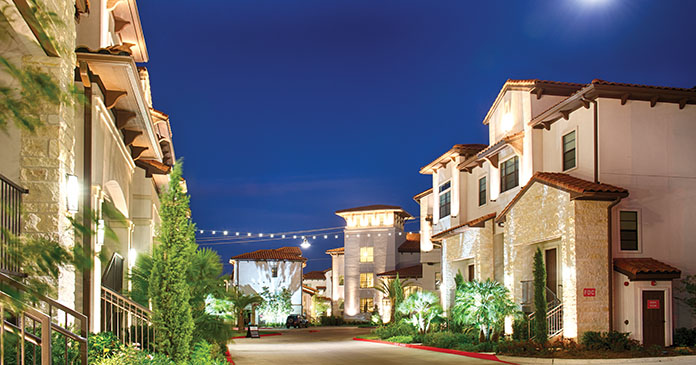 Domain Memorial
The 313-unit Domain Memorial, winner of Pillars' Best Low-Rise Apartment Community award, is located in the heart of the energy corridor in Houston, Texas, close to Terry Hershey Park and Bear Creek Park, two vast green spaces that include a network of more than 50 miles of walking and biking trails that provide residents with ample opportunity to enjoy the outdoors.
The three-story townhomes that make up the community that was designed by Steinberg Dickey Collaborative LLP and developed by Houston-based City Street Residential Partners are surrounded by some of the city's most popular shopping and restaurants and a short drive from the 37-acre CityCentre, which blends retail, office space, luxury living and night life in an open-air environment.
The one-, two- and three-bedroom dwellings in the high-density property that one of the Pillars judges dubbed "a standout project" all feature attached garages with electric car chargers and select units offer luxury bathrooms with soaking tubs and stand-alone showers, private balconies and patios, pool views and private backyards.
Standard in-unit features include stainless steel appliances and quartz and granite countertops in the kitchens, faux wood flooring, walk-in closets with built-in shelving and full-size washers and dryers.
Community amenities include an outdoor dining area and lounge with a grilling station, a private conference room, a pool with in-water cabanas, a resident lounge with TVs, a pool table and shuffleboard, a multi-game arcade room, door-to-door trash pickup and recycling services, a clubroom with a catering kitchen, a complimentary Starbucks coffee station and a 24-hour fitness center.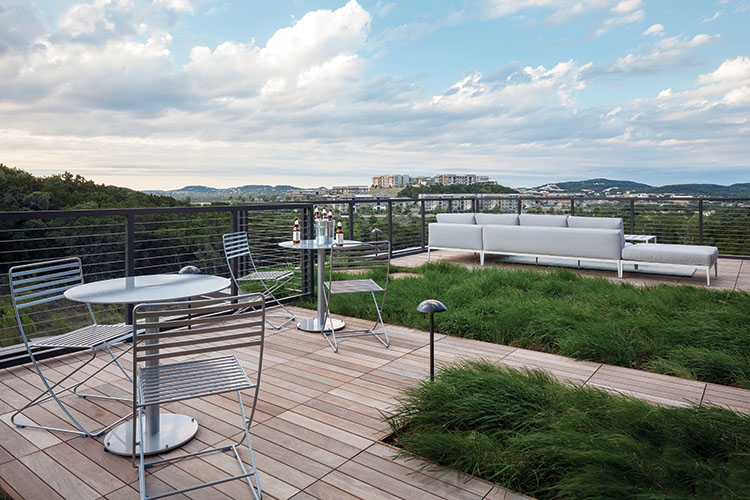 Ascent Cresta Bella
Ascent Cresta Bella, another Pillars winner in the Lone Star State, is located in the Hill Country above San Antonio.
The 13-building, 322-unit community that won the title of Best Garden Apartment Community sits on a hilltop in southwest San Antonio and offers panoramic views of the Hill Country.
The contemporary oasis that was designed by architect GSR Andrade of Dallas, Texas, and developed by Cleveland, Ohio-based The NRP Group provides residents with a scenic escape from the hustle and bustle of urban life, enhanced by the native flora landscaping.
The community that also was a finalist in the Pillars category for best community amenities includes a two-story clubhouse that one of the judges called "spectacular." The facility features a dual-level fitness center with a special cardio mezzanine with treadmills, indoor cycling bikes, free weights and a MotionCage with heavy bag.
A community kitchen on the ground floor offers direct access to the pool, where residents can also create meals in a poolside outdoor kitchen that features cabanas and a wet deck with bubblers.
Other community amenities include a rooftop terrace, a social lounge, a business center and garage, carport and surface parking options.
In-unit amenities for the one-, two- and three-bedroom units that average 1,031 sq. ft. include Eurostyle cabinets with matching tile backsplashes and stainless steel appliances in the kitchens, hardwood plank flooring, walk-in closets and white or grey quartz in the kitchens and bathrooms.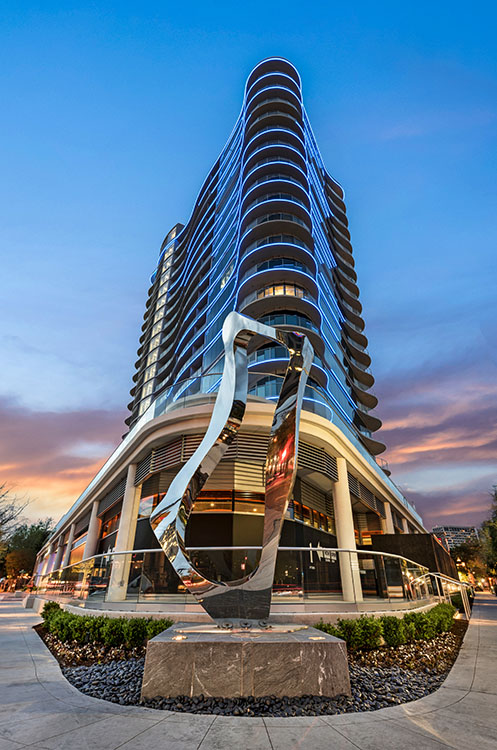 One Uptown
The 196-unit One Uptown, which took home the award for the best high rise, features the first glass bottom pool to grace an apartment community in Dallas, Texas.
The glass bottom pool, one of two pools at the mixed-use community that includes nearly 20,000 sq. ft. of restaurant space and a 480-car underground parking structure is integrated into a two-story Circo restaurant and sits directly over the building's main entry porte-cochere and valet parking entrance. Open to both residents and retail patrons, the pool includes an outdoor club deck and a full-service bar dubbed Circo Beach.
A residents-only pool sits on the rooftop and boasts panoramic views of the Dallas city skyline, a 9,000 sq. ft. sky deck and lounge, private cabanas, a recreation room, a catering kitchen, a firepit and an outdoor bar.
A second restaurant in the first-floor dining area, Fogo De Chao, features the churrasco tradition of open fire grilling and includes Bar Fogo, which specializes in craft cocktails and Brazilian style small plates.
The 20-story curvaceous glass and concrete tower that was designed by Dallas architect Phil Shepard and architect of record Dallas-based Humphreys & Partners and developed by Barrington, Ill.-based Stoneleigh Companies LLC, was built above a six-level, subterranean parking garage on less than an acre of land that was once home to the old church that housed the original Hard Rock Café.
In-unit amenities at the apartment community that offers studio, one- and two-bedroom units and 28 penthouses include floor-to-ceiling glass, a variable refrigerant flow HVAC system, LED lighting, hardwood floors, extra storage, washers and dryers and walk-in closets.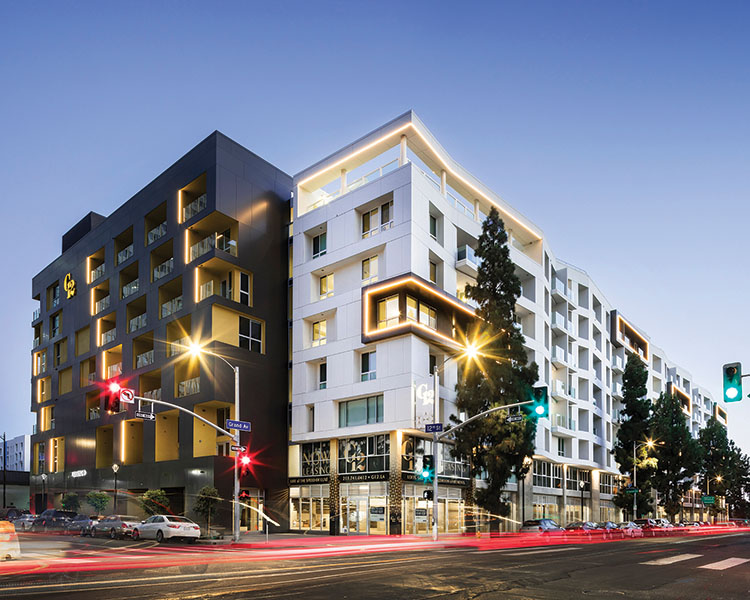 G12
The 347-unit G12, which won the title of Best Mid-Rise Apartment Community, also was built over subterranean parking, providing residents with two levels of below-grade parking.
The mixed-use community designed by Irvine, Calif.-based TCA Architects, and developed by Scottsdale, Ariz.-based The Wolff Company reflects the ongoing transformation of the Los Angeles, Calif., neighborhood where it opened in August 2017.
The apartment community's design was inspired by the South Park neighborhood's shift from commercial to mixed use. Above a two-story storefront base, a folded façade of smooth white fiber cement panels and deep set windows give the expression to the Grand Avenue streetscape, contrasting with the full-building height treatment of dark bronze metal panels and tall windows in a vertically-offset pattern wrapping the 12th Street end. The joining of these two design elements creates a dynamic street intersection that is marked by a plaza and gives the project its name.
The seven-story multifamily property that is helping to ease the dearth of housing in Downtown Los Angeles includes more than 19,000 sq. ft. of ground floor retail and amenity space, where construction of an F45 Fitness center is underway. A bar and restaurant currently are in the permitting process for the remaining commercial space.
G12's studio, one- and two-bedroom apartments and two-story lofts feature washers and dryers, walk-in closets, private balconies and wood-style plank flooring and quartz countertops, glass tile backsplashes and stainless steel appliances in the kitchens.
Community amenities include a lounge with a fireplace and media room, an entertainment kitchen with community dining space, a coffee bar, Peloton bikes in the fitness center, an outdoor lounge with BBQ grills, bike storage, parcel lockers and a pool with a spa deck.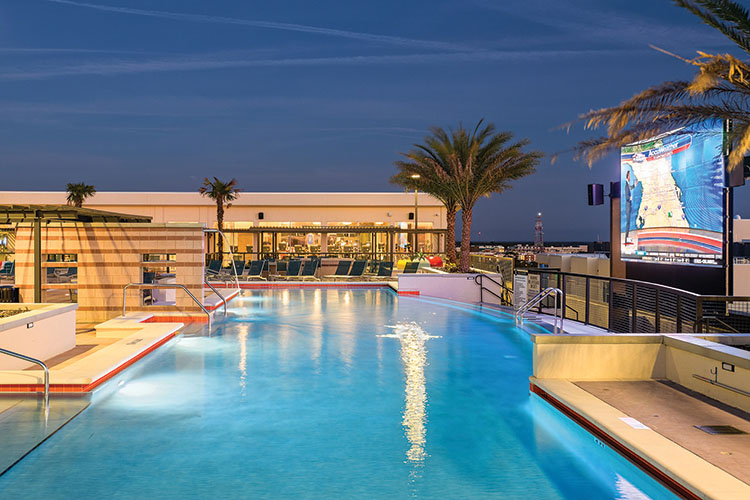 The Standard at Gainesville
The 433-unit The Standard at Gainesville that won the award for the best student housing community represents the ultimate in mixed-use multifamily.
Designed by Humphreys & Partners Architects and developed by Athens, Ga.-based Landmark Properties, the 11-story off-campus student housing community located across the street from the University of Florida in Gainesville includes an on-site hospitality component, and 60,000 sq. ft. of commercial space.
A 144-key, nine-story AC Hotel by Marriott occupies the western portion of the upscale community that includes ground floor retail tenants Target Express, Chick-fil-A, Chase Bank, a 2,500 sq. ft. Miami Grill, a Bento Café and a MOD Pizza, with 276 of the parking spaces in the community's multi-level garage dedicated to the retail component.
The Standard offers studios and one- to six-bedroom apartments with community amenities  that include an arcade and game room, a swimming pool, a fitness facility and a racquetball court and 54 VIP units with more elaborate amenities like a jumbotron TV, billiards, dining tables, larger beds and TVs, a lounge and computer lab and exclusive access to a private rooftop pool with resort-style cabanas.
The 1,200-bed, smoke-free community's in-unit amenities include flat screen TVs in every living room, private bathrooms and granite countertops and stainless steel appliances and dishwashers in the kitchens. All the apartments have washers and dryers and high-speed internet and cable.
Other winners, which were featured in a story about finalists in this year's Pillars of the Industry competition in Multihousing Pro's November/December issue, include Brickell Heights, winner of the award for the best newly-built condo community; The Willson Residences, winner in the best adaptive reuse of a condo community category, and Signature at Reston Town Center that took home the award for best community amenities.