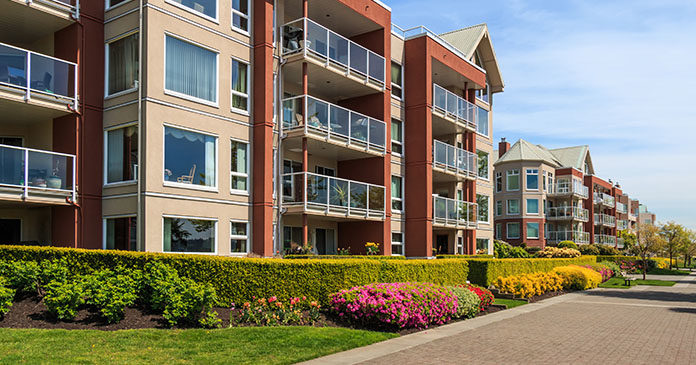 Greg Willet and Adam Couch of RealPage delivered their Spring Market Update webcast this week. In it they discussed the recent performance of the US apartment market and also looked ahead to what we might expect through 2020.
The quarter in which not much happened
That's how Q1 of 2019 was characterized. RealPage noted that the net absorption of apartments was only 12,300 units in the quarter. This is the lowest level since 2012 and only a fraction of the 90,000+ units absorbed in the same period last year. However, a strong summer season in 2018 kept the total absorption of new units over the last 12 months at a very respectable 301,000 units.
The year-over-year change in effective rents for new leases in the top 50 metro areas came in at 3.3 percent in Q1. This marks 35 straight quarters in which this metric has shown a gain. The average increase over that period has been 3.7 percent. In the last 12 months, Class B apartments saw the highest rate of rent increases, coming in at 3.4 percent. Both Class A and Class C apartments saw rent increases of 3.1 percent.
Rent increases upon lease renewals averaged 4.6 percent in the top 50 metros. The renewal rate came in at 53.1 percent, an all-time high.
While the majority of new leases are made in the warmer months, new units are delivered to market year-round. This causes occupancy statistics to have a cyclical component to them. Occupancy in Q1 came in at 95.2 percent. In keeping with the cyclical nature of this statistic, it was down from the high reached last fall but is up from the year-earlier level.
Looking ahead
Realpage noted that there are 397,000 market-rate apartments currently under construction in the top 150 metro areas. They expect a surge of new product coming to market in late 2019 and early 2020. In spite of the new supply, they expect occupancy at the end of 2019 to remain at today's level, 95.2 percent, before falling to 94.8 percent by the end of 2020. Annual rent growth for new leases is forecast to fall to 3.1 percent in 2019 and to only 2.0 percent in 2020.
A factor in developing this apartment market forecast was that the Bureau of Labor Statistics has been revising its figures for recent job growth downward. RealPage noted that the very low current level of unemployment may restrict job growth in the months ahead. They also noted that expectations of an economic slowdown ahead may become self-fulfilling. Businesses may cut back in expectation of a slowdown and their cutbacks then cause the slowdown they were expecting.
On a positive note, they pointed out that the tight jobs market has been causing wages to rise more rapidly, allowing workers to more readily pay for their increased rents.
The business of apartments
RealPage pegged annualized sales of apartment buildings at around $200 billion, near the level they have been since 2016. While apartments have been considered the most attractive commercial real estate asset class recently, sentiment may have shifted to industrial properties. Still, apartment sales prices have risen steadily to $161,000 per door and cap rates have fallen to 5.5 percent.
The full 30 minute webcast includes more detail on these topics as well as a number of interesting charts showing long-term trends for the apartment market metrics discussed. It is available here.