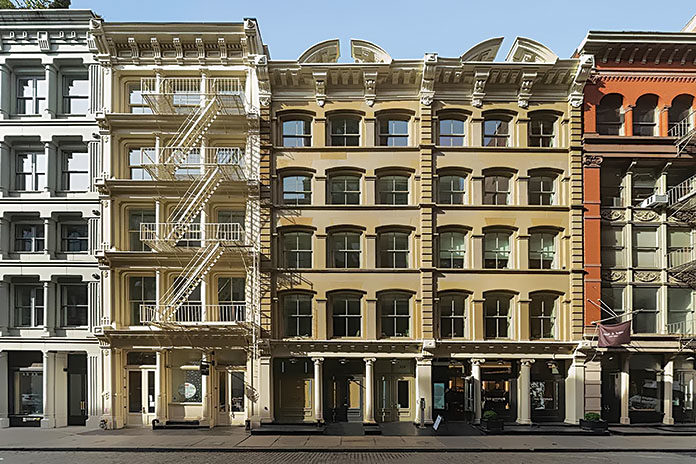 Retail troubles across the country have left malls looking like ghost towns, killed iconic brands like Toys "R" Us and shuttered stores along Fifth Avenue. And in a city where a good chunk of apartment buildings have retail space at their base, owners who over-leveraged their property could soon be in trouble as rents continue to slump and the amount of available space keeps increasing, brokers said.
"There's a kind of perfect storm brewing with retail rents flat or residential rents politically frozen, landlords just being the piggy bank for the entire city and interest rates going up," said Shaun Riney, an investment sales broker at Marcus & Millichap. "The chickens are kind of coming to roost for people who took out too much money."
Rubbing salt in the wounds, these owners might not even see a return on their investment if they pull out because retail rent and vacancy rates have helped drive down the price for those buildings, said Robert Knakal, the chairman of investment sales at JLL.
On the retail side, average asking rents in the boroughs of NYC dropped 2.3 percent to $680 per sq. ft. in 2018 from 2017, according to a CBRE report. It fell a staggering 24.4 percent from the nearly $900 per sq. ft. average at the end of 2015, the report found, and 11 of the 16 Manhattan markets it tracked saw an increase in retail space availability between 2017 and 2018, with Fifth Avenue in the Plaza District being hit the hardest.
"Retail rents are down considerably and there's been a lot of vacancy for a while," Knakal said. "That's impacting the prices that buildings are getting."
From August 2017 to January 2018, multifamily buildings sold for an average of $923 per sq. ft., according to an Ariel Property Advisors report. However, from August 2018 to January, the number fell 9 percent to $838 per sq. ft., the report found.
Unfamiliar territory
Despite those indicators, many retail owners—especially those unfamiliar with the retail market—still ask for rents that would have made sense in 2014, but are impossible to obtain now, Riney said. Riney added that this is prevalent in the luxury market when owners factor in sky-high retail rent in their business plans.
"There are just fewer tenants and the tenants recognize that they have more room to negotiate," he said. "There's more supply and fewer and fewer tenants."
Some owners can't afford to ask for less rent since they built a certain growth in their original underwriting that the market hasn't achieved, Riney added. Loans issued during 2014 and 2015 are starting to reach their five-year maturity, but retail problems have shattered owners' projected net operating income, Riney said.
"People are scrambling to find a way to roll over that debt," he said. "If you have a vacant store, you're in a lot of trouble."
Coupled with that, retail tenants now have more negotiating power during lease negotiations since there's plenty of available space in the market, said Chris Varjan, a broker at Lee & Associates NYC's newly launched investment sales division. Tenants have started to ask for a lot more concessions than before like additional free rent and extra money to build out spaces.
"The packages that tenants want are daunting at times," said Varjan. "It's pretty crazy out there."
Varjan has started to warn potential buyers of multifamily properties with retail about how much longer a transaction will take to complete today.
"Buyers can get really jaded looking at a broker's performance and not understanding that it's a 12- to 18-month process in today's market," he said. "We're definitely accounting for more carry time and bigger tenant packages than we're used to."
Tough, not impossible
The waters might look choppy ahead for landlords, but they haven't caused complete shipwrecks yet. Varjan said there haven't been many examples of owners defaulting on loans because they have been able to keep them afloat through the short-term, bridge loan market.
"We thought that there would be a lot more troubled debt out there by now," he said. "People have gotten some life rings due to the amount of money in the bridge market."
"There's been money in the market that has kept people alive that may have otherwise been in some default or trouble," he added.
The bridge-loan space has been flush with capital recently and very competitive, which may help owners in the short term but it doesn't come cheap.
But it's not smooth sailing even for large landlords.
Thor Equities—which heavily invested in retail during the uptick and is no newbie to the space. The company had a $37 million mortgage on Mercer Street kick to special servicing after it defaulted on payments, Commercial Observer reported. The Wall Street Journal attributed the troubles to Thor's challenges with the building's two retail spaces, not the eight residential units.
At the time Thor was in the process of renegotiating its lease with fashion retailer Kooples, which was pushing for lower rent.
A source said Kooples recently finalized a new lease in the building, but it wasn't clear if the retailer was able to achieve a lower rent.
Despite the mortgage being in special servicing, the source said that since Thor bought the site for $16 million in 2013 and the company already has shown a return for its investors.
Gotham's landlords' retail real estate issues started during the "fuzzy math of low-interest rates" in 2010 when buyers didn't "stress-test assets and business models as much." Today landlords with retail experience and market acumen can still survive, Riney said.
The problem is that many buyers—especially in the mid-market—of multifamily buildings aren't strategic enough, said Ash Zandieh, who owns several such properties in Williamsburg, Brooklyn.
"Mid-market landlords have been bred and have been operating the same exact way for the better part of the century," said Zandieh, who's also the founder of real estate tech company RE:Tech. "I call it lazy landlords. They go and they take the first tenant at the highest possible prices."
Zandieh said none of his buildings have vacancies because he changed his tactics in talking to tenants—like giving them a flat price instead of a price per sq. ft.—and waited to lease space for shops like clothing stores that residents actually want to live above.
"Retail-driven landlords are curators of the community and you want to put the right tenants in," he said. "Mindful landlords are going to be the real winners of the industry."
Regulation in the wind
But even bridge loans and knowledge of the retail market might not be enough to save owners.
Brokers warned that if the long-talked-about "commercial rent control bill" in the city, and the state senate's potential changes to the rent-stabilization go through it could be disastrous.
"They definitely could be in some trouble," Varjan said. "You have a compounding problem of retail falling short and now you run into some regulation of the inability to maximize rents the way that you thought you could. You could get hit from both sides."
The commercial rent control bill—formally known as the Small Business Jobs Survival Act—doesn't provide a rent cap but would require landlords to offer a minimum 10-year lease renewal to tenants who haven't run afoul of guidelines in the bill, leaving it up to the tenants to renew or sign a shorter-term deal.
Albany's new left-leaning state senate wants to reform the rent-control system by tweaking rules which allow landlords to raise rents. It also makes it easier for tenants to sue landlords over unsafe living conditions.
If it passes, "I can see some people just being like 'to hell with it,' " and dumping their buildings, Riney said. "We just hope that doesn't start a downward spiral," he added.
Excerpt Nicholas Rizzi, commercialobserver.com