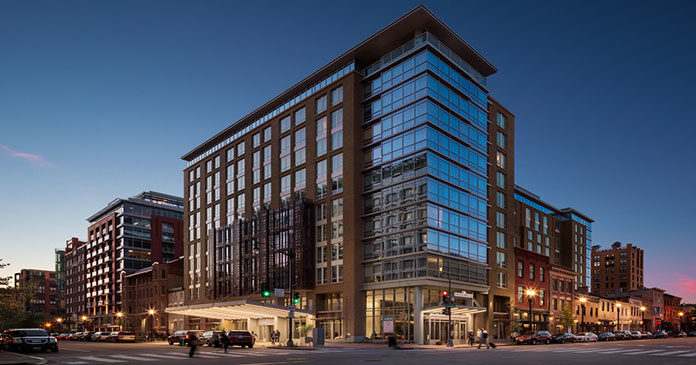 Design firm Cooper Carry has announced the completion of Columbia Place, a 12-story mixed-use development that features hospitality, residential and retail offerings in the heart of the Shaw Historic District in Washington, D.C. The adaptive reuse project incorporates eight historic buildings, including a Civil War-era home.
The $230 million development consists of a dual-branded, 4-star hotel component with underground parking, along with more than 200 apartments. The project is adjacent to DC's Walter E. Washington Convention Center and Marriott Marquis Convention Hotel. Cooper Carry joined forces with tvsdesign on both Columbia Place and the nearby Marriott Marquis convention center hotel.
"The design of Columbia Place is a true celebration of the architectural history of Washington, D.C.'s Shaw District and a nod to the entrepreneurial spirit of the surrounding area," said Bob Neal, principal with Cooper Carry's Hospitality Studio. "Cooper Carry had the opportunity to integrate a variety of distinctive design elements throughout this project to create a one-of-a-kind destination that will attract leisure and business travelers from across the region."
The distinctive urban infill development features a 357-room Courtyard by Marriot hotel, a 147-room Residence Inn, 203 apartments (The Lurgan), 3,000 square feet of ground-floor retail, 4,000 square feet of rooftop amenities and 10,000 square feet of shared meeting space.
A key design component of the LEED Silver project was the integration of historical row houses and existing buildings. A three-story, 160-year-old Civil War-era townhome was moved from its original location and incorporated into the project within the dual-brand hotel. Seven additional historic buildings and the existing Lurgan Building were restored and reused for street-level retail as part of the project plan to further enhance the residential experience and preserve the area's historic character.
"Complex mixed-use projects such as Columbia Place showcase our multifaceted design approach that is authentic and creates a unique user experience," said Kevin Cantley, CEO of Cooper Carry. "We're pleased to expand our footprint in metro Washington with a project that embraces the rich legacy of the area and will leave a lasting impact for years to come."
---
About Cooper Carry
Cooper Carry provides architecture, planning, landscape architecture, interior design, environmental graphic design and sustainability consulting services. Founded in 1960, the firm specializes in the design of corporate, education, government, hospitality, mixed-use, office, residential, retail, science + technology, and transit projects. The firm has designed projects in 45 states and globally in the Caribbean, Middle East, Asia, Africa and Central America. Engaging a fundamental design philosophy centered on the concept that environments should connect people to people and people to place, the firm promotes the philosophy of "connective architecture."  Designers understand the local market and the specific cultural and physical contexts in which the building will serve those who interact with it while conceiving memorable spaces, inside and out. Listening to the client and gaining a deep understanding of the market and site prior to commencing design, Cooper Carry balances passionate creativity with client service. The firm expands vision and adds value to every project and its community.