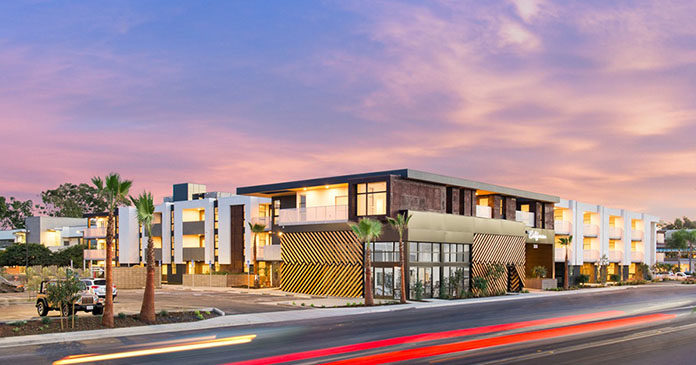 HFF announces it has arranged $20.5 million in financing for The Californian, a luxury residential and retail mixed-use development in the coastal San Diego submarket of Point Loma, California.
HFF worked on behalf of Murfey Company and Bishop Ventures to arrange the 10-year, fixed-rate loan through a commercial bank.  Loan proceeds were used to refinance existing construction financing.
The Californian is situated at the intersection of Kemper Street and Midway Drive adjacent to the newly completed West City Campus, a continuing education facility operated by the San Diego Community College District.  In addition, the property is two miles from the Liberty Station master-planned community and Ocean Beach and offers convenient access to I-5, I-8 and the Pacific Coast Highway.  The three-story, elevator-served building encompasses 81 residential units totaling 68,141 square feet, 3,137 square feet of ground-floor retail and 108 parking spaces.  Completed in 2018, units feature high-end, modern finishes and common area amenities include a rec room, courtyard with swimming pool, jacuzzi, barbecues and lounge areas throughout the property.
The HFF debt placement team representing the borrower was led by managing director Bryan Clark, senior managing director Aldon Cole and associate Bharat Madan.
Holliday GP Corp. ("HFF") is a real estate broker licensed with the California Department of Real Estate, License Number 01385740.
---
About Murfey Company
Murfey Company is a leader in the real estate development and building industry. The company is dedicated to providing honest and high-quality services to all of its clients, investors and partners, with a focus on positive attitude, maintaining accessibility and a commitment to excellence. Murfey Company encompasses a comprehensive group of services, driven by technology, and fueled by a passion for all things in the building industry, Murfey Company has positioned itself as a clear-cut leader when it comes to development, investments and construction; ultimately enabling you to, "Create Your Lifestyle."
About Bishop Ventures
Bishop Ventures is a San Diego-based real estate investment and development company with extensive experience in urban infill mixed-use development. Founded by Gilman Bishop in 2007, the firm focuses on mixed-income housing affordable to low and moderate income households.
About HFF
HFF and its affiliates operate out of 26 offices and are a leading provider of commercial real estate and capital markets services to the global commercial real estate industry. HFF, together with its affiliates, offers clients a fully integrated capital markets platform, including debt placement, investment advisory, equity placement, funds marketing, M&A and corporate advisory, loan sales and loan servicing. HFF, HFF Real Estate Limited, HFF Securities L.P. and HFF Securities Limited are owned by HFF, Inc.