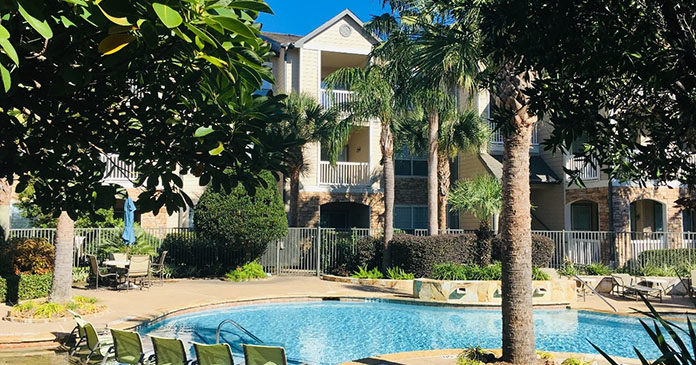 Holliday Fenoglio Fowler, L.P. (HFF) announces financing totaling $190.873 million for six apartment communities comprising 1,843 units in Texas, Alabama and Colorado.
The HFF team worked on behalf of the borrower, Advenir, Inc., to secure the seven-year, fixed-rate loans in six separate transactions through Freddie Mac. Two of the transactions were acquisition financing and the remaining four transactions were refinances from floating- to fixed-rate loans. The refinances were in line with the borrower's strategy to mitigate interest rates amid the volatile interest-rate environment. The fixed-rate conversions took the ongoing LIBOR adjustment risk off the table and ultimately provided the borrower with a reduction in the all-in rate for each property with additional interest-only amortization. All the loans will be serviced by HFF, a Freddie Mac Optigo℠ lender for Conventional Loans.
"At Advenir, we continually review our portfolio to increase value through interest-rate mitigation," said Stephen L. Vecchitto, managing director and principal of Advenir, Inc.  "HFF has been a valuable partner in assisting us with our interest-rate mitigation strategy as well as structuring new financing on our acquisitions."
The properties in the portfolio are: Advenir at Mayfield, a 300-unit property located at 3200 Bromley Place in the West Texas community of Midland; Advenir at The Meadows, a 320-unit property located at 5101 N. A Street in Midland; Advenir at Stone Park, a 480-unit property located at 6160 E. Sam Houston Parkway North in Houston; Advenir at Wynstone, a 258-unit property located at 6464 E. Sam Houston Parkway North in Houston; Advenir at Station 121, a 255-unit property located at 2000 2nd Ave South in Birmingham; and Advenir at Bear Valley, a 230-unit property located at 3550 S. Kendall Street in Denver, Colorado. The properties averaged 94.8 percent occupied overall.
The HFF team representing the borrower included senior managing director Eric Tupler and managing directors Josh Simon, Cortney Cole, Chip Sykes and director Matthew Putterman.
---
About Advenir, Inc.
Founded in 1996, Advenir, LLC is a Real Estate Investment Company headquartered in Aventura, Florida (Miami-Dade). Advenir acquires and operates multifamily rental communities throughout the United States, on behalf of high-net-worth and institutional investors. Since inception, Advenir has owned and operated more than 23,000 apartment units valued at just under $3.7 billion. The company's current portfolio is in excess of 13,241 apartment units valued at more than $2.3 billion. In addition to Advenir, LLC, Advenir has a Property Management Company with 325 employees and regional offices in Florida, Texas, Colorado and Louisiana; and a Construction Management Company focused on multifamily development and rehabilitation.
About HFF
HFF and its affiliates operate out of 26 offices and are a leading provider of commercial real estate and capital markets services to the global commercial real estate industry.  HFF, together with its affiliates, offers clients a fully integrated capital markets platform, including debt placement, investment advisory, equity placement, funds marketing, M&A and corporate advisory, loan sales and loan servicing. HFF, HFF Real Estate Limited, HFF Securities L.P. and HFF Securities Limited are owned by HFF, Inc.