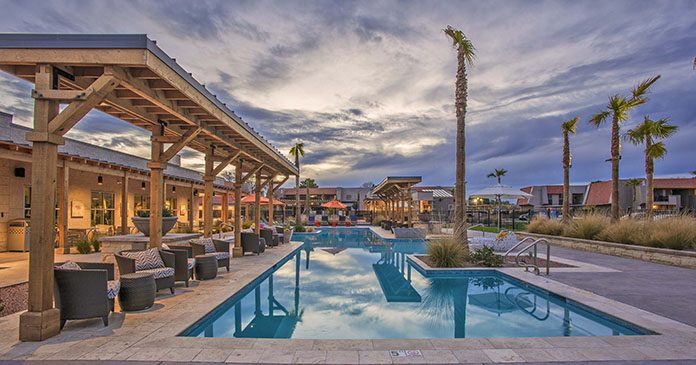 CBRE arranged the sale of the 644-unit multifamily community Denim Scottsdale on behalf of TruAmerica Multifamily to Bluerock Real Estate.
CBRE's Tyler Anderson, Sean Cunningham, Asher Gunter and Matt Pesch of Phoenix Multifamily Institutional Properties represented the seller, TruAmerica Multifamily.
Located at 7791 E. Osborn Road in Scottsdale, Arizona, Denim Scottsdale is a garden-style community featuring a state-of-the-art fitness center, resort-style swimming pool and contemporary resident clubhouse.
"The seller made significant improvements that were well-received by the investment community and strong multifamily fundamentals in Phoenix are attracting more institutional investors to the market," said Gunter.
According to CBRE Research, Phoenix multifamily year-over-year rent growth significantly outperformed the rest of the nation in Q2 2019 increasing 8.4 percent for all asset classes compared to the national average of 2.9 percent.
Bluerock Real Estate, LLC is a private asset management and investment firm based in New York, NY whose senior management team has an average of over 27 years each investing experience and has helped launch several leading real estate private and public company platforms. Bluerock's key principals have been involved with sourcing, structuring and acquiring over 35 million square feet of real estate, with approximately $10 billion in value during three major market cycles.