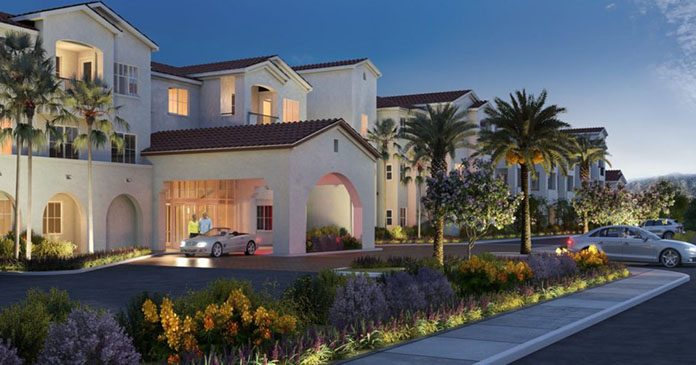 The Wolff Company—a Scottsdale-based private equity firm and multifamily developer—today announced the grand opening of Revel Vegas – a new, refined senior community at 4940 S. Conquistador Street, Las Vegas, NV 89148, located just minutes away from the Las Vegas strip. The community will celebrate its grand opening on August 7 from 4 – 7 p.m. with festivities to include an official ribbon cutting, tours and a food tasting with Food Network star, Chef Beau MacMillan. Members of the media and the greater community are invited to join the festivities as well.
"The opening of Revel Vegas marks a shift in the way people think about independent living," said Michael Fountain, Executive Director at Revel Vegas. "Our goal is to improve the lives of our residents by keeping them connected and engaged, from the food they eat, to the activities they enjoy and the people they meet. We are proud to lead the way in senior living with the official unveiling of this community.
Revel Vegas offers 132 studio, one- and two-bedroom independent living residences and best-in-class amenities. The highly anticipated community welcomed its first residents in May 2019 and focuses on holistic wellness through innovative lifestyle programs, flexible dining options and personalized service. Highlights of the community include a full-service salon and spa, state-of-the-art fitness center, movie theater, and chef-driven dining experiences in a modern-American restaurant and pub created by celebrity chef Beau MacMillan.
"Revel Vegas opened at an ideal time as the need and desire for flexible lifestyles focused on all areas of wellness is growing. People want a lock-and-leave home that gives them the freedom to live life on their terms," said Fountain.
The Wolff Company currently is developing numerous senior living communities throughout the US with plans to broaden its portfolio even further by investing $300-$400 million annually in the development of additional market-leading communities.
---
About The Wolff Company
The Wolff Company is a private equity firm headquartered in Scottsdale, Arizona, with offices in Washington, Massachusetts, and California. For more than six decades, Wolff has invested in, acquired and developed high-quality, amenities-based multifamily properties including refined senior living communities. There are currently nine Revel communities leasing and another 11 under development. Open communities include Revel Nevada, NV, Province Springs, CO, Revel Lacey, WA, Revel Eagle, ID, Revel Spokane, WA and Revel Vegas, NV.