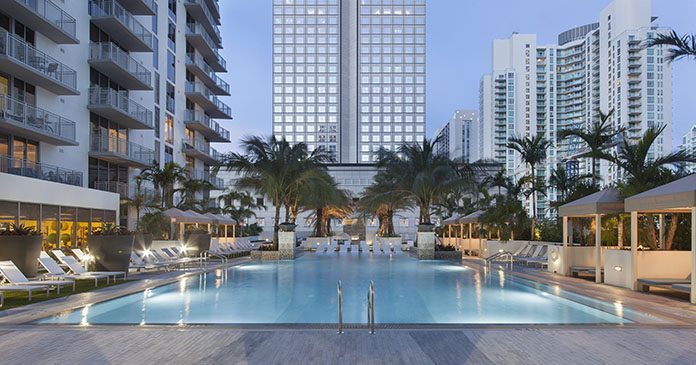 RKW Residential, a leading multifamily property management company, is reaching new heights in 2019 with prominent apartment community assignments throughout the Carolinas and Florida. The company was recently awarded eight prime communities totaling more than 1,800 units in the two pivotal markets.
In conjunction with the aggressive growth, RKW hired industry veteran Cesar Rosas as Director of Facilities and promoted Michelle O'Brien to Regional Vice President. Rosas brings nearly two decades of multifamily experience to the company. Based in Charlotte, O'Brien joined RKW as Regional Manager in September 2018.
"We have been fortunate to continue to work with best-in-class developers and operators and oversee their premier communities throughout the Southeast," said Marcie Williams, president of RKW. "That is a testament to our dedicated people at RKW. Cesar and Michelle are tremendous examples of the importance of having passionate and talented people in key positions."
The new Carolinas assignments include:
Terwilliger Pappas' brand-new Solis Keltonwood at Berewick, a 230-unit community with one, two and three-bedroom apartments in Charlotte
Trilogy Cary, a 205-unit newly completed community in Cary, N.C.
Crabtree Lakeside, a brand-new 221-unit community in Raleigh
Draper Place, a boutique apartment building completed in 2018 in Charlotte's Elizabeth neighborhood
In downtown Miami, RKW took over management and leasing at Monarc at Met, a luxury apartment tower with 462 units that is part of the transformative Met Miami development within the city's Central Business District. Also in Miami, RKW added Soleste Twenty2, a brand-new 338-unit community.
On the west coast of Florida, RKW picked up two prime communities: the 180-unit DeSota in downtown Sarasota and Seaside Villas, a 121-unit community in Gulfport.
For the second consecutive year, the Charlotte Business Journal recognized RKW in its annual list of the largest property management companies in the area. In the 2019 list, RKW moved up five spots to No. 7.
The company was also recognized by South Florida's Daily Business Review as the top multifamily property management firm of 2018 in the publication's annual "Best Of" rankings.
---
About RKW Residential
RKW Residential is a third-party multifamily property management firm headquartered in Charlotte with a regional office in Miami, Orlando and Raleigh. With 18,000 multifamily units under management and a growing footprint spanning seven states, RKW delivers expertise in multifamily management through its technology, marketing and customer experience platforms. The firm's principals have extensive experience in multifamily investments and property management including acquisitions/dispositions, developments, lease-ups, stabilized and value-add assets. RKW is built on the foundation of its People First Philosophy, which prioritizes client relationships, employee satisfaction, and top-tier customer service for our residents. Through this, the firm delivers on its brand promise of "Expert People. Exceptional Places" to enhance property values and achieve success. RKW was formed out of the partnership of Rivergate Companies, a private real estate investment firm, and KW Property Management, one of the largest condo management companies in Florida representing more than 75,000 condo units.