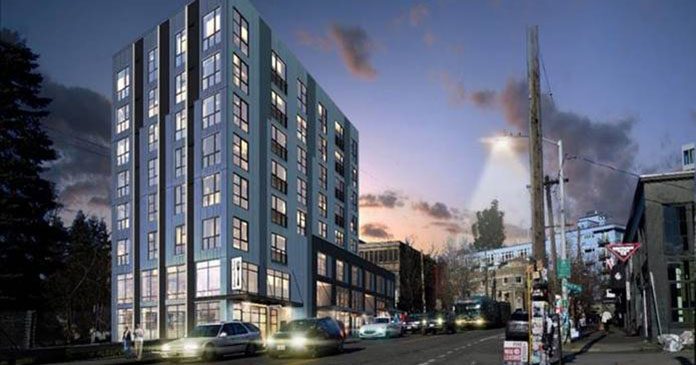 Ground has recently broken on "Pivot," a mixed-use project located at the convergence of Downtown Seattle and Capitol Hill's thriving Pike/Pine neighborhood, developed by Vibrant Cities
With an eye toward the auto-row history of Capitol Hill, the structure's lower floors were designed to respond to the urban context of Pine Street near Melrose Market, with retail, restaurant, and office spaces clad in masonry and aligned with the sidewalks. Above this base, the residential floors were pivoted to take full advantage of the expansive downtown views, their light-hued exteriors contrasting with the darker brick below. Hence the project's name, Pivot.
The diamond-shaped building will rise eight stories and hold 71 apartment units, 4,500 square feet of retail (including a destination view restaurant space), and 11,000 square feet of office space. A vertically proportioned pattern of color and material lends a rich depth to the skin and interlocks the shifted masses.
The project was designed by Tiscareno Associates. The consultant team is Structural: DCI (structural), KPFF (civil), Blueline Group (landscape), and Pressler Engineering (energy).
---
About Tiscareno Associates
Tiscareno Associates is a Seattle-based architecture and urban design firm with an impressive and varied roster of projects. Over the years, the company has distinguished itself for planning, designing, managing, and delivering complex mixed-use projects, large commercial projects, and multi-phased renovations. The team has developed a reputation among residential and commercial clients for its responsiveness, leadership, and ability to balance fresh ideas with unwavering commitments to budgets and schedules.