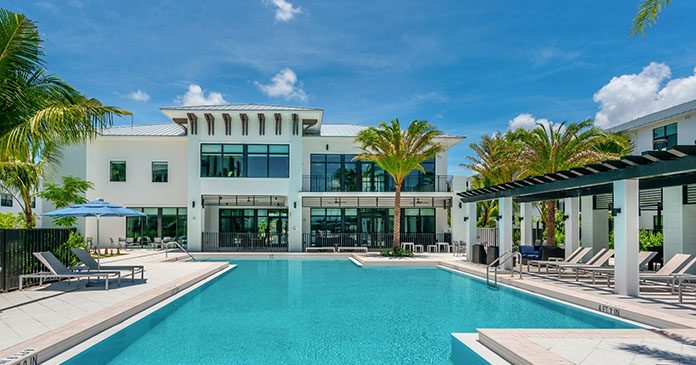 Terra, one of South Florida's most active residential and commercial development firms, has closed on $91 million in financing for its newest multifamily community, Pines Garden at City Center in Pembroke Pines. The firm secured the loan through an affiliate of Mack Real Estate Group. Located at 10400 Southwest City Center Boulevard, the recently completed 387-unit luxury rental development is part of Pines City Center, a 47-acre master-planned village featuring approximately 300,000 square feet of lifestyle-oriented retail, entertainment and restaurant space—home to Publix, Cooper's Hawk, Outback Steakhouse, West Marine, BurgerFi, Smoothie King, Bento Café, Halal Guys, UFC Gym and a movie theater.
With approximately 40 percent of its apartments already leased just three months after opening to residents, Pines Garden at City Center is Broward County's latest example of suburban mixed-use development combining retail and residential uses within one pedestrian-friendly property.
"Our ability to close this significant loan reflects the early leasing success we've experienced at Pines Garden, the significant demand for luxury rentals in Pembroke Pines, as well as the strong relationship between Terra and Mack Real Estate Group," said David Martin, president of Terra. "Our team created a master plan comprising high-end rental homes and lifestyle-centered retail that will service the community's tenants as well as surrounding residents. The result is a condensed area of development that is introducing a new amenity for Pembroke Pines and maximizing value for the neighborhood."
Pines Garden at City Center offers one- to three-bedroom garden apartments and two- or three-bedroom townhouses covering 651 to 1,491 square feet of living space, as well as private balconies and terraces.
Monthly rents begin at $1,645 for a one-bedroom apartment; $1,795 for a two-bedroom apartment; and $2,256 for a three-bedroom apartment. Two- and three-bedroom townhouses range from $2,475 to $2,845 per month.
The community has been designed to be distinctively different from typical residential destinations with a stunning tropical ambience highlighted by lush mature landscaping and contemporary, plantation-influenced architecture. Modern-designed residences are equipped with stainless steel appliances and quartz countertops, and protected by hurricane-grade, impact-resistant windows. High ceilings, extra-wide baseboards, custom cabinetry and designer fixtures exhibit an attention to detail usually reserved for custom-built homes.
Amenities include a two-story Pines Garden Clubhouse, the social center of the neighborhood, which features a state-of-the-art fitness center, children's playroom and game room, resort-style pool, co-working lounge and coffee bar, outdoor cooking area and other recreational options. There's a gazebo, a life-size chess board, a dog park, and play spaces that include an enclosed tot-lot area. Gated for privacy and security, Pines Garden offers the beauty and serenity of a nature preserve within walking distance of the urban conveniences of Pines City Center.
Next door, the City of Pembroke Pines recently celebrated the opening of the Charles F. Dodge City Center and Convention Hall, which features a 3,500-seat auditorium, art gallery and fully programmed outdoor plaza.
Pembroke Pines, Broward's second-largest city, is regularly listed as one of Florida's Best Places to Live. Ideally located at the center of South Florida, it's within easy reach via major highways of business hubs and popular destinations in the tri-county area. While its business and retail sectors are booming, careful planning has ensured that this rapidly growing city retains its suburban charm, with ample parks, highly rated schools and universities, and a wide variety of cultural activities year-round.
---
About Terra
Terra is an integrated development firm in South Florida focused on creating sustainable, design-oriented communities that enhance neighborhoods and bring people together. Led by David Martin, Terra was founded in 2001 and is involved in all facets of residential and commercial development, including realty, mortgage, marketing and construction. The firm is at the forefront of Coconut Grove's transformation into one of South Florida's most desirable residential and commercial districts, having developed the Bjarke Ingels-designed Grove at Grand Bay condominium and the nearby Park Grove condominium designed by Rem Koolhaas and OMA. Now in development is Grove Central, a multi-modal hub combining workforce and market-rate housing, retail, and improved transit connectivity. These projects embody Terra's commitment to design-driven developments that enhance communities and meet market demand. Terra's current developments are valued at $4 billion, with more than 10 million square feet of residential and commercial development built to date.