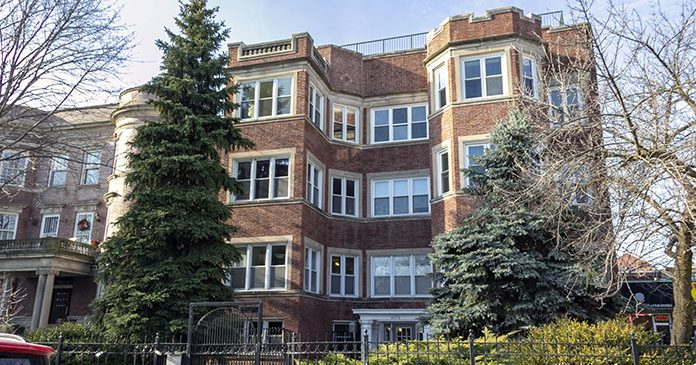 Marcus & Millichap, a leading commercial real estate investment services firm with offices throughout the United States and Canada, today announced the deconversion sale of 4072 N. Sheridan Road, a four-story, 16-unit multifamily building in Chicago's Buena Park neighborhood, according to David G. Bradley, regional manager of the firm's Chicago Downtown office. The asset traded for $4.6 million, or $287,500 per unit.
Kyle Stengle, senior vice president of investments in the firm's Chicago Downtown office, exclusively marketed the property on behalf of the condo owners, arranging 21 tours and procuring six offers. The buyer was Bertsch Properties.
"Despite talk of a deconversion slowdown, and Chicago's proposed ordinance to increase the required approval rate to prevent 'hostile' deconversions, we believe the trend will continue as long as investor appetite for multifamily remains strong and people prefer to live in apartments," said Stengle. He and his team have listed and brokered over 10 deconversions and currently have a listing for another, at 2641 W. Estes Ave., in Chicago's West Rogers Park neighborhood.
"Many condo owners welcome deconversion, especially if they are underwater on their unit following the recession, or their building is facing costly repairs that would warrant a special assessment," Stengle continued. "Barring any issues that arise during underwriting, a bulk sale allows owners to know when and for how much their unit will sell, and at a price that's often higher than what they could achieve individually."
In the case of 4072 N. Sheridan, Stengle worked with the condo association for a year before the sale to ensure the building, which was built in 1916 and last renovated in the mid-1990s, was a good candidate for deconversion and educate owners about the process.
All but one of the 16 units have two-bedroom plans that feature kitchens with condo-quality finishes, including stainless steel appliances and granite countertops, and in-unit laundry. The building also has a new roof deck with skyline views. The sale included 14 parking spaces.
Adding to the appeal of 4072 N. Sheridan was its accessible location, near the Sheridan Red Line stop and CTA bus routes. The property is also a 15-minute drive via Lake Shore Drive to downtown Chicago.
---
About Marcus & Millichap
With nearly 2,000 investment sales and financing professionals located throughout the United States and Canada, Marcus & Millichap is a leading specialist in commercial real estate investment sales, financing, research and advisory services. Founded in 1971, the firm closed 9,472 transactions in 2018 with a value of approximately $46.4 billion. Marcus & Millichap has perfected a powerful system for marketing properties that combines investment specialization, local market expertise, the industry's most comprehensive research, state-of-the-art technology, and relationships with the largest pool of qualified investors.