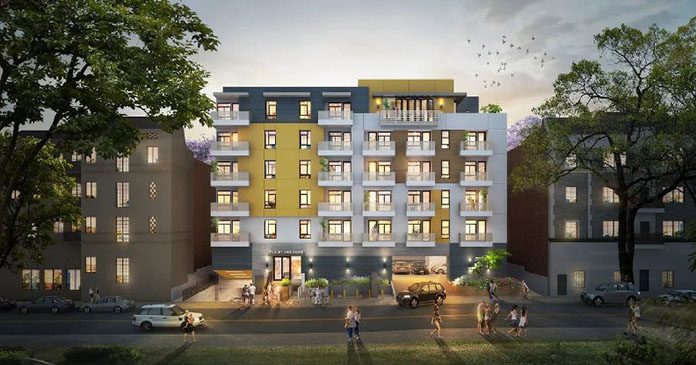 Parkview Financial announced today it has provided a $15.91 million construction loan to St Andrews Place, LLC, a Los Angeles-based private developer, for the development of a six-story, 65-unit apartment property in the Koreatown neighborhood of Los Angeles. Construction has now commenced with completion anticipated for May 2021.
Located on a .34-acre site at 719 St. Andrews Place, the property includes 51 studios and 14 one-bedroom floor plans with an average size of 451 square feet. Seven units are designated as affordable units. The property will include two levels of assigned parking—one at ground level and one subterranean, a rooftop deck, fitness center, resident lounge, bike parking spaces and extra storage. The units will feature in-unit washer/dryer, stainless steel kitchen appliances, engineered vinyl hardwood flooring and balconies in most units.
"Parkview saw this as a compelling opportunity to provide this 24-month construction loan which includes two extension options for another 12 months," said Paul Rahimian, CEO with Parkview Financial. "With a continuing demand for housing and a vacancy rate in Los Angeles hovering at around 3.5 percent, this project will be a welcome addition to Koreatown."
Rahimian added that the developer plans to hold the asset long-term.
Koreatown, and the greater Wilshire/Westlake submarket is one of Los Angeles' largest apartment markets, comprising 49,265 units. Reis, Inc., a leading CRE data provider, estimates that during 2020 and 2021, developers are expected to deliver a total of 1,116 units of market-rate rental apartments to the submarket.
Parkview has provided in excess of $300 million in new construction financing in the L.A.-area alone over the last 24 months.
---
About Parkview Financial
Parkview Financial was founded in 2009 by CEO Paul Rahimian. Based in Los Angeles, the direct private lender provides short-term bridge and construction loans secured by first trust deeds to developers throughout the United States. Parkview manages a debt fund that originates approximately $400 million in construction financing each year with loans ranging in size from $5 million up to $100 million. Parkview's excellent reputation as a private lender has been built on its ability to provide fast, creative financing solutions for borrowers who need more leverage and certainty of execution. Parkview originates loans for property types including Multifamily, Industrial, Office, Retail, Mixed-use, Spec Homes and Entitled land.