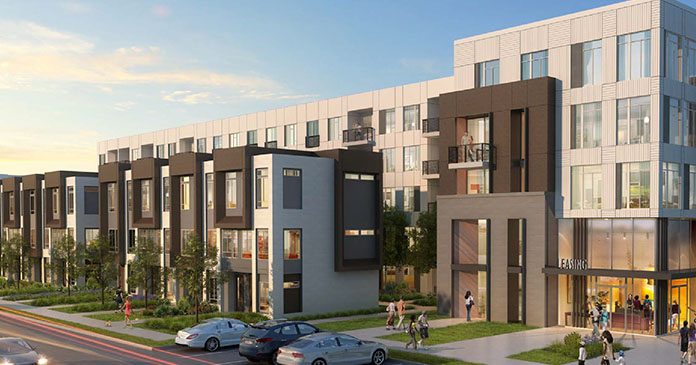 Legacy Partners (Legacy), a privately-owned national real estate firm, announced today the groundbreaking of Legacy at Fitz in Aurora, Colorado. Located at 1363 N. Victor Street, the five-story 363-unit apartment community is Colorado's first large-scale residential development to break ground under the newly-created Opportunity Zone program.
"Given its proximity to the Anschutz Medical Campus, Legacy at Fitz is quite literally the perfect place for medical students, healthcare professionals, and technology workers to call home," said R. Lane Cutter, Senior Managing Director at Legacy. "Our goal is to make this community one of the most convenient living experiences in the area."
Designed by architecture firm Davis Partnership, the community will feature a mix of one-, two-, and three-bedroom apartments as well as 497 parking spots. Residential amenities include a clubhouse, fitness center, yoga studio, making room, a fifth level observation deck, and two courtyards with a pool, outdoor kitchens, and fire pits.
Legacy at Fitz is within walking distance to many dining and retail options; only half a mile from the nearest RTD station; and a ten-minute drive to DIA and the Gaylord Conference Center.
Equity financing for Legacy at Fitz was provided by Griffin Capital. "We are excited about continuing our partnership with Legacy on this tremendous development opportunity in Aurora," said Eric Kaplan, President of Griffin Capital Private Equity, LLC.
Legacy's development team recently celebrated the grand opening of TriVista on Speer in Denver's Golden Triangle Creative District. In addition to development, their property management division manages several Denver-area apartment communities, including Legacy on the Promenade in Westminster, a property also developed by Legacy; Westlake Greens, in Littleton; and Fox Crossing, in Denver proper.
---
About Legacy Partners
Legacy Partners, a privately held real estate firm founded in 1968 and headquartered in the San Francisco Bay Area, owns, develops and manages multifamily communities throughout the United States. Legacy Partners has regional offices in California, Colorado, Florida, Texas, and Washington and have developed or purchased more than 60,000 apartment homes in Arizona, California, Colorado, Florida, Nevada, Oregon, Texas, and Washington. Since inception, Legacy Partners has worked with some of the world's largest financial institutions, life insurance companies, and real estate companies, consistently returning exceptional results.
Legacy Partners provides management services for its own portfolio, as well as other owners. Combined, Legacy Partners manages a portfolio of over 60 multifamily communities with more than 14,000 apartments homes.
About Griffin Capital Company, LLC
Griffin Capital Company, LLC ("Griffin Capital") is a leading alternative investment asset manager that, for more than two decades, has established a reputation for leadership, innovation, and consistent results in the alternative investments industry.
Griffin Capital's alternative investment solutions include three groups of complementary products: actively managed interval funds in the company's Institutional Access® fund family, non-listed real estate investment trusts (REITs) and tax-advantaged private strategies. The firm's investment strategies include diversified core real estate and global corporate credit securities, as well as direct real estate ownership in sector-specific portfolios focused on net leased essential office and industrial assets, clinical healthcare properties, and multifamily real estate assets.
These solutions include: Griffin Institutional Access® Credit Fund, Griffin Institutional Access® Real Estate Fund, Griffin Capital Essential Asset® REIT, Griffin Institutional Property Exchange DSTs, and a Qualified Opportunity Zone fund. Griffin Capital Securities, LLC, Member FINRA/SIPC, is the dealer manager for non-traded programs and private offerings sponsored by Griffin Capital Company, LLC and the exclusive wholesale marketing agent for the Company's interval funds distributed to investors through independent and insurance broker-dealers, national wirehouses and registered investment advisors.