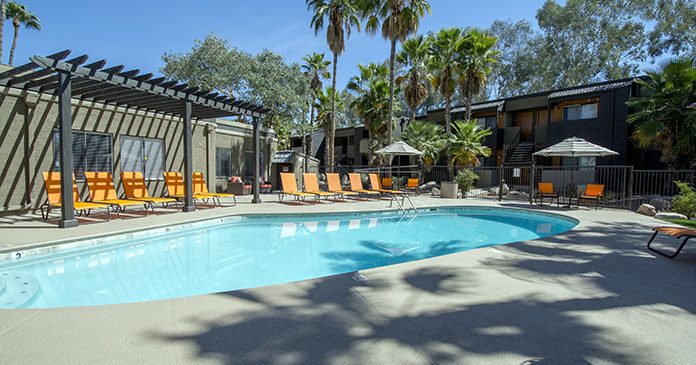 Thayer Manca Residential (TMR), a multifamily investment firm based in Seattle, made their first purchase since 2000 in the Tucson, Arizona market. TMR purchased the 368 unit, Palm Canyon Apartments for $40,300,000.
Palm Canyon Apartments is a garden style apartment community with outstanding value-add potential in an excellent, northwest Tucson location. Its well-built 1986 construction and low density site, provides the perfect opportunity for TMR's signature style of repositioning, focused on modern amenity packages, inspired homes and contemporary branding.
"We're excited to be back in Tucson and can see the momentum building in the multifamily market," says Joe Manca, Principal at TMR. "We are confident that our repositioning plan will deliver, and establish, Palm Canyon as a leader in North Tucson."
With more than $5,000,000 in planned renovations, both the interior and exterior will receive intentional, quality, resident-focused upgrades. Palm Canyon will undergo full rebranding and marketing, receive a revamped clubhouse and office interiors, updated fitness facility, refurbishing of the two pool areas, the addition of package lockers, landscaping enhancements and additional exterior amenities, as well as interior unit renovations.
Palm Canyon has an outstanding location adjacent to a major medical plaza and less than one-half mile from one of Tucson's largest hospitals, Northwest Hospital. Palm Canyon's proximity to these large employers will provide a great housing option for hundreds of nearby medical workers. Palm Canyon's location on Orange Grove Road is also within minutes of more than 1,000,000 square feet of retail.
Palm Canyon Apartments are located at 2255 W Orange Grove Road, Tucson, AZ.
This is one of three transaction for TMR in the last three months. TMR also sold the 134 unit, Homestead Apartments in Federal Way, WA for $26,500,000. With more than $1,600,000 in renovations, the project included completing 112 full unit renovations, adding a pet park, playground addition, pool enhancements, remodeled clubhouse with community lounge, deck and upgraded 24-hour fitness center, as well as a full rebrand and signage package. TMR accepted an off-market offer for Homestead Apartments in June.
TMR also entered the Portland, OR multifamily housing market for the first time with the purchase of Halsey Station. The 124-unit property was acquired  for $20,800,000 in August. TMR has nearly $2,000,000 in planned renovations for Halsey Station including an enhanced pool area, addition of a pet park, upgraded landscaping, interior unit renovations, exterior capital improvements and a full rebranding strategy.
---
About Thayer Manca Residential LLC
Thayer Manca Residential LLC (TMR) is a multifamily investment firm, specializing in value-add opportunities. Based in Seattle, WA, TMR has closed over $1B in transactions throughout the western U.S. from Alaska to Texas. TMR is driven by a commitment to protect and grow investor capital, while delivering safe, clean and inspired homes. Using disciplined business practices and a hands-on asset management style, TMR has generated outstanding partnership returns without a single capital loss in the company's 35+ year history.