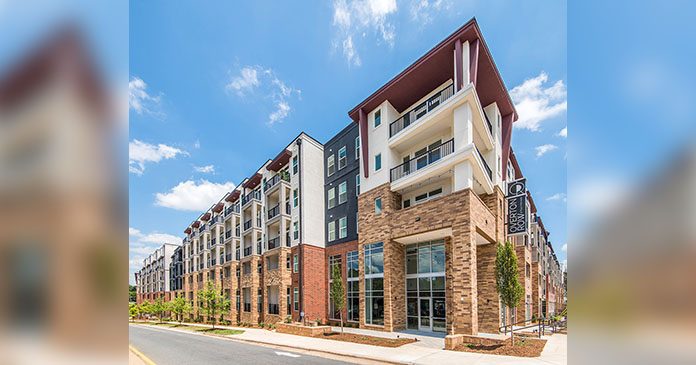 Cushman & Wakefield has arranged the $82 million sale of Overton Row, a 323-unit apartment community located in Charlotte, North Carolina. Marc Robinson, Jordan McCarley and Watson Bryant of Cushman & Wakefield represented the sellers, CampusWorks Development, Kaplan Residential and an affiliate of global investment firm The Carlyle Group, in the transaction. Lindemann Multifamily Management acquired the property.
"This deal is significant for Lindemann Multifamily Management because it represents our growth into new markets," said George Lindemann, Founder of Lindemann Multifamily Management. "This is our first acquisition in Charlotte. We were attracted to the city because it's vibrant and full of potential and we are eager to make our own contribution to this thriving city. We are thrilled to add Overton Row to the family. With a variety of apartment layouts, elegant finishes, and amenities like a fitness center, clubhouse, and pool, Overton Row distinguishes itself in the market and is just the kind of property we want in our portfolio. We look forward to continuing to nurture this special community."
Overton Row borders Uptown Charlotte and the state's leading healthcare systems, offering unparalleled access to the metro's predominantly white-collar employment hubs, as 145K+ jobs are within a five-minute drive. Boasting custom-built interiors and superior aesthetics, the award-winning community offers top-of-the-line features and amenities to an affluent resident base of high-earning, 74 percent-millennial population.
"Overton Row is a premier asset in Plaza Midwood, an urban neighborhood that has become one of the most dynamic in Charlotte due to its authenticity and proximity to Uptown Charlotte," Robinson said. "With a prominent presence at the corner of Central Avenue and Hawthorne Lane, the property offered the rare opportunity to acquire an institutional-quality midrise asset in the city's most walkable urban nucleus."
Cushman & Wakefield's Southeast Multifamily Advisory Group ranked No. 1 in market share in 2018 based on closed transactions, totaling more than $4.5 billion in sales volume, according to Real Capital Analytics.
---
About Kaplan Residential
Kaplan Residential is a Southeast regional development company that focuses on ground up multifamily and mixed use communities throughout the Southeast. Over the last 67 years Kaplan has built 30,000 residential homes and 3 million square feet of commercial space, totaling $3 billion in new development.
About The Carlyle Group
The Carlyle Group is a global investment firm with deep industry expertise that deploys private capital across four business segments: Corporate Private Equity, Real Assets, Global Credit and Investment Solutions. With $223 billion of assets under management as of June 30, 2019, Carlyle's purpose is to invest wisely and create value on behalf of its investors, portfolio companies and the communities in which we live and invest. The Carlyle Group employs more than 1,775 people in 33 offices across six continents.
About Cushman & Wakefield
Cushman & Wakefield is a leading global real estate services firm that delivers exceptional value for real estate occupiers and owners. Cushman & Wakefield is among the largest real estate services firms with approximately 51,000 employees in 400 offices and 70 countries. In 2018, the firm had revenue of $8.2 billion across core services of property, facilities and project management, leasing, capital markets, valuation and other services.