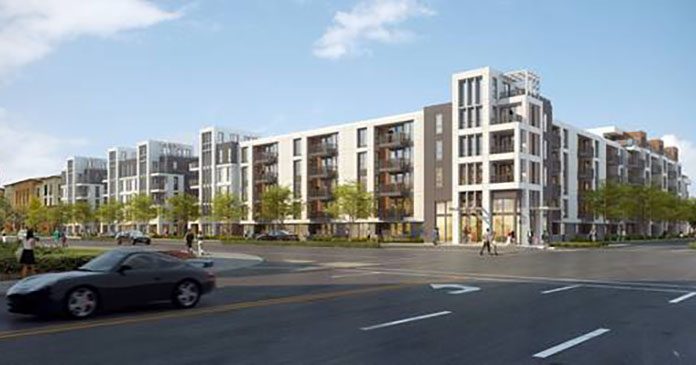 Fore Property ('Fore'), one of the country's top 20 largest multifamily developers, today announced the start of construction on its 275-unit apartment community in Fremont, California.
Located at 3510 Beacon Avenue amidst Fremont's burgeoning downtown economic and cultural district, the five-story, wrap-style community will offer 275 studio, one- and two-bedroom units upon completion. On the property's top floor, each of the 11 penthouse units will feature a private patio with scenic views of the East Bay and foothills, providing an unprecedented amenity offering for rental apartments in the area.
"Fore Property continues to develop and diversify its California portfolio with its signature dedication to creating high quality, regionally tailored multifamily communities," said Mark V. Pilarczyk, Vice President of Northern California at Fore Property. "As we commence construction on our sixth community in California, we look forward to developing a product which not only reflects Fore's values and time-honored vision, but which also represents the unique and diverse character of the San Francisco Bay Area and its residents."
Fore is working with MVE + Partners, a renowned architecture firm, to create the community's notable wrap-style design. Units will surround a five-story parking structure, which will include a rooftop amenity deck complete with outdoor lounge areas, a pool and hot tub, community room and fitness center.
Fore Property's new apartment community is strategically located within Downtown Fremont, which has experienced an influx of development in line with the city's recent mission to create a pedestrian-friendly, mixed-use destination in its central district. The community represents Fore's expertise in conceptualizing and executing transit-oriented multifamily developments that tap into—and enhance—the energy of their local economies. The Fremont property offers proximity to public transit, only a half-mile from an important regional transfer point, where the Bay Area Rapid Transit (BART) Fremont station provides service to destinations including the San Francisco Peninsula, Oakland, Walnut Creek and other cities in the East Bay. Adding to its overall accessibility, the property is less than two miles from major thoroughfares including Interstate Highway 880, State Route 84 and Mission Boulevard (State Route 238).
The area's desirability has already attracted industry giants Tesla and Facebook, both of which have recently expanded their presence in Fremont, with offices less than 8 miles from the new Fore Property community. Regional employers like The Washington Hospital Healthcare System and Kaiser Fremont Medical foundation also contribute to the increasing job density and employment opportunities in the area.
The community offers additional conveniences within a short walk, including a variety of shopping, dining and banking options, such as Target, Safeway, Trader Joes, Bed Bath & Beyond, Sala Thai, Panera, Chipotle, Bank of America and Wells Fargo.
Alongside the Fremont development, Fore continues to expand its Northern California presence with another planned community in Burlingame, which is currently under construction and slated for completion in Fall 2022. Furthering its statewide portfolio, Fore also recently announced the opening of two new communities in Southern California: Arte, a 182-unit community in Rancho Cucamonga and Las Positas, 213-unit property in Camarillo. In addition, two development plans in Southern California have commenced: a 330-unit project north of Los Angeles in Oxnard and a 302-unit project in Monrovia, situated in Los Angeles County at the foothills of the San Gabriel Mountains. 
---
About Fore Property
Throughout its 25-year history, Fore Property has proudly created a legacy by developing, building, and managing more than 25,000 market-rate, affordable, and senior living multifamily units, in addition to mixed-use developments, nationwide. Led by an executive team of recognized industry visionaries, Fore employs its time-tested expertise to generate reliable, opportunistic returns for its investment partners—a strategy that the company adapts to every region and neighborhood in which it works. As one of the nation's 20 largest multifamily developers, Fore maintains a commitment to quality through its vertically integrated approach, earning the company a growing base of long-term investors and collaborators.