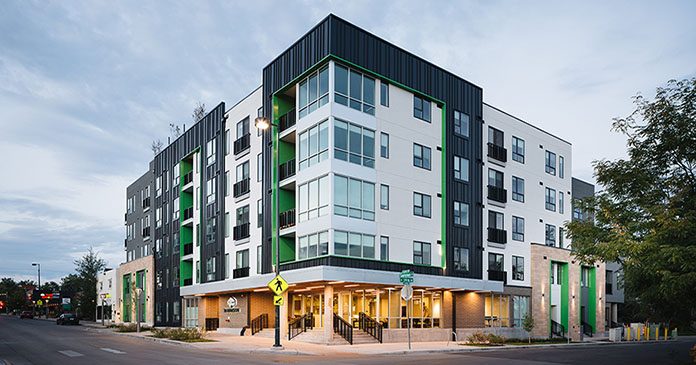 JLL announced that it has arranged $14.7 million in financing for Tennyson Place, an 81-unit apartment community located in Northwest Denver's coveted Berkeley neighborhood.
JLL worked on behalf of the borrower, Allante Properties and Investments, to secure the fixed-rate balance sheet loan. Loan proceeds were used to refinance an existing loan.
Tennyson Place is located at 3885 N. Tennyson along Berkeley's main retail corridor, which provides residents with access to all of the area's parks, shops, restaurants and live music venues. In addition, the property is conveniently located approximately three miles northwest of employers in Downtown Denver. Completed in 2017, Tennyson Place consists of a mix of studio and one-bedroom apartments ranging from 365 to 769 square feet. Community amenities include an indoor/outdoor community room, business center, 24-hour fitness center, sky deck, pet spa and garage parking.
The JLL Capital Markets team representing the borrower was led by Senior Director Brock Yaffe and Managing Director Josh Simon.
"We are extremely happy to have completed this transaction and everyone on the team performed spectacularly," said Daren Schmidt, Managing Partner of Allante Properties and Investments. "We look forward to holding the asset for the coming years and are very proud of what we have accomplished at Tennyson Place. Thank you to everyone involved, and we look forward to the next transaction."
JLL Capital Markets is a full-service global provider of capital solutions for real estate investors and occupiers. The firm's in-depth local market and global investor knowledge delivers the best-in-class solutions for clients—whether investment advisory, debt placement, equity placement or a recapitalization. The firm has more than 3,700 Capital Markets specialists worldwide with offices in nearly 50 countries.
Deal secured by Holliday Fenoglio Fowler LP ("HFF") prior to being acquired by JLL on July 1, 2019. Co-brokerage services provided by Jones Lang LaSalle Americas, Inc.
---
About Allante Properties and Investments
Allante Properties and Investments is a Denver-based real estate development and investment company with approximately $40 million in equity raised and over $125 million in total development and acquisitions since inception in 2012.
About JLL
JLL is a leading professional services firm that specializes in real estate and investment management. Our vision is to reimagine the world of real estate, creating rewarding opportunities and amazing spaces where people can achieve their ambitions. In doing so, we will build a better tomorrow for our clients, our people and our communities. JLL is a Fortune 500 company with annual revenue of $16.3 billion, operations in over 80 countries and a global workforce of nearly 92,000 as of June 30, 2019. JLL is the brand name, and a registered trademark, of Jones Lang LaSalle Incorporated.