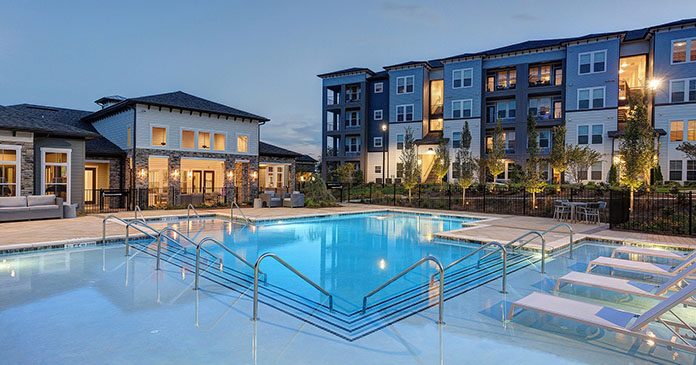 Passco Companies, a privately held California-based commercial real estate company that specializes in acquisition, development, and property and asset management throughout the U.S., has acquired Tapestry at Turkey Creek, a 220-unit, best-in-class luxury apartment community in Knoxville, Tennessee
The firm acquired Tapestry at Turkey Creek directly from the asset's developer, Birmingham, Alabama-based Arlington Properties, for a total consideration of $40.4 million, according to Colin Gillis, Vice President of Acquisitions—East at Passco Companies.
"We were immediately drawn to the opportunity to acquire a stand-out asset in this market—presenting a quality unmatched by the overwhelming majority of existing multifamily product in Knoxville—from a national developer known for exceptional design and amenities packages," explains Gillis. "Driven by steady job growth and high absorption, multifamily demand is outpacing supply in the Knoxville area. With sustained low unemployment and a rising number of white-collar jobs, we anticipate the demand for high-quality multifamily assets like Tapestry at Turkey Creek to remain strong."
According to Gillis, Knoxville's economy has benefited in recent years from diverse and evolving employment opportunities, including a 15 percent increase in office jobs from the peak of the previous cycle.
The property is ideally located in one of Knoxville's most desirable suburban neighborhoods, across from the Turkey Creek Lifestyle Center, a mixed-use destination that is both the largest single commercial development in the Knoxville MSA and the largest concentration of Class A retail in Eastern Tennessee. The community also offers residents close proximity to Interstate 40, providing easy access throughout the region.
"The fact that Tapestry at Turkey Creek was leased up in under a year, by residents with an average on-site income of $100,000, is a testament to its multifaceted appeal to those looking for quality apartment living with competitive amenities, in close proximity to shopping and entertainment, and a convenient commute to Downtown Knoxville," continues Gillis. "Further, this is the only multifamily community of its class in Knoxville that is zoned for some of the area's top schools in neighboring Farragut, Tennessee."
Community features include a saltwater pool with water feature and sun shelves; a fitness center with circuit training, cardio equipment with TV monitors, spin room and more; an Arlington signature coffee bar; poolside cabanas with fireplace and TV; a gaming pavilion with a billiard table; and a dog park.
"We've been fortunate to have an excellent relationship with the seller for several years, which helped facilitate this smooth, mutually beneficial transaction," says Gillis. "With Arlington Properties continuing to manage this property, we can trust that the community will deliver top-class service, driving resident attraction and retention, throughout Passco's ownership."
David G. Ellis, Executive Vice President of Development for Arlington Properties, adds: "Tapestry at Turkey Creek has been an excellent performer in our portfolio since it was delivered into the market last year. These units leased up at a very swift pace, demonstrating the strength of the Knoxville multifamily market and the community's fantastic location within the city. We look forward to continuing our involvement in the development as property manager for a great owner in Passco."
Tapestry at Turkey Creek consists of one, two, and three-bedroom apartment homes on 12 acres of hillside. Units feature granite countertops and tile backsplash, stainless steel appliances, abundant closet space, wood vinyl plank flooring, soaking tubs, a balcony or terrace, and dual sinks in select apartment homes.
The property is located at 810 Tapestry Way in Knoxville, Tennessee.
---
About Passco Companies, LLC
Passco Companies, LLC is a nationally recognized market leader in the acquisition, development, and management of multifamily and commercial properties throughout the U.S.
Passco offers a full set of real estate services including asset and property management, leasing, as well as property development and construction.
Headquartered in Irvine, California, Passco currently has $3 billion assets under management across the country and is actively growing its portfolio in primary and secondary markets throughout the United States.
About Arlington Properties
Arlington Properties, headquartered in Birmingham, Alabama, is a leader in the acquisition, development, redevelopment and management of multifamily and mixed-use properties. Founded in 1969, Arlington Properties has developed over 30,000 units, has market experience in 14 states and currently manages over 13,000 units.