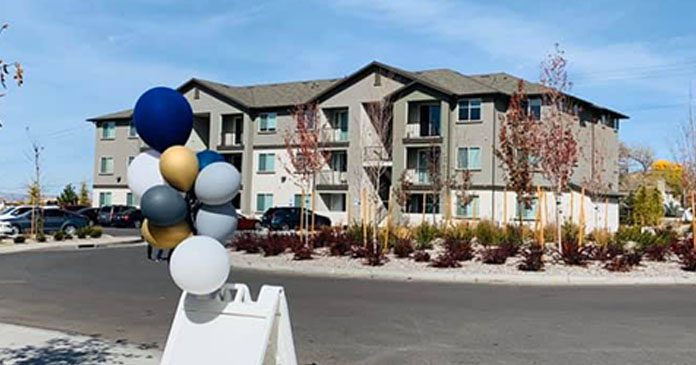 Affordable housing in Northern Nevada is about to see some real change in South Reno. On July 24, 2018, Greenstreet Companies and Vintage Housing broke ground on Steamboat by Vintage, a brand new 360-unit development promoting a state-of-the art, energy efficient, high-quality lifestyle for working families at or below 60 percent of the area media income. October 24, 2019 marked the official grand opening of the property sitting on 18.5 acres of land near Geiger Grade.
The area's newest community offers a comfortable living option at an affordable price and in a convenient location. Steamboat by Vintage offers generously sized one, two and three-bedroom apartment homes to qualifying individuals and families. All homes feature fully-equipped gourmet kitchens with EnergyStar appliances and food pantries, extensive cabinet and closet storage, walk-in closets, and patios or balconies to give residents their own private outdoor space. Residents can also enjoy our 24-hour fitness center, swimming pool, dog park, recreational play-field and playground.
"This is the first new affordable large rental community in 15 years that is being built at a level that the average working family can afford," said Dane Hillyard, co-founder of GreenStreet Companies. "With the extreme rent increases we have seen in Northern Nevada these 360 new apartments will give working families an opportunity to live in a brand new very high-quality apartment community at rents they can afford."
The development is well located on a series of parcels totaling 18.5 acres on the southeast side of the intersection of Geiger Grade Road and South Virginia Street. This South Reno site is located across the street from the Summit Mall, providing families with full services nearby, as well as many grocery options within a few miles.
Steamboat by Vintage will be a family development affordable to households with incomes at or below 60 percent of Area Median Income (AMI)—with rent estimated to be $500 or more below market rents in the area. The project will set aside five HOME units at 30 percent and 50 percent of AMI.
"This project would not have been possible without the strong support of the city of Reno and State of Nevada. Both have both worked closely together to assist us in the financing of this badly needed, new high-quality rental housing for Reno working families," said Jim Zaccheo, co-founder of GreenStreet Companies. "We as developers have to think about serving more than just the high-end rental market in our region. We are honored to be able to be working with the City of Reno, the State of Nevada and our partners at Vintage Housing to help bring Reno this high quality affordable rental housing to our community."
In addition to the launch of Steamboat by Vintage, Reno-based Greenstreet Companies and Vintage Housing announced they will also be pre-leasing for the 288 units located at Sky Mountain by Vintage, located 1405 Sky Mountain Drive Reno 89523. The units are similar in price structure and rent fees as Steamboat.