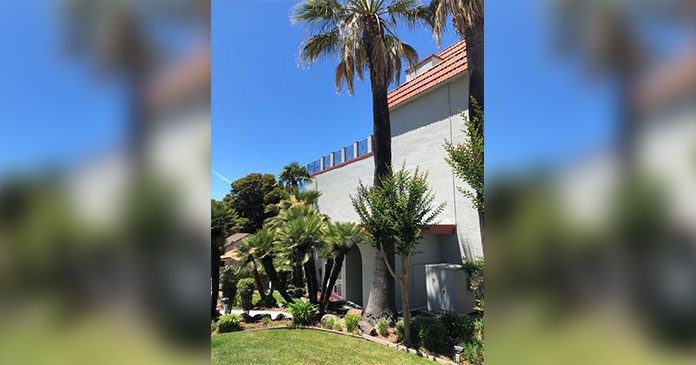 Trion Properties, a private equity real estate firm that specializes in value-add multifamily investments in niche western markets, has acquired Villa Morada Apartments, an 89-unit multifamily community in Hayward, California, for $25 million.
The acquisition brings the total number of assets Trion Properties owns in the Bay Area to four. Additionally, the firm recently sold Cinnamon Apartments, a 30-unit apartment property located 0.1 mile from Villa Morada Apartments, after a strategic rebranding and 3-year hold.
"The city of Hayward perfectly aligns with our firm's investment strategy of targeting markets with strong multifamily fundamentals and growth potential, which was proven when we brought Cinnamon Apartments full cycle earlier this year," says Max Sharkansky, Managing Partner at Trion Properties. "Known as 'the Heart of the Bay,' Hayward is located in the geographical center of the technology capital of the world. The market benefits from close proximity to high-wage jobs in Oakland, San Francisco, Fremont, and Palo Alto, and the convergence of four major thoroughfares providing residents easy access throughout the region."
Further, companies located in Hayward have raised more than $450 million in venture funding—more than Portland, Oregon and San Antonio, Texas—demonstrating strong investor confidence in this market to flourish, Sharkansky notes.
Built in 1969, Villa Morada Apartments is located in an opportunity zone in Downtown Hayward and is in brief walking distance to one of the city's two BART stations, several shops, and restaurants.
Sharkansky also notes that Downtown Hayward, where the apartment community is located, is experiencing a renaissance. In addition to being revitalized recently with new shops, a movie theater, city offices, and restaurants, the library is undergoing a major renovation. The 21st Century Library & Learning Center, at 58,000 square feet, will be one of the largest net-zero-energy public buildings in the country. The completed project is planned to be the new cultural, educational, and civic hub of the city.
Pointing to data from Zillow and US Government that reveals median home values in Hayward have risen 78 percent over the last five years—reaching over $650,000 last year—Sharkansky adds: "The value proposition of apartment renting in the market is stronger as rising home prices in this market are making homeownership increasingly difficult for residents to afford."
He notes that while the city implemented a rent stabilization ordinance while Villa Morada Apartments was being marketed, this did not detract from the appeal of the asset based on its strong in-place cashflow and cap rates, as well as inexpensive debt.
The firm was also drawn to the asset due to its attractive Spanish-style design and unique features, including oversized balconies with every unit and penthouse rooftop patios with panoramic bay views. Trion will implement its value-add improvement strategy with the property, including renovations to the interiors as units turn. These interior upgrades will include adding new washer/dryers, quartz countertops, vinyl plank flooring, cabinets, and smart locks, as well as new bathroom vanities, lights, and plumbing fixtures throughout.
The firm will also execute light exterior upgrades to improve hallways, lighting, branding, and signage. Exterior renovations also include new windows, paint, landscaping, decks, concrete parking, lighting, secured access, pool rehab, and roof replacement when needed.
In addition, Trion will upgrade lighting and flooring in interior hallways, install Spanish tile in the entryways, renovate the leasing office, add pool furniture, and upgrade exterior amenities.
While select units at Villa Morada Apartments have been upgraded with laminate wood-look flooring, otherwise interiors have been mainly untouched since construction. With the upcoming improvements to the property and based on comparable properties in the area, Trion anticipates being able to quickly bring rates up to market, says Sharkansky.
"This asset ideally matches our investment criteria of well-located assets with strong value-add potential," Sharkansky notes. "The capital improvements we are planning will help meet the demands of renters seeking an attractive yet affordable alternative to homeownership and apartment rentals in pricier nearby markets."
Villa Morada Apartments consists of two buildings featuring a variety of one- and two-bedroom units, as well as one three-bedroom unit. Both buildings have covered surface parking and a rooftop deck with unobstructed bay views. Additional amenities include a swimming pool, laundry facilities, and outdoor barbecue and picnic areas.
In addition to Villa Morada Apartments, Trion's current multifamily portfolio includes Parc88, an 88-unit garden-style apartment community in Fremont, California; Metro 77&85, a 146-unit apartment community near Downtown San Leandro, California; and Metro348, a 38-unit apartment community within walking distance to the San Leandro BART station in San Leandro, California.
Brett Betzler of Moran & Company represented both Trion Properties as the buyer in the acquisition and Klingbeil Capital Management as the seller.
Villa Morada Apartments is located at 1180-1182 East Street in Hayward, California.
---
About Trion Properties
Founded in 2005 and headquartered in Los Angeles, Trion Properties is a private equity real estate firm that invests in value-add multifamily throughout the west coast. Trion has completed more than $300 million in transactions, with a portfolio of over $315 million in assets, generating an average internal rate of return in excess of 30 percent. With its fully built-out operator platform, Trion has repositioned and stabilized undervalued assets, leveraging its expertise in real estate finance and renovation of multifamily properties to drive returns for its investors.
Since its inception, Trion has acquired the fee interest—or in certain instances the debt secured by the fee interest—of over 2,530 multifamily units. To date, Trion has successfully repositioned and resold over 1100 units and over 180,000 square feet of commercial real estate space.
The principals of Trion Properties are Max Sharkansky and Mitch Paskover, two real estate professionals with over 30 years of combined experience in finance, acquisitions, management and redevelopment.