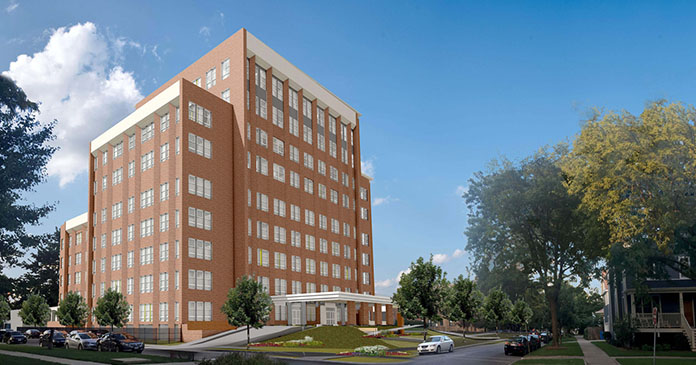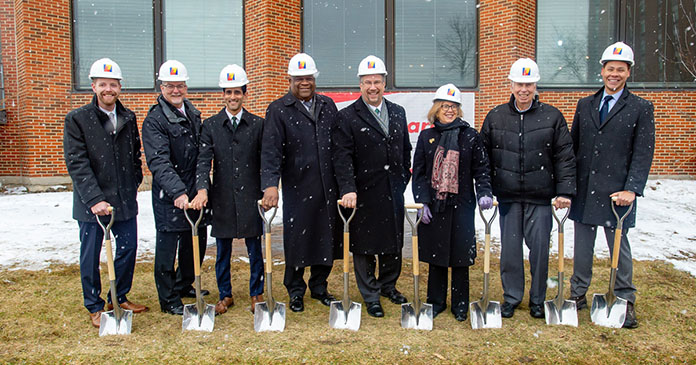 Evergreen Real Estate Group announced the start of construction on Ravenswood Senior Living, a 193-unit affordable rental community at 4515 N. Winchester Ave. in Chicago's Ravenswood neighborhood. Evergreen representatives joined 47th Ward Ald. Matt Martin and officials from the Chicago Housing Authority (CHA), Illinois Housing Development Authority (IHDA) and other partners at a ceremonial groundbreaking on Jan. 23.
The pioneering $81 million project will convert the former Ravenswood Hospital—which was built in 1974 and has been vacant since 2002—into much-needed affordable senior housing. It is one of the first developments in the country to offer both independent living and supportive living for low-income seniors in a single location, allowing residents to age in place as their needs and lives change.
Located between Damen and Ravenswood avenues, the 10-story building will have 74 one-bedroom independent living apartments for CHA residents, as well as 119 units for participants in the Illinois Supportive Living Program, an alternative to nursing home care that is administered by the Illinois Department of Healthcare and Family Services. While the two communities will be located in the same building, they will have separate entrances and operate independently from each other.
"This important project is a rare opportunity to bring much-needed affordable senior housing to Chicago's North Side while establishing a viable financing model that can be applied to future senior developments across the country, especially as the population continues to age," said Jeff Rappin, founder and chairman of Evergreen Real Estate Group. "Ravenswood Senior Living will provide a full spectrum of housing options in a single location, making it possible for CHA residents to transition into a new, yet familiar, home if and when they require assistance with daily tasks like bathing, dressing and making meals. We're proud to partner with the CHA in creating neighborhood-based affordable housing that benefits some of Chicago's most vulnerable residents."
"This development illustrates CHA's creative approach to expanding affordable housing," said CHA Acting CEO James L. Bebley. "It offers a unique combination of independent living and supportive living for low-income seniors, but also is one of the first in the nation. And, it is an example of CHA's commitment to build strong, vibrant communities throughout Chicago."
"This groundbreaking was made possible by a public-private partnership that has been working for years to help residents age in place as their housing needs change," IHDA Executive Director Kristin Faust said. "Affordable housing doesn't have a one-size-fits-all solution, and Ravenswood Senior Living is an innovative development that will support a continuum of options for Chicago residents as they age."
Rappin added that while the former hospital is not an official historic structure, it is an important local landmark to the community and, as a result, Evergreen plans to revitalize and maintain much of the original structure. The facade of the former hospital will be cleaned and tuckpointed, and all windows will be replaced using the original frames. A small addition on the building's north side will feature a facade of metal panels whose colors complement the current brick and also mirror the design of the adjacent Lycée Français de Chicago, a private French international school.
Structural changes to the former hospital will include the addition of an elevator and staircase at the entrance of the independent living community to improve accessibility for residents and guests. Elevators inside the building will be modernized, and the entire building will be revamped to be converted to apartments, which will include new walls, HVAC and some new window openings. Both the independent and supportive living communities will share the existing parking garage, which also is utilized by Lycée Français de Chicago and other commercial and residential buildings on the block.
On-site amenities for the independent living community will include a roof deck, community room, fitness room, library/computer room, lounges and laundry rooms. The adjacent supportive living community will have its own amenities, including a roof deck, dining room with meals served daily, community room, fitness and physical therapy room, salon, library/computer room, multi-purpose/TV room and attendant stations on each floor. In addition, the supportive living community will have an on-site doctor's office, which will be staffed by a physician up to two days a week and offer 24-hour care provided by trained medical professionals.
Ravenswood Senior Living is owned by Evergreen Real Estate Group in partnership with Chicago-based Synergy Construction Group and the Chicago Housing Authority. Financial partners for the independent living community include the CHA, which is providing Rental Assistance Demonstration (RAD) project-based vouchers for all 74 residents, as well as a significant amount of capital funds. Evergreen also worked with IHDA, the National Development Council (NDC), Ravenswood Community Council, ComEd's Energy Efficiency Program via the CHA Community Support Corporation, IFF and Key Bank to secure additional funding and tax credits.
"Evergreen has developed a reputation for executing large-scale projects with complex capital stacks," said Rappin. "In the case of Ravenswood Senior Living, we used financing tools that weren't necessarily designed to be used together, such as public housing tools, tax credit programs and the Medicaid waiver program. Using two of these together is fairly common, but all three is very unusual, which underscores the creativity required to get projects like this off the ground."
Once complete, Evergreen will manage the independent living community while Asbury Senior Living will manage the supportive living component. Leopardo Companies is the general contractor, with Evergreen Construction Company and Synergy Construction Group serving as subcontractors.
Ravenswood Senior Living is located close to public transit, including the Damen and Montrose Brown Line stations, the Ravenswood Metra stop, and several CTA bus routes. A number of shops and restaurants throughout Ravenswood and Lincoln Square are also within walking distance of the community.
The Ravenswood Senior Living project is the third affordable senior housing community that Evergreen has developed on Chicago's North Side over the past year. In 2019, the firm partnered with the CHA, Chicago Public Library and Chicago's Department of Housing on a pair of co-located developments—Independence Apartments and Library at 4022 N. Elston Ave. and Northtown Apartments and Library at 6800 N. Western Ave. – that co-locate low-income senior housing with new public library branches.