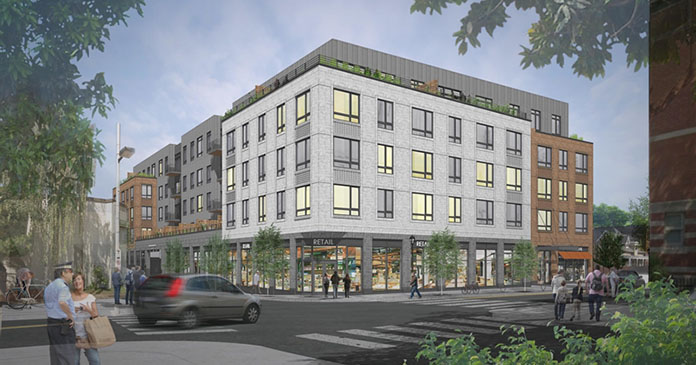 CBRE has secured a joint venture partner for the development of The Brookliner, a mixed-use transit-oriented community in the Brighton neighborhood of Boston, Massachusetts.
CBRE's team of Simon Butler, Biria St. John and Kyle Juszczyszyn acted as exclusive advisor to the developers, Washington Square Ventures and BedRock Real Estate Partners, to structure a joint venture partnership with an institutional investor.
The Brookliner is comprised of 108 apartments and 12,150 sq. ft. of retail, with CVS Pharmacy occupying over 90 percent of the space on a long-term lease. The boutique luxury building will have best-in-class amenities including an expansive outdoor deck, hospitality style community spaces and state-of-the-art fitness center.
"Washington Square Ventures and BedRock Real Estate Partners have done a tremendous job assembling and permitting The Brookliner site," stated CBRE's Juszczyszyn. "We are honored to have played a role in the project."
Washington Square Ventures Managing Partner Justin Krebs said, "My partner Matt Faris and I are thrilled to commence the development of this long-blighted site. Our boutique development will enhance the neighborhood with street-level retail and a community pocket park, while providing a unique apartment experience, including 16 percent affordable units, contributing to the ongoing need for affordable housing in Boston."
The Brookliner is adjacent to two MBTA Green Line Subway stops, the B Line Washington Street Station and the C Line Washington Square Station, which provides immediate access to the Financial District, Back Bay, Seaport and Cambridge. There is an MBTA bus stop in front of The Brookliner, which provides direct bus access to the Longwood Medical Area.