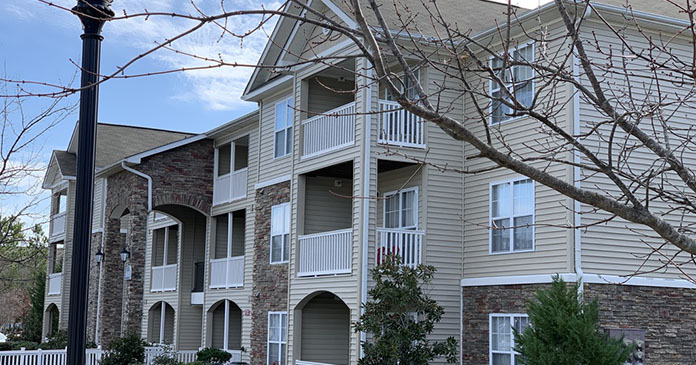 Magma Equities has acquired Independence Park Apartments, a 312-unit garden-style community in Durham, NC for $50 million. Independence Park is Magma's fifth apartment investment in the Tar Heel State in the past 14 months.
Magma tied up the asset and was able to complete its due diligence and secure attractive agency financing prior to the onset of the Covid-19 pandemic. Even as the economic climate shifted dramatically, Magma maintained the agreed-upon purchase price with the seller, according to Magma CFO Michael Wagar.
"As active buyers in the region, we were able to source the opportunity off-market and avoid the competitive bidding process. As a result, we were very comfortable with the price as negotiated," said Wagar. "This was a very good deal for us in January and a very good deal for us now. Despite the current challenges, we expect it to perform well over the long-term."
Built in 2009, Independence Park features a mix of one-, two- and three-bedroom units housed in 13, three-story residential buildings on a 23-acre site at 215 William Penn Plaza.  Community amenities include swimming pool, fitness center, business center, clubhouse, 24-seat multimedia theater, tennis court, sand volleyball court, basketball court, playground and dog park.
Independence Park benefits from numerous demand drivers including its proximity to Downtown Durham and the Research Triangle Park, two of the largest employment centers in the region. It is also located two blocks from Duke Regional Hospital and directly adjacent to Voyager Academy, a K-12 charter school that ranks among the top schools in the region.
"The Research Triangle is highly desirable employment center that attracts recent graduates from highly regarded surrounding universities to its top employers," added Magma Principal Robert Murray. "In the midst of COVID-19, we stress tested the Independence acquisition differently than when we first approached it and were able to work with all parties involved to get the transaction done."
Magma will suspend renovation plans and immediately begin outreach to offer any assistance it can to keep tenants housed and "heads on beds," according to Wagar.  Independence Park was 96 percent occupied at closing.
Dennis Harris at The Kirkland Company in the firm's North Carolina office represented the seller. Jesse Nichols, Princial in the Los Angeles office of Polsinelli was Magma's legal representative.
Abe Spira and Justin Hechler at Greystone secured the debt with Freddie Mac through its floating rate loan program.