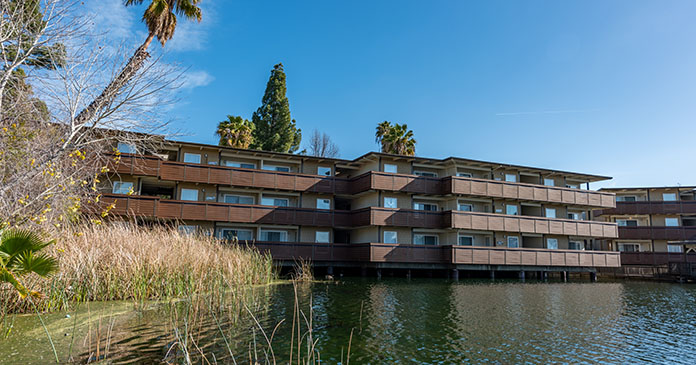 Levin Johnston of Marcus and Millichap, one of the top multifamily brokerage teams in the U.S. specializing in wealth management through commercial real estate investments, has directed the sale of The Lakes, a 102-unit value-add multifamily community in Concord, California.
Levin Johnston's Executive Managing Director Adam Levin and Senior Managing Director Robert Johnston represented the seller and procured the buyer in the transaction.
"The Lakes in Concord is a well-positioned asset for investors looking to achieve and sustain long-term wealth. Concord's convenient location, in addition to its comparatively low price point for the region, continues to attract renters employed throughout the Bay Area," explains Levin. "This acquisition is an ideal value-add opportunity for the buyer to implement strategic upgrades and simple operational improvements to drive strong return-on-investment, alongside organic growth based on increasing demand."
The community is located near the borders of Concord, Pleasant Hill, and Walnut Creek and provides residents with direct access to local amenities, BART stations, and the greater Bay Area, notes Levin.
"This property was previously marketed unsuccessfully by another broker in the Bay Area," says Johnston. "We understood the value of its straightforward value-add roadmap and were able to quickly identify a buyer who will be able to achieve institutional management results and capitalize on economies of scale based on their current local portfolio."
Johnston also notes that the brokerage team's deep knowledge of the local market and close relationships with the buyer and seller were instrumental in bringing the deal to the finish line in the current climate.
"By understanding the impacts of the pandemic on the Bay Area market and investor, we were able to negotiate a price that made sense for both the buyer and the seller," adds Levin. "Ultimately, we got the seller comfortable with providing the buyer with a small concession in order to finalize the transaction in a timely manner that was satisfying for both parties."
Originally constructed in 1967-68, the three-building community offers one- and two-bedroom floorplans. Unit interiors are currently being upgraded to include new wood grain flooring and carpet, new countertops and cabinets, stainless steel appliances, and modern lighting fixtures.
Additional community amenities include a newly renovated swimming pool, secure parking electrical gates, two gazebos on the lake, laundry facility, elevators, and covered exterior walkways.
The Lakes is located at 1818, 1819, 1850 Laguna Street in Concord, California.