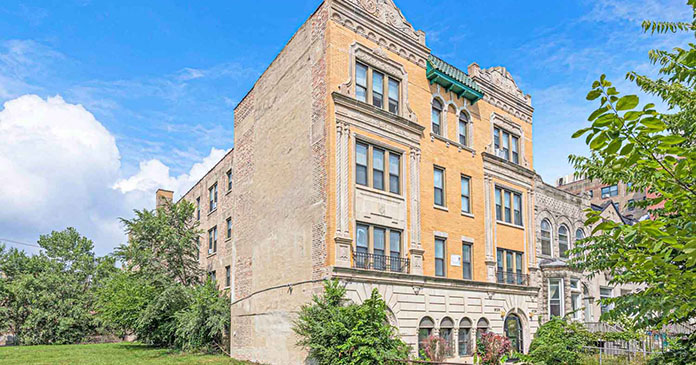 Interra Realty, a Chicago-based commercial real estate investment services firm, announced it brokered the $2.27 million sale of 6126-28 S. Woodlawn Ave., a 35-unit apartment building near the University of Chicago Law School in Chicago's Woodlawn neighborhood. The price per unit was $65,000.
The undisclosed seller was represented by a team from Interra Realty led by Jon Morgan and David Goss, co-founders and managing principals, plus Lucas Fryman and Ted Stratman, managing partners, and Jeremy Morton, director. The private buyer, who intends to gradually update units as they turn over and bring rents to market rate, was represented by Interra Senior Managing Partner Joe Smazal. After a short marketing period, Interra was able to attract multiple written offers and shepherd the deal to closing amid the COVID-19 pandemic.
"Woodlawn has been very hot for investors and continues to attract interest despite the current health crisis," said Fryman. "The neighborhood benefits from its proximity to the University of Chicago, which has been pushing south in recent years, without the comparatively higher rents of Hyde Park. The transaction is proof that despite uncertainty in the market, buyers continue to deploy capital for well-located multifamily assets, including those with value-add potential."
Built in 1929 as a hotel, 6126-28 S. Woodlawn offers a mix of 27 studios and eight one-bedroom units. Apartments feature eat-in kitchens, and the building has an elevator, shared laundry facilities and bike storage. The property was 97 percent occupied at the time of sale and had 100 percent rent collection in May, the month preceding the sale.
Located about 10 miles south of Chicago's downtown, 6126-28 S. Woodlawn offers proximity to several CTA bus routes, the Red and Green lines, Metra's Electric District line, the Dan Ryan Expressway and Lake Shore Drive. It is also a short walk from the University of Chicago campus and Jackson Park, home to the Museum of Science and Industry and the planned site of the Obama Presidential Center.