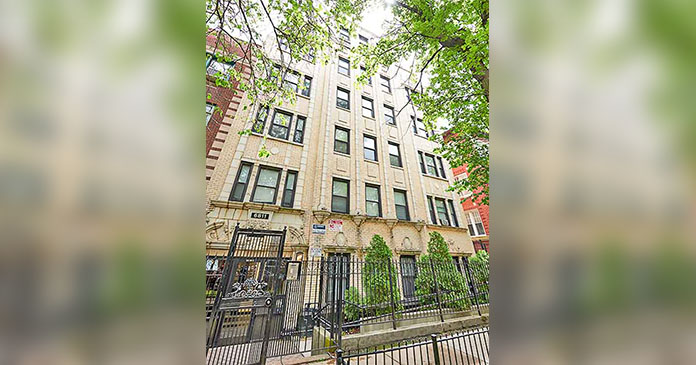 Interra Realty, a Chicago-based commercial real estate investment services firm, announced it brokered the $2.3 million sale of 6811 S. Paxton Ave., a 29-unit mid-rise apartment building in Chicago's South Shore neighborhood. The price per unit was $79,300.
The undisclosed seller, a local investment and management group, was represented by Jon Morgan and David Goss, co-founders and managing principals of Interra Realty, along with Ted Stratman and Lucas Fryman, managing partners, and Jeremy Morton, director. The private buyer, a local investment group represented by the same Interra team, plans to update a few units that had not previously been renovated.
"We're seeing continued interest in larger apartment buildings in South Shore with a minor value-add component," said Stratman. "Interra worked diligently with both parties to work through new lending requirements and the uncertainty surrounding COVID-19 to close the deal. Notably, rent collections have remained very strong through the pandemic, which helped keep the deal moving forward."
Built in 1929, 6811 S. Paxton offers a mix of five studio, nine one-bedroom and 10 two-bedroom units, as well as five three-bedroom units, one of which is a penthouse that offers rooftop access and views of Lake Michigan and Jackson Park. The building was 97% occupied at time of sale, and collections were 95 percent for both April and May.
6811 S. Paxton is located near several CTA bus routes, including the J14 Jeffrey Jump express route that provides direct access to downtown via Lake Shore Drive. The building also is located less than a mile from the Bryn Mawr and South Shore stations along Metra's Electric District Line and is a short walk from Jackson Park, the South Shore Cultural Center and Rainbow Beach.