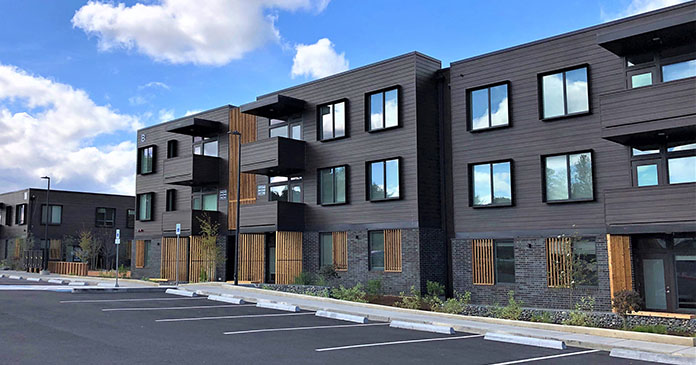 Kidder Mathews is pleased to announce the sale of Hood Apartments for $12,000,000. The 64-unit, newly constructed apartment building is located at 1833 SE 6th Street in Gresham, Oregon. Jordan Carter, Clay Newton, and Tyler Linn, a team of multifamily investment brokers at Kidder Mathews, exclusively represented the seller 550 SE Hogan Road, LLC, as well as the buyer Trion Properties, a California-based investment firm.
According to Carter, an executive vice president with Kidder Mathews, "Hood Apartments is one of Gresham's newest multifamily assets and will provide a significant supply of sizable two-bedroom units to a submarket in need of more family-focused housing. The buyer purchased the property completely vacant—highlighting continued strong demand from investors for well-located, quality apartments in the Metro area," said Carter.
Located in Gresham, Oregon's fourth largest city, Hood Apartments was completed in September of 2020. The asset features 64 modern apartment homes across four buildings, located over an expansive property that showcases contemporary landscaping and design and a communal play structure.