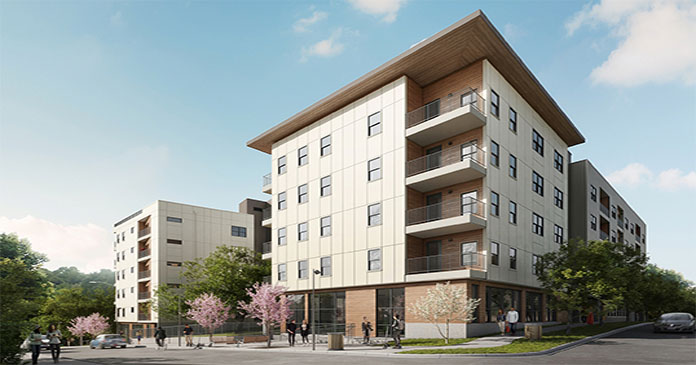 Knighthead Funding LLC has provided Pearlstone Partners with a $26.5 million construction loan for the Cascade, a 113-unit mid-rise condominium development in Austin, Texas.
The property is located at 2500 Longview St. in the West Campus section of downtown Austin, an established residential neighborhood less than two miles from the Austin CBD and the University of Texas.
This is the local developer's third condominium project financed by Knighthead in the past 10 months. In December 2019, Pearlstone received a total of $27.2 million in financing for the construction of a 60-unit complex on Webberville Road, and a 59-unit project on Govalle Avenue. "Knighthead could not be more excited to continue the relationship with the Pearlstone team," said Knighthead Vice President Henry Boeckmann. "This is an established location within close proximity to all necessary residential amenities and convenient access to all employment centers in the MSA."
Austin continues to be one of the highest growth cities in the United States largely driven by the expansion of the tech industry and the population fleeing high tax states, according to Knighthead principal, Jonathan Daniel.
"Major employers such as Apple and Tesla are developing new facilities and with them will come high paying jobs. This has helped fuel demand for housing, especially those located near downtown in close proximity to the unique shops, bars, restaurants and other attractions that Austin is famous for," said Daniel. "Our 24-month, non-recourse loan will allow Pearlstone to build on the success they have had delivering residences to the market."
According to a recent report from the Austin Board of Realtors, the housing market, which includes single-family, townhouses and condos, continues to exhibit strength, while the City of Austin experiences critically low levels of inventory.
Construction on the five-story Cascade Condominiums started in September and is expected to take approximately 18 months. Units range in size from 572 square feet to 1,461 square feet, allowing the property to offer housing for a wide range of buyers. Twelve of the units will be designated affordable and the building will also have two ground-floor commercial units.