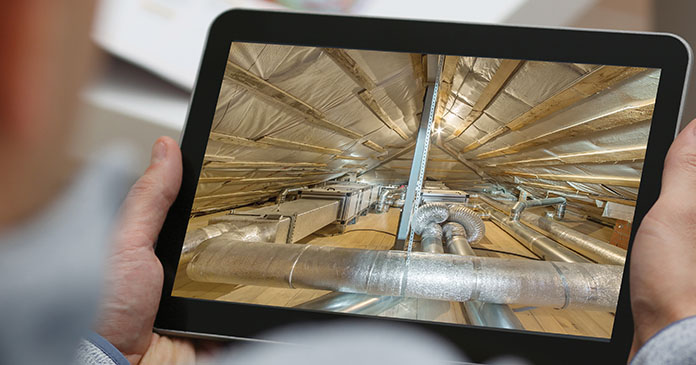 Unsurprisingly, COVID-19 is pushing an increasing number of multifamily lenders and owners to conduct property inspections virtually. Industry giants like Freddie Mac today deploy them on a widespread basis, leading many in the multifamily space to move away from in-person inspections.
While the concept of virtual inspections existed prior to the pandemic, the physical and safety protocols imposed by the lockdowns undoubtedly make it increasingly appealing to conduct an inspection via a mobile device rather than in person.
Beyond COVID-19, there are often fiscal benefits to virtual inspections such as the elimination of travel and time costs associated with in-person inspections. Couple these cost saving benefits with the increased tech-savvy of the multifamily industry during the age of remote work—and virtual inspections seem like the clear choice. However, remote online inspections pose their own challenges and limitations. It's important to understand those when inspecting properties virtually.
Connectivity issues
One of the most significant challenges with virtual inspections is also one of the simplest: WiFi and cellular connectivity. While populated, urban areas typically offer strong WiFi and 4G/5G signals, rural and some suburban areas present serious gaps in connectivity.
Additionally, even highly populated areas with strong connectivity can suffer from lapses in coverage, with certain areas of buildings having little to no signal.
This is challenging when conducting an online inspection. When video calls don't connect, are repeatedly dropped, the lender representative can only hear every other word being said, or certain portions of the property cannot be viewed because no coverage exists in those areas, frustrations undoubtedly arise and inefficiencies with remote inspections become apparent.
Onsite variables
Virtual inspections place great responsibility on the onsite staff helping facilitate property tours. Inspectors count on the person on the other end of the video call to be completely thorough and forthright, from transparently revealing each and every aspect of the property to disclosing issues that impact appraisal and funding.
In some cases, onsite staff are well trained, perform their role with integrity and this isn't an issue. In others, however, inspectors miss items that they would have easily caught if they were onsite themselves. As with connectivity, this aspect of the remote inspection is largely out of the inspector's hands and poses significant quality control issues.
Data storage
One often overlooked aspect of virtual inspections is what to do with the video and other property data after an inspection occurs. Video files are extremely large, making them costly and challenging to store. As remote inspections become more prolific, the amount of storage needed continues to mount. Security is also an issue.
As seen in recent headlines, video conferencing apps can be breached, leaving sensitive property data vulnerable. The industry must also reach consensus regarding what virtual property inspection data belongs in the official loan documentation, as well as how long it should be kept.
Standardizing this process minimizes missing information down the line, as well as reduces information overload caused by excessive data being stored.
Time and costs
Two of the most touted benefits of virtual inspections are time and cost savings. In-person inspections often include airfare, hotel and transportation costs, and can be time consuming to conduct when you add in travel time. Compared to a video call, in-person inspections require a significant use of resources. However, virtual inspections aren't free either. They often cost several hundred dollars in fees to conduct.
Depending on where your inspector is located in relation to the property, the cost benefit will vary. For companies with inspectors located across the country, a short flight or drive away from any given property, the in-person option may be less expensive.
Ultimately, it's important to assess each situation on a case-by-case basis. However, virtual inspections almost always beat out the in-person option when it comes to time saved—another important variable.
Technological advancements
No longer reliant on traditional video conferencing tools, the virtual inspection industry has come a long way in recent years. Apps such as HappyCo streamline the process, housing checklists, photography, video and other documentation in one place while prompting inspectors each step of the way.
These newer apps help systematize the process, minimizing challenges and improving consistency. As adoption of virtual inspections continues to grow, technology will undoubtedly evolve further to improve the process even more.
The value of human judgement
One of the most important elements virtual inspections lack is human judgement and observation. No matter how strong your technological setup and onsite support staff are, it's simply not possible to be as thorough through a screen.
An overreliance on technology may compromise the integrity of the inspection, negatively impacting accurate appraisal and funding. Even if time and money is saved by conducting an inspection virtually, it isn't worth the risk if your inspection fails to yield useful or comprehensive data. Ideally, virtual inspections will enhance, rather than replace, in-person inspections by combining the power of technology with the strength of human reasoning. As virtual inspections continue to grow in popularity, we must not forget that human judgement is irreplaceable in the due diligence process.
---
Author Matthew Stoehr, Sabal