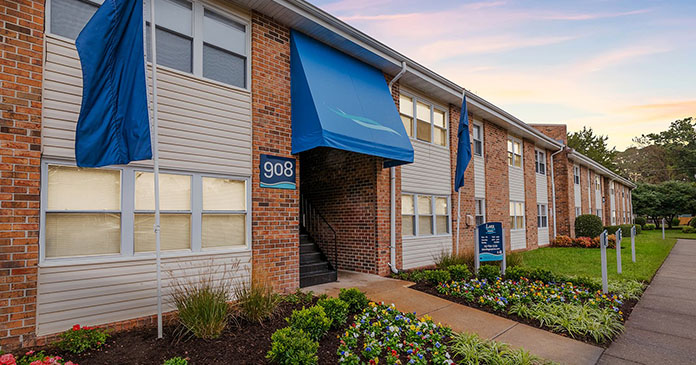 Colliers International is pleased to announce the sale of Lake Village, a multifamily community located at 908 Lake Village Drive in Chesapeake. The property was sold to Ritz Banc Group from Lawson.
"We always enjoy working with the Colliers team, and this was yet another seamless transaction," said Nasr El Hage, managing director at Ritz Banc Group. "RBG is excited to add Lake Village to its portfolio, especially during such a challenging year. Lake Village fits within the firm's long-term workforce housing strategy, which we will continue to build upon in 2021."
Lake Village is a garden-style community originally constructed in 1972 featuring 184 two- and three-bedroom apartments. Well maintained, the property benefits from high occupancy and significant potential for rent increase through unit interior renovations.
"We were fortunate to partner with Lawson on another successful disposition," said Hank Hankins, senior vice president with Colliers International. "With more than 1,700 units under development and 5,500 units under management, they are one of the largest and most knowledgeable owners in the region. Our firm's longstanding relationship with them is greatly valued, and we look forward to future opportunities."
The Chesapeake area economy is recognized as one of the strongest and most highly skilled workforces in the U.S. More so, the Chesapeake multifamily market is recognized as one of the top in the country in terms of rent collection and job retention.
G.S. (Hank) Hankins, senior vice president; Victoria Pickett, first vice president; Charles Wentworth, senior vice president; Will Mathews, managing director; Garrison Gore, associate, and Clay Ellis, associate, with the Colliers Mid-Atlantic Team represented the seller.
Ritz Banc Group is an experienced real estate, private equity and alternative asset management firm headquartered in Washington, D.C.
Lawson, headquartered in Virginia Beach, manages approximately 5,500 apartment units and continues to grow with approximately 1,700 units in development.