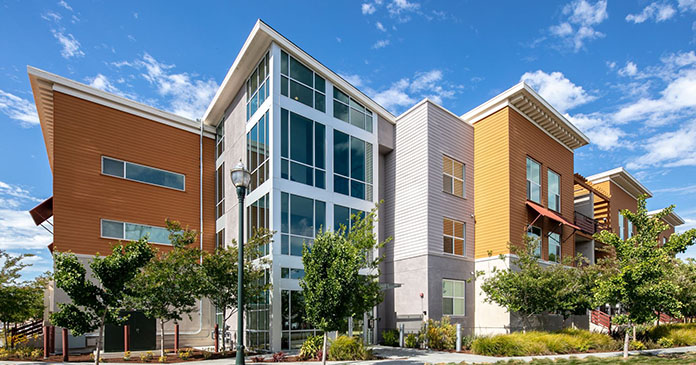 Institutional Property Advisors (IPA), a division of Marcus & Millichap, announced that in the fourth quarter of 2020, its Palo Alto, California-based multifamily team brokered the sales of 12 assets totaling 1,552 units valued at $535,165,000.
"The transactions include core and value-add assets in primary San Francisco Bay Area markets, properties in secondary Bay Area markets, apartment complexes outside the region, and redevelopment opportunities," said Stan Jones, IPA executive director. "Just as owners, managers and tenants have employed creative solutions to overcome the challenges caused by COVID-19, our team used their collective experience and problem-solving skills to maintain a high-level of activity in the service of our clients' investment goals, despite the effects of the pandemic." The transactions were closed by Jones, Philip Saglimbeni, Salvatore Saglimbeni, and Alex Tartaglia.
"While multifamily operations in the Bay Area have been impacted by the health crisis and the current remote work environment, the region's economic foundation is fully intact and employment levels have remained high, especially in the professional and business services sector, which includes major tech companies," noted Philip Saglimbeni. "Acquisition demand for Bay Area multifamily assets remains healthy, with investors anticipating a strong upward shift in rental demand as employees return to the workplace later this year."
The team's significant fourth quarter closings included eaves San Rafael, a 254-unit apartment asset in San Rafael that sold for $106 million and Mode Apartments, a 111-unit property in San Mateo that traded at $80.05 million. Two major secondary Bay Area market closings were Berkshire Laurel Creek, a 106-apartment asset in Fairfield that brought $27.3 million and the $33.3 million sale of Creekside Park, a 141-unit property in Santa Rosa. Outside the Bay Area, the team brokered sales in Carmichael and Sacramento.
"As in past downturns, the San Francisco Bay Area is well-positioned for an economic rebound," added Salvatore Saglimbeni. "As shutdown protocols ease, the economy will move toward recovery, fueled in part by robust Bay Area venture capital funding, numerous expected local IPOs, major employers like Facebook and Google continuing their office expansions, and people resuming more normal working, dining, and shopping patterns."
The Jones-Saglimbeni team has more than 86 years of combined major multifamily brokerage, analysis and underwriting experience and consistently maintains a majority market share in the San Francisco Bay Area.