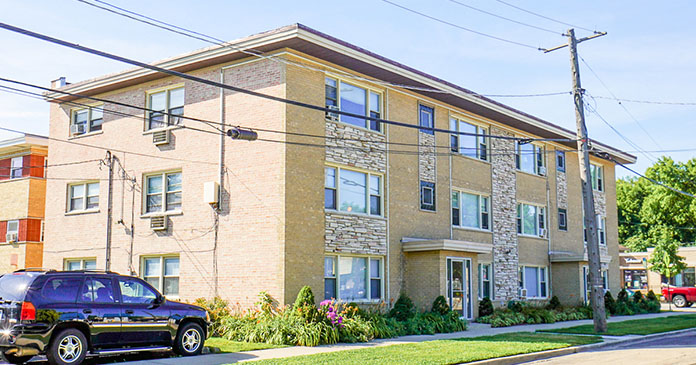 Interra Realty, a Chicago-based commercial real estate investment services firm, announced it brokered the sale of two multifamily properties on Chicago's Northwest Side for a combined $5.12 million.
In the first transaction, Interra Managing Partner Craig Martin sold 4049 N. Francisco Ave., a 29-unit rental community in the Albany Park neighborhood, for $3.61 million, or about $125,000 per unit. Martin represented the private seller, who had owned and operated the property for more than 60 years, and the buyer, Peak Properties LLC, a Chicago-based property management company, which plans to update unit finishes.
"Despite uncertainties around the pandemic, sophisticated investors are still out in the market looking for deals that offer attractive risk-adjusted returns," said Martin. "As a result, well-located, value-add opportunities like 4049 N. Francisco are still very much in demand. We were able to secure a qualified buyer that put the financing together without delay, and the property closed within three weeks of going under contract."
Built in 1930, 4049 N. Francisco has 22 one-bedroom units and seven two-bedrooms. It was 83 percent occupied at the time of the sale. Located less than 10 miles from downtown Chicago, the property is served by multiple CTA bus routes and close to the CTA Brown and Blue lines, Metra Union Pacific Northwest Line and Kennedy Expressway.
The other property, 6047 N. Northwest Highway, an 11-unit rental community adjacent to the Metra station in Chicago's Norwood Park neighborhood, sold for $1.5 million, or $137,727 per unit. Interra Director Paul Waterloo, Managing Partner Pat Kennelly and Associate Michael Duckler represented the private seller, a local family that had owned and maintained the property for almost 25 years and was moving out of state, and the confidential buyer, also a local family, which acquired the property in a 1031 exchange and plans to renovate units as they turn over.
"Northwest Chicago continues to be a stable rental market that attracts a range of investors, including local buyers who are intimately familiar with the neighborhoods and looking to expand their holdings," said Waterloo. "Assets in this submarket are comparatively rare—especially larger properties over 10 units. In fact, 6047 N. Northwest Highway was the only apartment building over six units to sell in Norwood Park in 2020, according to CoStar data. This resulted in a competitive bidding process that saw 12 offers within the first 60 days on the market."
Built in 1971, 6047 N. Northwest Highway includes five one-bedroom and six two-bedroom apartments, which were 91 percent occupied at the time of the sale. The property is located about 12 miles northwest of downtown, with easy access via the adjacent Metra Union Pacific Northwest Line, CTA Blue Line or Kennedy Expressway.