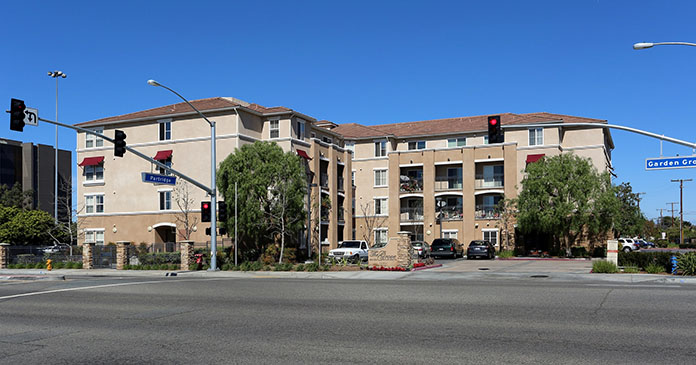 Avanath Capital Management, LLC, a private real estate investment manager and Registered Investment Adviser, has announced its entrance into the Orange County market with the acquisition of The Grove Senior Apartments, an 85-unit senior housing community in Garden Grove, California. The property was acquired for $19.85 million.
Avanath is headquartered in Irvine, California, and while the firm has 10,000+ units within its portfolio across the U.S., this marks its first acquisition in its hometown market of Orange County, California.
"Although we currently own nine properties in the Southern California region, we are thrilled to be acquiring our first Orange County asset," says Daryl Carter, Founder, Chairman and CEO of Avanath Capital Management. "The Orange County market is an extraordinarily affluent area and has one of the six highest AMIs in Southern California. Home prices throughout the region remain extremely expensive, making home ownership difficult for many. This has resulted in a strong demand for affordable housing units, especially among seniors."
The property was acquired from Meta Housing, an affordable housing developer based in Los Angeles.
"It is a rare opportunity to identify and acquire a high-quality affordable asset in the Orange County market," says Carter. "Our ability to acquire this asset with a second property in Orange County planned to close in the coming weeks speaks to our strength as an owner and operator and will allow us to amass economies of scale in the region."
The Grove, which is currently 100 percent occupied, consists of a single, four-story garden-style building that features a variety of amenities including a fitness center, club room, courtyard, and bus stop directly in front of the property.
"The apartment community has remained 100 percent occupied and has maintained collections throughout the pandemic," says Carter. "This speaks to the quality of the asset, as well as the tremendously high demand and need for affordable housing among seniors in the area."
Meta Housing, the developer of the community and previous owner, offered social programs at the community including Senior Olympics, computer training, language classes, gardening clubs, arts and crafts, and health and wellness activities, among others. Avanath plans to continue and expand these in-place social programs, including the addition of its virtual gym memberships offering through Wellbeats to residents.
The Grove Senior is located at 12721 Garden Grove Blvd. in Garden Grove, California, just off the 22 and 5 freeways and adjacent to the Garden Grove Hospital and Medical Center.